Ethereum (ETH) has been eyeing further upside from current levels but so far it has done nothing significant. In fact, the longer it waits to make a potential move to the upside, the more risky it gets to stay in a long position. There is a bullish divergence on the daily RSI for ETH/USD but I would not count on that because the risk reward is not worth it at this point. The big setup here is still bearish and this month we are very likely to see something as game changing as when Bitcoin (BTC) pumped straight through $6,000 and triggered a buying frenzy. This time, it will be a selling frenzy that will mark the beginning of the second half of the bear market.

We can see small moves to the upside but it is clear that the bulls lack the momentum to push the price higher as they are in a defensive and not offensive mode. The bears want to keep them engaged so they eventually give up when they don't see the price going anywhere and then they can drag the price down without much effort. A lot of bulls are open to the possibility of a fall down to lower levels but they don't want to get out of their positions because of the Bakkt launch on September 23, 2019. We have yet to see ETH/USD climb above $180 again but that has not stopped investors from hoping it would as Bakkt nears. Ethereum (ETH) will find it really challenging to break past the 21 day EMA even if it ends up rallying from here.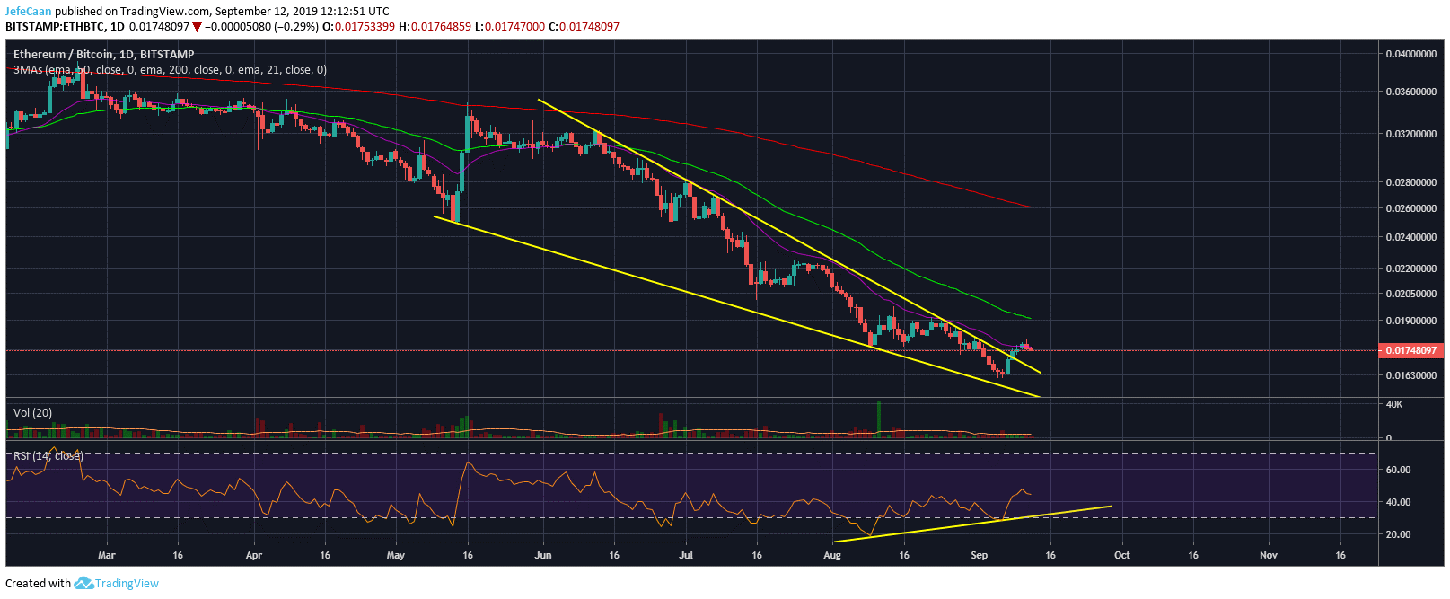 The daily chart for ETH/BTC shows us that Ethereum (ETH) ended up breaking a key downtrend against Bitcoin (BTC). This is a bullish development but it could also be a fake out because we have seen similar breakouts before that ended up being false moves and the price kept declining after temporary bullishness. So, we mustn't lay too much emphasis on this. There is a bullish divergence on the RSI though which is significant and worth noting. However, for us to consider a short term bullish stance we need to see a close above the 21 day EMA.
Regardless of these short term potential bullish moves, the fact remains that we are primed for a sharp decline in the cryptocurrency markets. To some it may be a healthy correction whereas to other it would be the formal beginning of the second half of the bear market. In either case, both the bulls and the bears agree that the price is due for correction from this point forward. I think the next decline is going to catch a lot of investors off guard in the same manner as it did in December when cryptocurrencies broke market structure to the utter surprise of most retail bulls that expected the market to rally on the scheduled Bakkt launch of December 12, 2018.