Ethereum (ETH) is expected to experience maximum pain towards the end of the year but most investors still have no idea what this means. The rise in Bitcoin dominance is something that most see as a sign of loss of interest in altcoins short term, but they do not realize that this might be the precursor to something more serious. If we look at the daily chart for ETH/BTC, we can see that it is currently trading in a descending triangle. The last time it was trading in a descending triangle was between June and October of 2017. During that time, shorts against ETH/BTC had already risen up because we were in a bull market and Ethereum (ETH) had seen some big moves to the upside. However, if we look at ETHBTCShorts after 2018, we can see that it has not made any significant move at all while the price declined.
When ETH/BTC broke the previous descending triangle, the number of shorts was very high and the market makers tanked the price quickly before more shorts could stack up. This time, the shorts have not stacked up yet but we expect they will in the weeks and months ahead. So, market makers are likely to do the same this time and pull the price before players can wipe out the casinos. So, what is the play here? Bitcoin dominance is rising but it has only just gotten started. Meanwhile the bear market has yet to be over. So, this means that if BTC/USD continues to hold its ground better against most other coins during a sell-off, ETH/BTC will end up a very important support and will then be forced to decline massively. This will inflict maximum pain on Ethereum (ETH) as well as the rest of the altcoin market.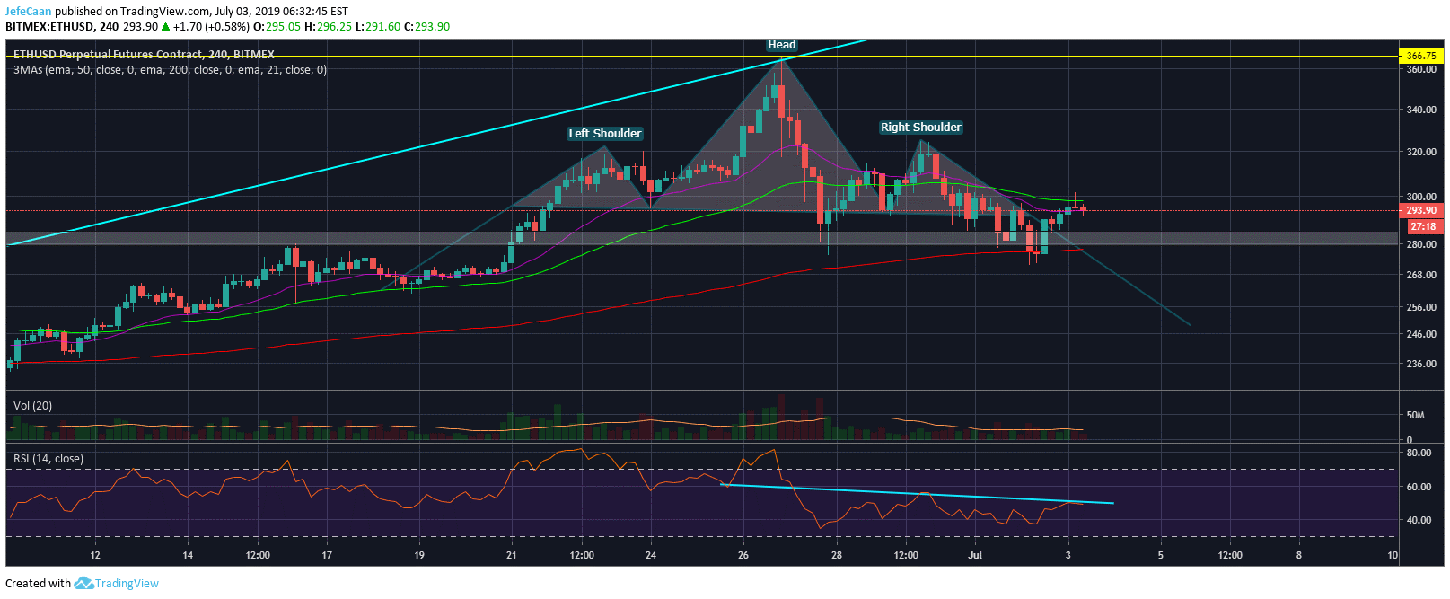 If we take a look at the 4H chart for ETH/USD, we can see that it has formed a large head and shoulders formation that is about to come to fruition. The price has faced rejection at the 50 EMA on the 4H timeframe and if it declines further from here, we might see a completion of this pattern. The RSI has also run into a clear resistance and we might see further downside in days and weeks ahead. The future outlook of ETH/USD suggests that any decline from current levels is going to be a fast one especially if ETH/BTC ends up breaking the key support.

Ethereum (ETH) is a wonderful blockchain platform that gave a start to most altcoin projects and perhaps it will continue to do that in the future. However, when this bear market proceeds further from here, we are going to see some more cracks get exposed in a lot of the blockchain projects just as we saw in the case of Bitcoin Cash (hash war) and Ethereum Classic (ETC dev shutdown). So, the market is primed for a fall and I would not be surprised to see a black swan event crashing the whole altcoin market like a house of cards.