Ethereum (ETH) seems to have found a temporary bottom after a fierce fight between the bulls and the bears. Initially it appeared that the bulls were in control soon after ETH/USD recovered back above $200 but that did not last for long. The bears showed up and they fought hard to pull the price back to where it recovered from. So far, they have failed to do that and it is likely that they are not going to succeed anytime soon. For the ambitious bulls coming to the rescue, this is a good time to be long, but for the ambitious bears, this is one of the worst times to be short because it is not in the interest of the market makers to let the price fall before they shake out most of the retail bears that have been shorting this downtrend with ambitious positions.

Ethereum (ETH) is currently trading just above $195 but it is highly likely to shoot past $200 before the end of the day. This next move to the upside is also likely to be a quick and strong one as we have seen during the previous parabolic advance. The intent is to shake out the retail traders and trap unsuspecting bulls into thinking we are in a bull market. If the price surges higher with more force, that belief is even more strengthened and a lot more bulls will enter to buy at higher prices. Ethereum (ETH) has declined brutally against Bitcoin (BTC) in the past few weeks which is why it has a lot of room to rally against Bitcoin (BTC) now. We could see it rise all the way towards $260 before it begins its next downtrend. There is a lot of volatility in the market at the moment and we have seen significant stop hunting to both sides.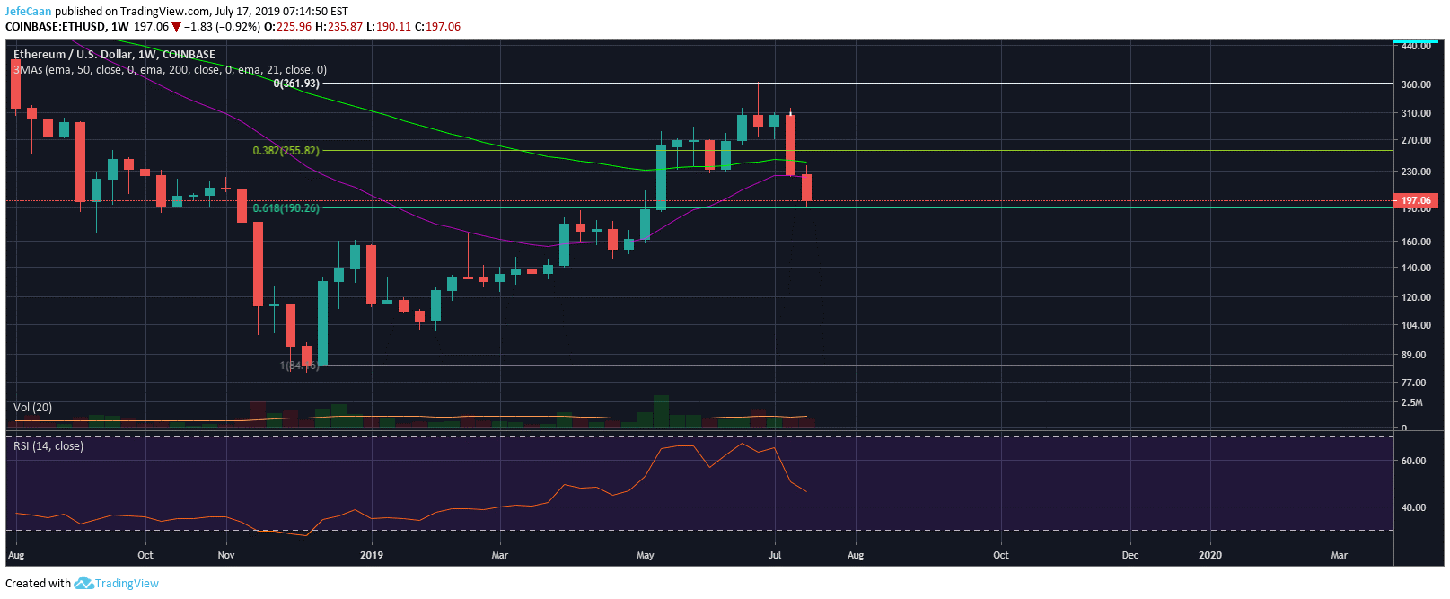 The weekly chart for ETH/USD shows that the price has found support on the 61.8% fib extension level. This is a sign of relief for the bulls because if the week closes above this level, we could see the price rally higher from here towards the 38.2% fib extension level and possibly higher than that. We still do not see a move to a new all-time high or even a new yearly high.
Ethereum (ETH) is a promising blockchain project with a lot of potential and use cases but it is important not to confuse the tech with the price. There might be opportunities for short term rallies but let us not forget that it remains heavily overbought on larger time frames. We will still have to see the price complete further corrections that will drag it down to a double digit price before it finds its true bottom. Ethereum (ETH) has done an impressive job of rallying harder than Bitcoin (BTC) since the beginning of the day but we have to see if this trend can hold. If it does hold, this will be very good news for altcoin hodlers as we may finally see a mini altcoin season.