Ethereum (ETH) is on the verge of a major breakout. The price is trading within a falling wedge and it is only a matter of time before we see it rally towards the top of this wedge and to eventually break out of it. This has been a long overdue move for Ethereum (ETH) because for the past few months, investor confidence in Ethereum (ETH) and other altcoins had been battered pretty badly. It is now time for a short term trend reversal in Ethereum (ETH), one that might see it rally all the way past $200 to potentially top out at the 61.8% fib retracement level. Ethereum (ETH) has shown signs of a reversal for now but we will have to wait for the weekly close to see if it can actually hold its ground.

For now, the bulls seem to be taking charge. We have seen the price hold the trend line support of the falling wedge. The lower ETH/USD falls, the easier it gets to eventually break out of the falling wedge. I think this is a good time for short term bullish entries. Most profitable decisions in trading are not easy. It is not easy to think that the price is going to reverse from here when everyone is expecting an altcoin bottom from here. A lot of traders and analysts see BTC/USD declining to $8,000s before the bullish reversal can begin. You could wait for that but chances are you will miss this move to the upside. Most of them will too and then they will end up buying just before the 80% correction in the market.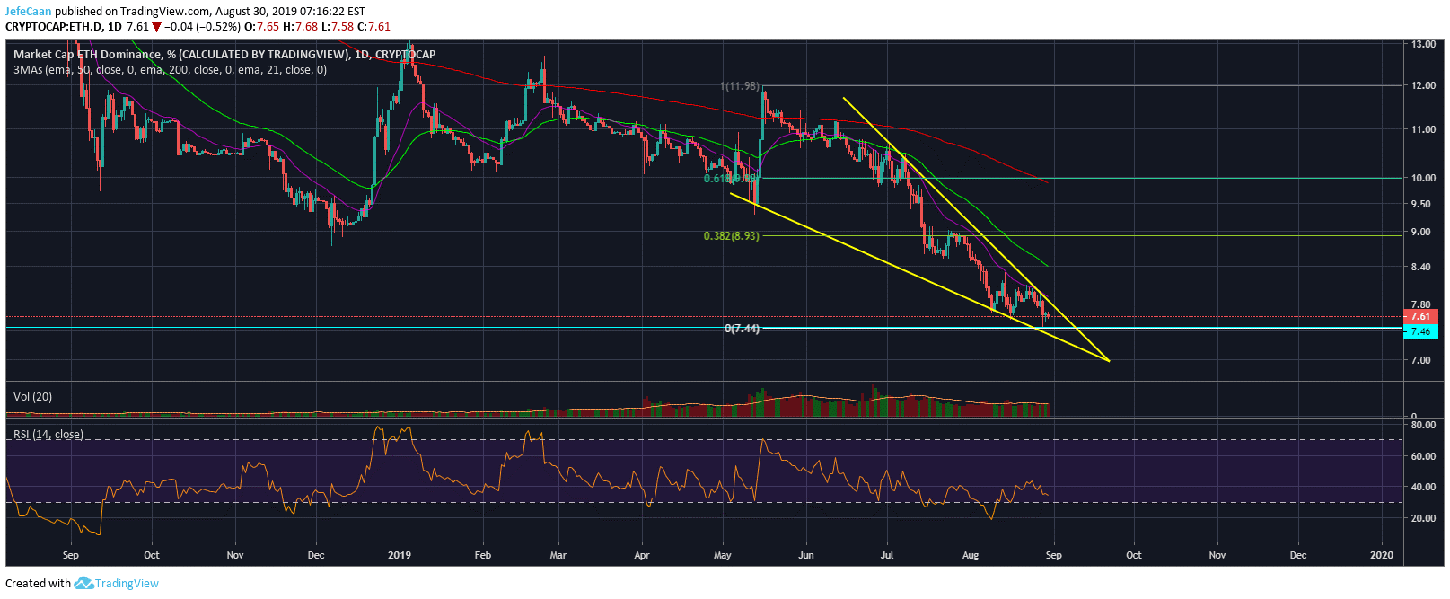 I remain bullish on Ethereum (ETH) short term, even more than Bitcoin (BTC) but that does not change my long term outlook. I think this bullish reversal will be short-lived and we will see a major decline follow after that. However, as traders we are more interested in letting the price come to us rather than chasing it. When it does, it's best to just ride the waves rather than speculate on what is going to happen weeks or months from now. That being said, we mustn't lose sight of the big picture because that affects our short term decisions.
If we take a look at the daily chart for Ethereum Dominance (ETH.D), we can see that it is trading in a similar falling wedge as ETH/USD. This means that we might see upside follow soon from here as it is now on the verge of breaking out of the falling wedge. Ethereum dominance has seen a massive decline in the past few months largely because of loss of faith in altcoins. I think it is time that we might see a recovery in the altcoin market with Ethereum (ETH) leading altcoins to gains of 20% or higher from current levels. This would be a good opportunity to go long short term but if you are net long on Ethereum (ETH) at this point, you are not doing it right.