Ethereum (ETH) like other altcoins is on the verge of a breakout and this could have long lasting effects for the price depending on how the price breaks out. For now, I expect it to trade within the symmetrical triangle but it will soon have to breakout. In my opinion, we are more likely to see a sharp breakout to the upside than to the downside. The reason I expect that to happen is because conditions are extremely oversold on the 4H time frame for ETH/USD just when the price is about to break out. For the past 24 hours, the market makers have been instilling fear in the market with some bizarre bearish moves. I think this is likely to make the bears quite confident and we might see the price actually do the opposite to shake out these aggressive bears.

If we zoom out for a bit and look at this chart, we can tell right away that the price tested the 38.2% fib retracement level but it did not face a strong rejection. In fact, it ended up breaking above the 38.2% and then declined below it. We have yet to see a retest of the 61.8% fib retracement level which I think is a more meaningful level where I think the price would face a much harder rejection. I think the probability of the price making a move towards the 61.8% is quite high considering the price has found support within the symmetrical triangle and the Stochastic RSI has reached oversold conditions on the 4H time frame signaling further upside might be about to come.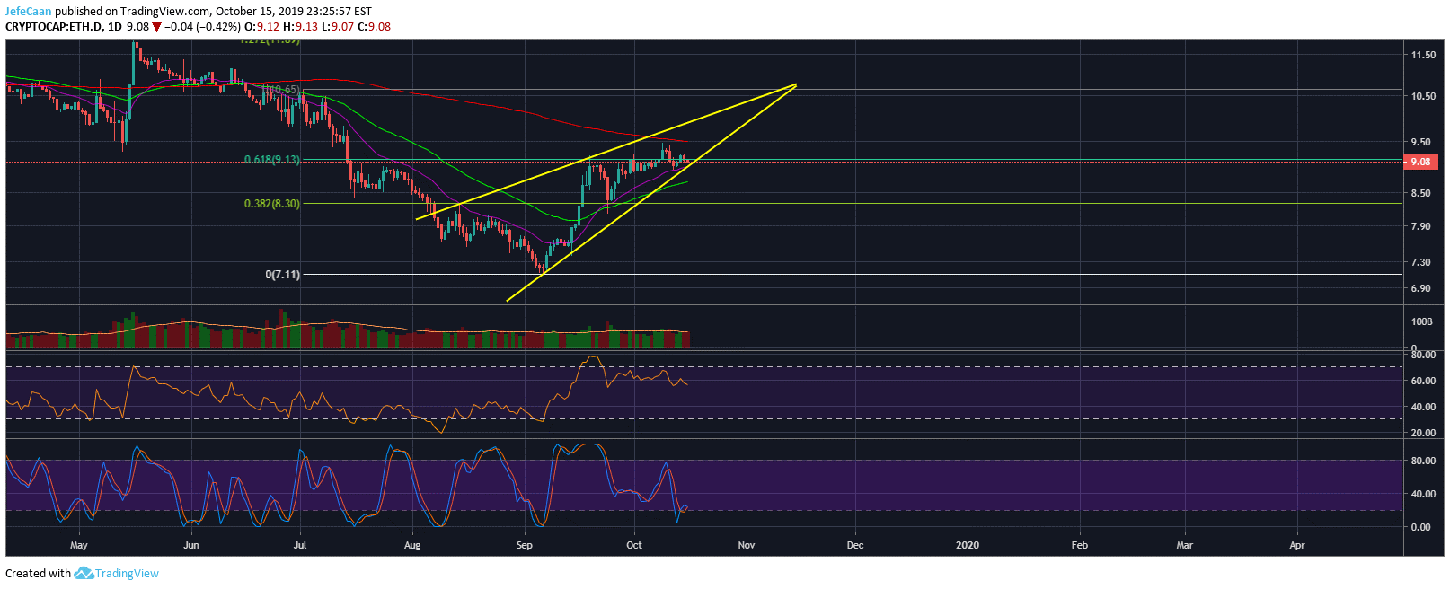 As always, it is a very dangerous game betting on trend reversals. We need to wait for confirmation to turn bullish on Ethereum (ETH) or other altcoins. So far, we remain bearish because the trend is bearish but we do believe that the trend might be about to change. I still expect the 200 day EMA on Ethereum Dominance (ETH.D) to be tested before we see a strong downtrend begin. This would be in line with what has happened before every time the price has seen a massive downtrend.
The manner in which Ethereum (ETH) and other altcoins have declined in the past 24 hours is very suspicious. I would be very careful short selling the market at current levels. If anything, I think it would be a good idea to look for short term bullish entries at this point. In my opinion, this is going to be one of those times where Bitcoin (BTC) would trade sideways but cryptocurrencies like Ethereum (ETH) would rally. This by the way would also lead to ETH/BTC testing the 200 day EMA which in my opinion would be a safer entry point to enter bearish positions.