Ethereum (ETH) manipulation has reached new heights. If we focus on the daily close on Saturday, we can see the kind of manipulation that is going on. The price rose close to $300 and hit some stops in there in the $299s zone. After that it was pulled downwards only to be pumped later to hit more stops just above $300. The price is currently trading close to $307 and those that are following the big picture now quite well what is going on long term. There is always plenty of noise on lower time frames including the daily chart for ETH/USD. However, long term outlook on the weekly and monthly charts provide us more useful insights as to what is going on and why is it all happening.
ETH/USD faced a strong rejection at a key trend line resistance in the latter half of June when the price pumped hard to test a trend line support turned resistance. This is a significant development but not as significant as what we see on the larger time frames. As long as the price remains below $370, there is no reason at all to be bullish. There are plenty of reasons to be bearish on the other hand. The Fear and Greed Index is back at 74 (Greed) close to Extreme Greed. This is not a good development for the cryptocurrency market and as we have seen in the past, it often leads to such overly bullish retail traders be preyed on by the market makers. RSI for the daily chart shows that there is still plenty of room to rally but there are certain key structures that we do not expect to break which is why we expect the price to trade sideways for a while.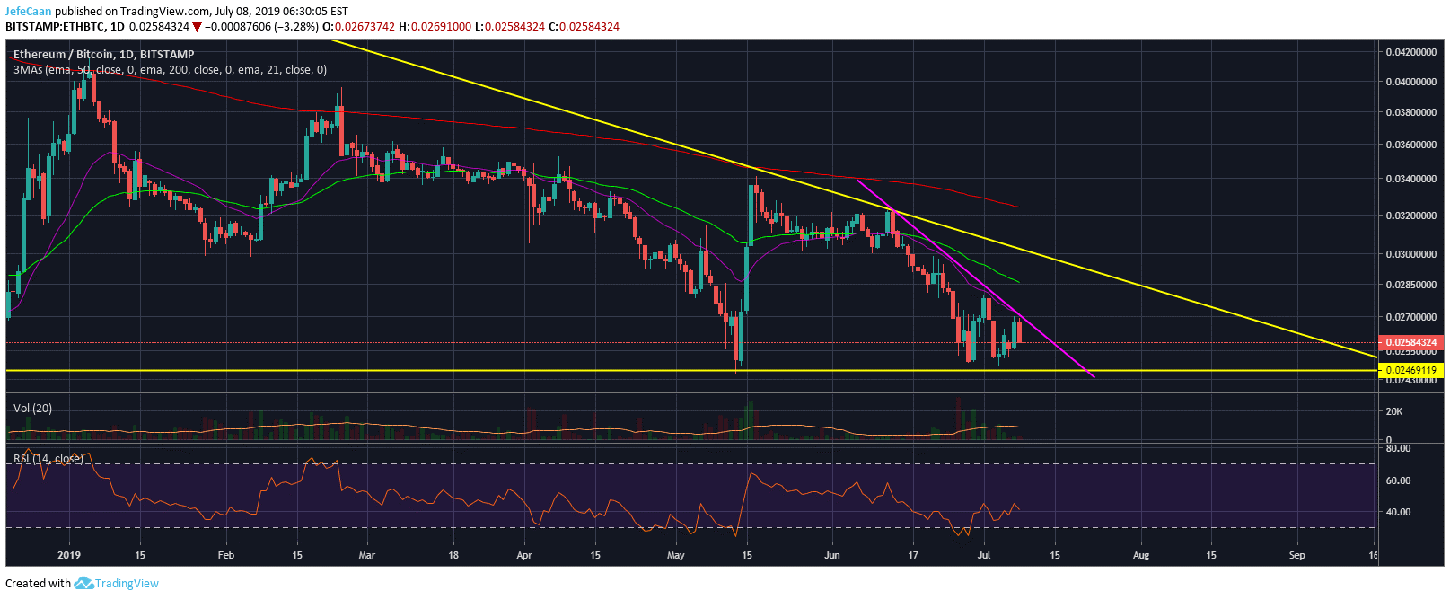 If you think ETH/USD looks bearish, you need to take a good look at ETH/BTC. The daily chart shows that Ethereum (ETH) still remains in a strong downtrend against Bitcoin (BTC). There appears to be just a short term move that led to ETH/BTC testing the trend line resistance but eventually it is expected to fall a lot further as Ethereum (ETH) breaks below the horizontal support. A break below this support will be extremely bearish for Ethereum (ETH) and it will lead to further downside in the altcoin market.

Ethereum (ETH) can and will experience more pain especially after the recent manipulation. If this was a real rally, we would see other coins rise as well, but so far, we are only seeing such big moves in coins that are traded on margin on most exchanges as well as the coins that have futures. So, as long as Ethereum (ETH) remains above this support, people will keep on expecting it to climb to a new all-time high but we expect reality to set in soon as the price crashes hard in the weeks and months to come to humble the overzealous and unreasonable retail bulls.