Ethereum (ETH) is holding strong above $163.55 for now as it trades within a falling wedge. We have been discussing this wedge and it is still very likely to break to the upside. However, if we zoom out a bit and look at the potential descending triangle that could be forming on the chart, we become more cautious because this move might have run its course. Even if it hasn't yet, ETH/USD is very close to running its course and it would be very unreasonable to chase the price here expecting a bigger move to the upside. That being said, if you are already in long positions or hold Ethereum (ETH) then you may want to wait and see how this plays out but you have to have your risk management in place because the price could start breaking downwards anytime now. 
If we take a look at the RSI, we can see that it is very close to a strong trend line resistance. However, I would not be surprised if the RSI ends up breaking this resistance to the upside before further downside follows. This is usually how it happens before major downtrends. The bulls need to have a false sense of belief that the market is going higher whereas the bears need to have a false sense of concern that the bearish setup may not play out. If the price respected all the trend lines and patterns so perfectly everyone would be making money just using bots and algorithms without having to spend hours glued to their computer screens. Now, there are still people making money doing that very effectively but they are professional traders and they know that patterns and trend lines are often printed on the chart for retail traders and they know how retail traders will be shaken out so they tailor their strategies accordingly.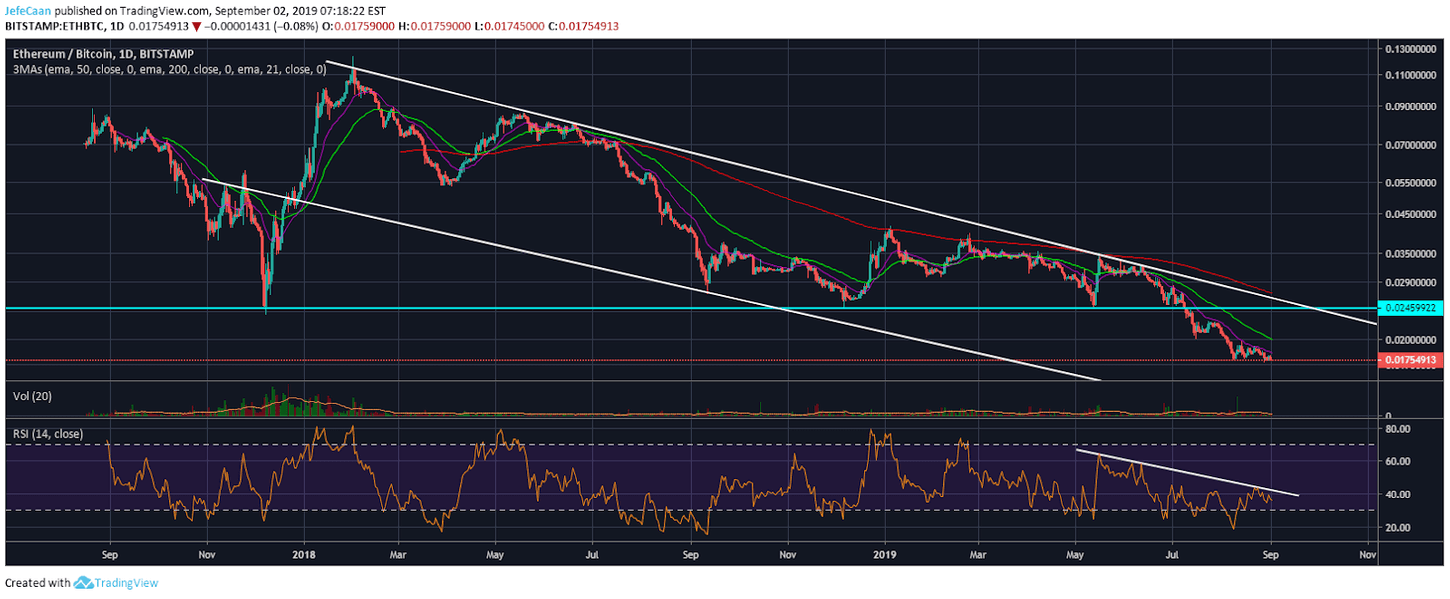 Ethereum (ETH) could still see further upside from here but there is not much to count on. The daily chart for ETH/BTC shows that we might see it really higher from here to test the 21 day EMA before it begins to decline but that's all. Would you want to chase the price for a small gain while risking major downside from current levels? Those that understand what is going on are already out waiting to buy or waiting for a better short entry before they ride the price down. 

Those that are bullish because they think Baakt or halving or similar events could save the price will keep on believing that we might see a bullish breakout at some point until we don't and then they might finally lose all hope. Remember, the market has yet to inflict maximum pain on the bulls. It inflicted maximum pain on the bears when it shot straight past $6,000 and rallied more than twice as high. That was max pain for the bears as it liquidated most of the shorts. However, we have yet to see the same in case of the bulls and based on the outlook of Ethereum (ETH) and other cryptocurrencies, I think we are very close to seeing that.