Although quite unlikely, it is possible that ETH/USD might test the $280 level again and even rally towards $300 before beginning its next decline. That being said, it is not a good idea to take that trade as the risk/reward is definitely not worth it. The 4H chart for ETH/USD shows that the price is trading within a descending channel and an ascending triangle at the same time. The perfect scenario for the whales if they can pull it off would be to pump the price above the ascending triangle first to trap in retail bulls and hunt the bears. Then they would pull it back into the descending channel to trap the bulls. At every trading setup, the market maker is looking for ways to take advantage of retail traders especially around turning points.
This is why most traders believe in going with the flow although going with the flow in this market could mean being a dead fish at certain times. The ideal play here would be to wait for a break out and see if price enters the descending channel. There is no doubt whatsoever that ETH/USD is long overdue for a sharp retracement and at some point that will happen. However that move is more likely to come at a point when both the bulls and the bears least expect it just like the recent rally. A lot of bulls feel very euphoric at the moment but most of them did not see the current rally coming. A lot of people on both sides were taken by surprise when Ethereum (ETH) pumped in that manner. Now, instead of being worried, most of them just got onboard and forget about their opinions before that pump. Some 'reputed' traders even took a 180 degrees turn like nothing had happened.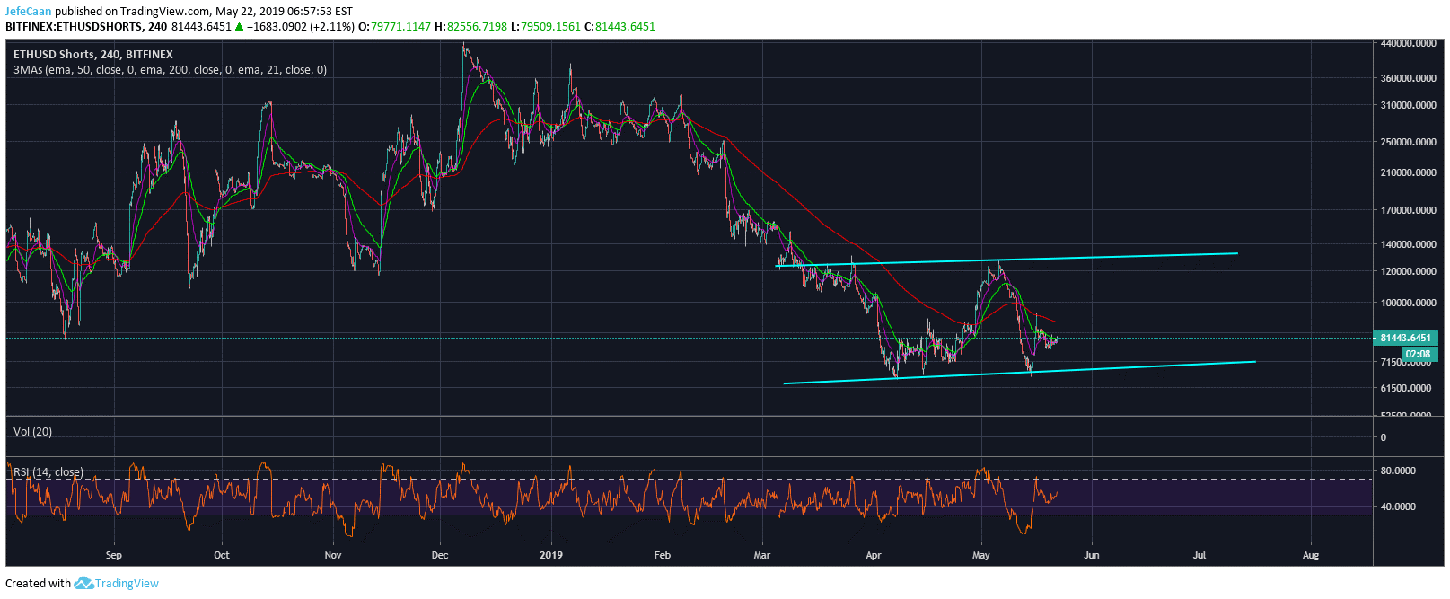 Ethereum (ETH) shorts are still struggling as retail bears fear a rally to $300. Considering what they have seen in the past few weeks, it is reasonable to see that most of them are too scared to take a trade at this point even if the risk/reward is worth it. ETHUSDShorts has been struggling to break past the 50 day moving average but it has yet to succeed. The number of margined shorts could rise towards the top of the channel as early as next month as sell pressure on ETH/USD mounts. The market is not short of catalysts that could trigger Ethereum (ETH)'s next decline at this point.
As mentioned in our last analysis on ETH/USD, there is a strong bearish divergence on the weekly time frame that points to massive downside ahead. One thing to note here is that traders that are patient always see the price coming to them instead of them chasing the price. When BTC/USD fell to $6,000 a lot of people FOMO'ed into the market thinking this was it, but that was not it. Not as many people FOMO'ed in the $3,000s but they did soon afterwards. Either way, this is not the bottom. When ETH/USD bottoms, we will see more of "Ethereum (ETH) is a scam" and "Ethereum is going to zero". At that point most of these overly excited retail bulls would want nothing to do with Ethereum (ETH) or any other cryptocurrencies.