Ethereum (ETH) is more likely than Bitcoin (BTC) to rise to a new yearly high. ETH/USD has found support on the key 61.8% fib extension level and is expected to rally hard from here if it closes the week above this level. Ethereum (ETH) has seen a brutal correction and might finally get some time to stage a relief rally now. Investors have long been waiting for an altcoin season in this market. They may finally get it if Ethereum (ETH) continues to outpace Bitcoin (BTC) like it has been doing since it completed the correction. The price eyes further upside from here and it would not be surprising to see Ethereum rise past $250 and potentially to a new yearly high this year.
Ethereum is still better positioned for thar type of rally compared to Bitcoin. Moreover, the market makers need to convince retail traders that the bear market is over. This kind of narrative would be helped a lot by rise in altcoins. If Ethereum and other altcoins begin to rally, investors might finally be convinced that the bull market has indeed begun and ETH/USD is headed towards a new high. This is nothing new and we saw the same happen during the previous bear market. Investors bought the dip thinking the bear market was over when it was only getting started. So, considering Ethereum's long term outlook, yes it is a mistake to buy and think the bear market is over. The price is heavily overbought on larger time frames and even though it could still see a relief rally to the upside, it is falling hard once that rally is complete.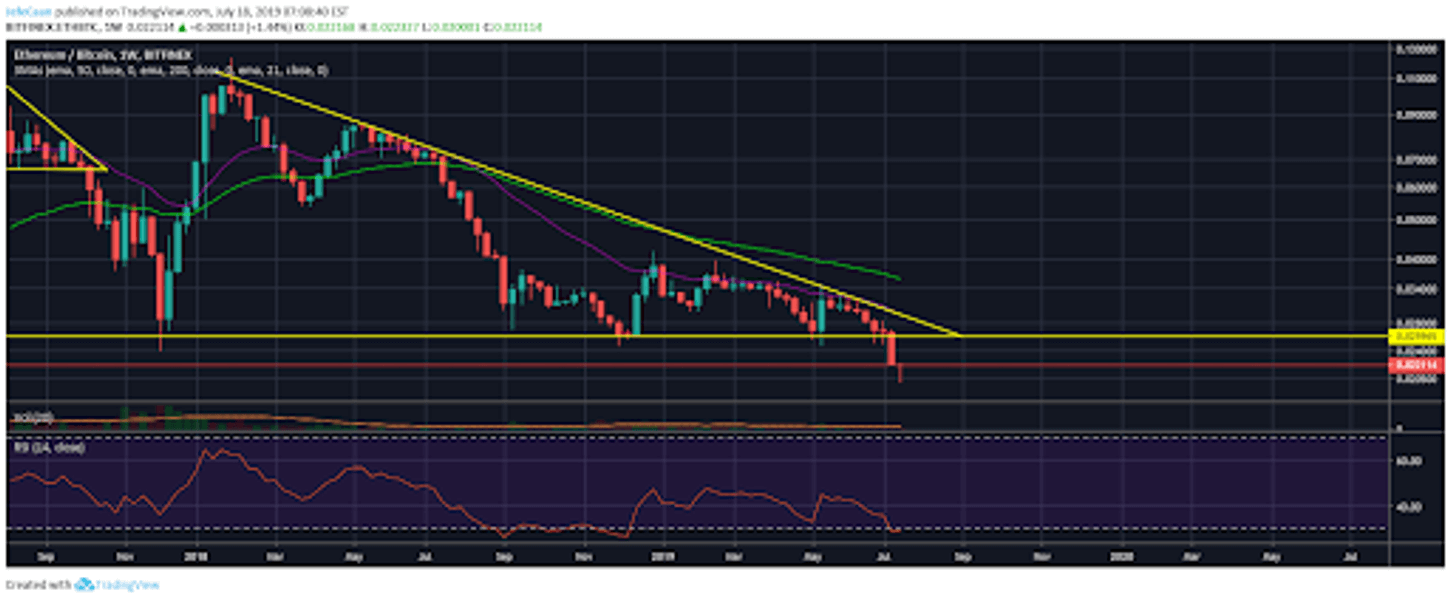 If we take a look at the weekly chart for ETH/BTC, we can see that the price broke an important support and is now attempting a retest of this support turned resistance. As long as this resistance is not broken, we do not expect an altcoin season. Certainly, we could see a mini altcoim season short term but it will be very short-lived. On the other hand, it ETH/BTC does break past this support turned resistance, we could see a sustained altcoin season as alts rally hard against Bitcoin (BTC). 

Ethereum (ETH) like most altcoins dances to the tune of Bitcoin (BTC) but it is known for making independent moves at times. This could be another one of those moments where the price just rallied harder compared to Bitcoin (BTC) with no significance. If it ends up closing above that support turned resistance, then it will be significant. The reason we expect Ethereum to rally hard and even harder than Bitcoin is because we expect a short term trend reversal. Ethereum has been pushed around hard in the past few months. The market has been brutal on it and imvestor focus shifted from major altcoins like Ethereum to Bitcoin. Just when everyone is giving up on Ethereum, I think it could be the time we might see a strong rally in the price not only against the US Dollar but also against Bitcoin (BTC).