Ethereum (ETH) has failed to capitalize on the falling wedge in the face of rising bearish momentum as the bulls fail to push the price past an important trend line resistance. We are now in a clear downtrend as shown by the trend line resistance on the daily chart for ETH/USD as well as on the RSI. The next fall from here would be down to the 61.8% fib extension level which would coincide with a price of $144. I see the price declining well below that eventually to complete more than a 60% correction from here that will see it declining below $80. Ethereum (ETH) and other altcoins are far more vulnerable compared to Bitcoin (BTC) during the next correction. 
Bitcoin (BTC) has survived bear markets before, but we cannot say the same about Ethereum (ETH) yet because this would be its first extensive bear market. The price has faced a strong rejection at a trend lien resistance and a trend line support turned resistance. It is highly unlikely for ETH/USD to rise past these lines. The most likely scenario would be a sharp decline from current levels towards the December 2018 lows and then eventually below that. Please note that unlike Bitcoin (BTC), Ethereum (ETH) is not considered by anyone as digital gold or digital silver. So, it remains a highly speculative asset that is on the verge of some serious downside. If you are investing in altcoins at the moment, it would be a good idea to see if the companies backing those coins are strong enough to survive what is coming their way.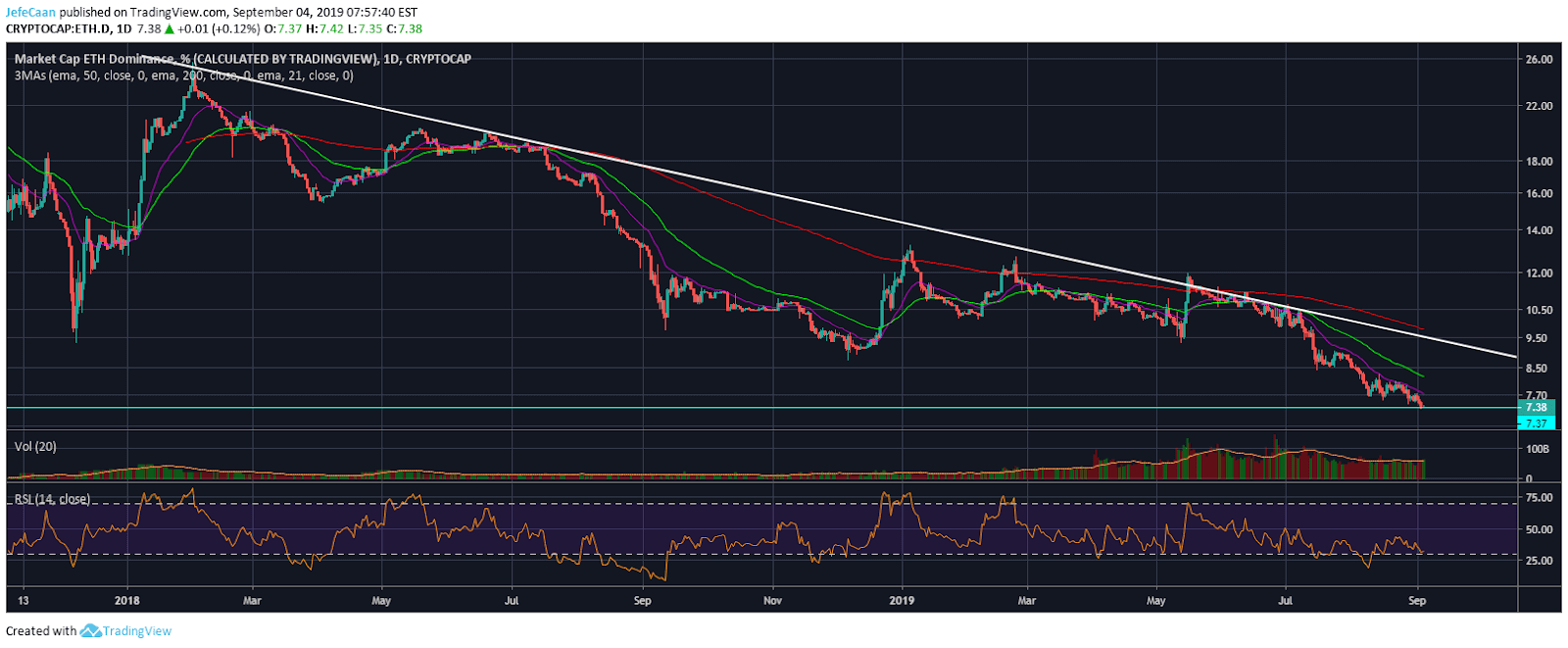 The daily chart for Ethereum dominance (ETH.D) shows that Ethereum dominance has declined to a new yearly low the same time as Bitcoin dominance has risen to a new yearly high. This is a very clear sign for those that want to see what this means. If we were in a bull market, the very opposite would be happening because altcoins tend to rally higher than Bitcoin (BTC) in a bull market. That is the only reason most of these altcoins are in business because investors want to profit more off such moves.

The fact that we are seeing Ethereum dominance decline as Bitcoin dominance rises tells us that as the market falls we would see Bitcoin hold its ground better compared to Ethereum (ETH). Confidence in altcoin is one of the lowest at the moment and now that ETH/USD has failed to break past the falling wedge, I do not see it changing any time soon. We will see a brutal downtrend from here that will force some altcoin projects to go belly up. All of that is going to really discourage investors from buying altcoins thinking it is over for altcoins and only Bitcoin (BTC) could rise to a new all-time high during the next cycle. That is when smart money with stronger hands would accumulate and that is when we will see a new bullish cycle in Ethereum (ETH) and other altcoins begin.