Ethereum (ETH) has run into a strong trend line support turned resistance after a massive liquidity hunt when the market makers shook out most of the retail bears looking for easy money as the price declined below a key support. This has now made the bulls more confident as many of them are anticipating the beginning of a bull trend from this point forward. The reality on ground is that ETH/USD still remains below the 38.2% fib retracement level and is now trading in heavily overbought conditions. This is why there is a very low probability of it rallying much higher from here. In my opinion, this recent move was just an orchestrated attempt to shake out aggressive bears as well as to distract traders from what is about to come.

Whenever a decline is too obvious, I always anticipate something like this to happen because there is a reason why more than 80% of traders lose money. The market makers cannot let the average retail trader win because that is bad for business. They operate like a casino and their business depends on retail trades making mistakes. So, they let you win here and there even with a retail trading mindset to get you hooked up just like a casino does and then you end up blowing your entire account along with the profits that you had made. This is the business model and it is aimed at preying on retail traders. However, that is no excuse for not making any money in this market. You can stay under the radar and make less obvious moves. For instance, everyone was thinking the price was going to fall like a rock when it broke support, but if you anticipated a stop hunt, you would now have very good short entries.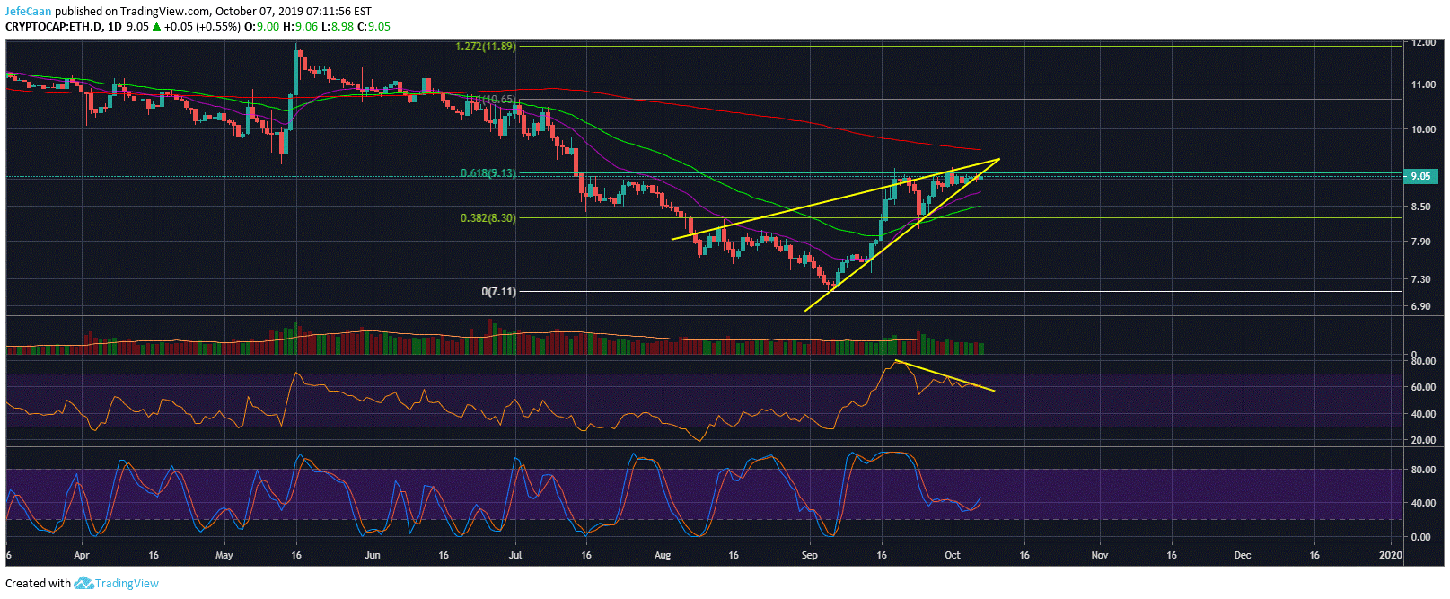 As always, it helps a lot to remain focused on the big picture. The daily chart for Ethereum dominance (ETH.D) shows us the importance of macro trends and putting charts together to get an even bigger picture and more insights. We can see that Ethereum dominance has just broken below the rising wedge. This break is not very obvious at the moment. However, the resistance that dominance has faced at the 61.8% fib retracement level is a lot more obvious.
The resistance on the RSI as it has now run into a strong trend line resistance is also easy to see which tells us that we might see the beginning of a sharp decline in Ethereum dominance from current levels. As with Bitcoin dominance rising, Ethereum dominance falling tells us that one of two things is going to happen. Either Bitcoin (BTC) is going to outperform altcoins or we are bracing for another downtrend. I remain bearish on the market and taking the outlook of larger financial markets into account, I expect the falling Ethereum dominance to coincide with a sharp decline in the price of Ethereum (ETH) as well as other altcoins in the near future.