Ethereum (ETH) charged towards $260 and ended up breaking past it. The daily chart for ETH/USD shows that Ethereum (ETH) has now formed a large ascending triangle which is a very bullish indicator. It could be a bull trap for all we know that might lure investors into buying the next breakout as the whales dump on them, but in any case, it will be interesting to see how this plays out. Historically, we have seen ascending triangles break to the upside and considering that the price has ample room on the daily time frame to do it, we would not discount the possibility of a strong run up towards $300 from here in the week ahead. So far, the price has slowed down after running into a key resistance short term but it is likely to shoot past it sooner or later.
ETH/USD is trading within an ascending triangle but for the overly bearish, it might appear to be forming a head and shoulders formation as well. This is not a coincidence and market makers often do this around key turning points to confuse aggressive traders. RSI on the daily time frame shows that the price has plenty of room to rally short term. In fact, it might end up rallying well past $300 to reach a new yearly high. That being said, investors need to keep an eye on the big picture which is constantly warning us that being long on Ethereum (ETH) at this point is as risky as buying near the top during the last bull run. ETH/USD might be poised for a rally short term but on the big picture, the odds of it beginning a new downtrend far outweigh the odds of it beginning a new uptrend.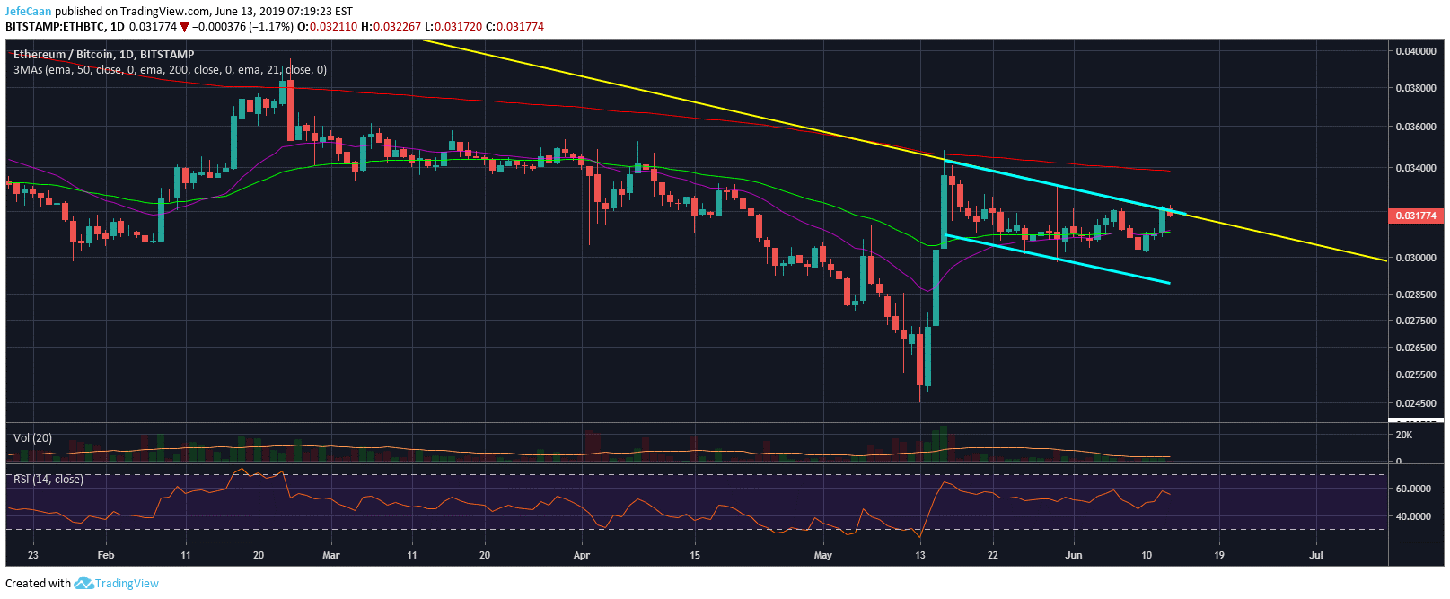 Ethereum (ETH) has also formed a large bull flag against Bitcoin (BTC) which means it is in a good position to break out of a long descending triangle even if it is a fake out and results in the price falling back inside this triangle. ETH/BTC is trading above its 50 day exponential moving average and is now likely to either break the trend line resistance or fall back towards the bottom of the bull flag. In either case, it will have to make a decision soon as it has now run out of room to trade.

The descending triangle that ETH/BTC is trading in has not been broken since the beginning of the bear market. However, considering that Ethereum (ETH) is in a good position to rally against Bitcoin (BTC) and the US Dollar (USD) both short-term, we might see a break out this time. However, investors need to be very cautious as this could be a fake out. There is no reason to believe that Ethereum (ETH) is ready to begin a new bullish cycle against Bitcoin (BTC) or the US Dollar (USD) at this point. The bear market is not over yet and the price will have to bottom first before we can speculate on when it is likely to effectively break the downtrend.