Ethereum is on the move today as price is up more than 2% against Bitcoin (BTC). The daily chart for ETH/BTC shows that Ethereum (ETH) is aiming to retest the trend line support turned resistance as price has now neared oversold territory against Bitcoin (BTC). It is likely that we may see altcoins rally short term as BTC/USD trades sideways with no direction. Most altcoins are likely to test the previous broken trend line support as resistance but they are unlikely to break past it and will most probably begin their next downtrend soon as they visit the trend line resistance. ETH/BTC is now trading below the 21 day EMA. The price is expected to run into the 21 EMA as resistance during the next move to the upside.
So far, Ethereum (ETH) remains in a good spot to move against Bitcoin (BTC) short term. We might see other cryptocurrencies follow suit and altcoins are going to mislead investors into thinking once again that the bear market is over. If we look at the price action for the past few months, it is very clear to see that there is a deliberate move to prolong the bear market. The market is pumped in such ways that it is made primed for a decline after a certain period of time. This surge in price could have been sustained which would have been more convincing and useful to the long term growth of cryptocurrencies. However, that is not the case. At every critical turning point, the price is pushed up in an artificial manner. The whales know that smart money is not falling for such antics but the retail traders will gladly mislead themselves into thinking the bear market is over.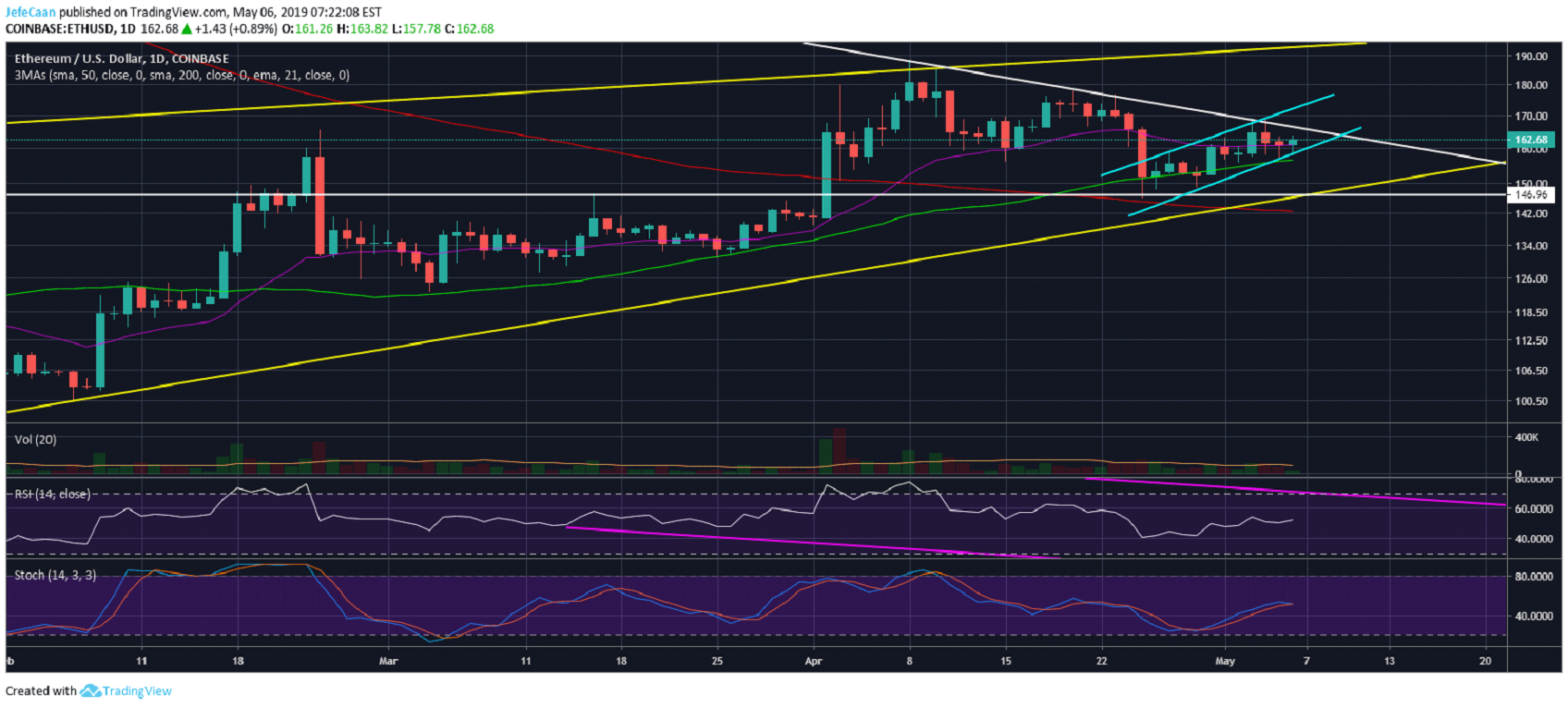 Chart for ETH/USD (1D)
The task at hand for the whales and market makers to milk this market for all it's got. As long as retail traders that expect the price to skyrocket from current levels are around, the whales will prey on them. Certainly, there are different levels of such optimistic traders. There was a highly delusional class of such traders that got wiped out early on as they bought near the top. Now as we can see there is still another class of traders that might be less delusional but it is no less optimistic than the previous class of bulls used to be around the top of the bull market. This goes on to show us that the market has yet to inflict maximum pain.
Those that have been around for long and have seen the previous bear market can relate that it does not feel like this during the end of a bear market. It is all doom and gloom as mainstream investors give up thinking never to return. All hopes of a bullish recovery are shattered and investors are left with serious doubts if the market has a future. We are going to see more of the "Bitcoin is dead, Ethereum is dead" news. So far, none of that has happened as there are still a lot of optimistic investors around. The way of the market is that most of these traders are shaken out before the next uptrend starts.