Ethereum (ETH) remains in a strong downtrend after the recent sell off pressure. This is expected to continue towards our $231 price target. We expect ETH/USD to decline in a head and shoulders formation that is more clearly visible on the daily time frame. The 4H chart shows that the price is declining having topped out. If the 50 EMA crosses below the 200 EMA on the 4H time frame, this will be a very bearish development and we might see the price decline sharply soon after that happens. So far, this downtrend remains intact and there is no hope of a reversal until the price succeeds in breaking past the trend line resistance (shown in turquoise). RSI is recovering from oversold territory but we have to remember that the RSI is just a consequence of the price action and not the other way round.

In other words, the price could continue to decline even if its RSI bottoms out and it could keep on rising even if the RSI tops out. None of these indicators and not even the lines on a chart should be interpreted as just that. Together, they give a certain meaning to the whole chart and that is what we need to focus on. We mentioned in our past few analyses that BTC/USD might have topped out. If that is the case, there might be significant further downside to follow, first in the form of a big crash and then a slow bleed downtrend. Conditions are ripe for that crash at the moment as BTC/USD could close below the 21 Day EMA soon anytime soon. The recent bounce in Ethereum (ETH) has got a lot of people excited again. This reminds me of how people kept on hoping for the beginning of a bullish cycle every time the price would recover from a crash back in 2018, when it was in fact nothing more than a slow bleed.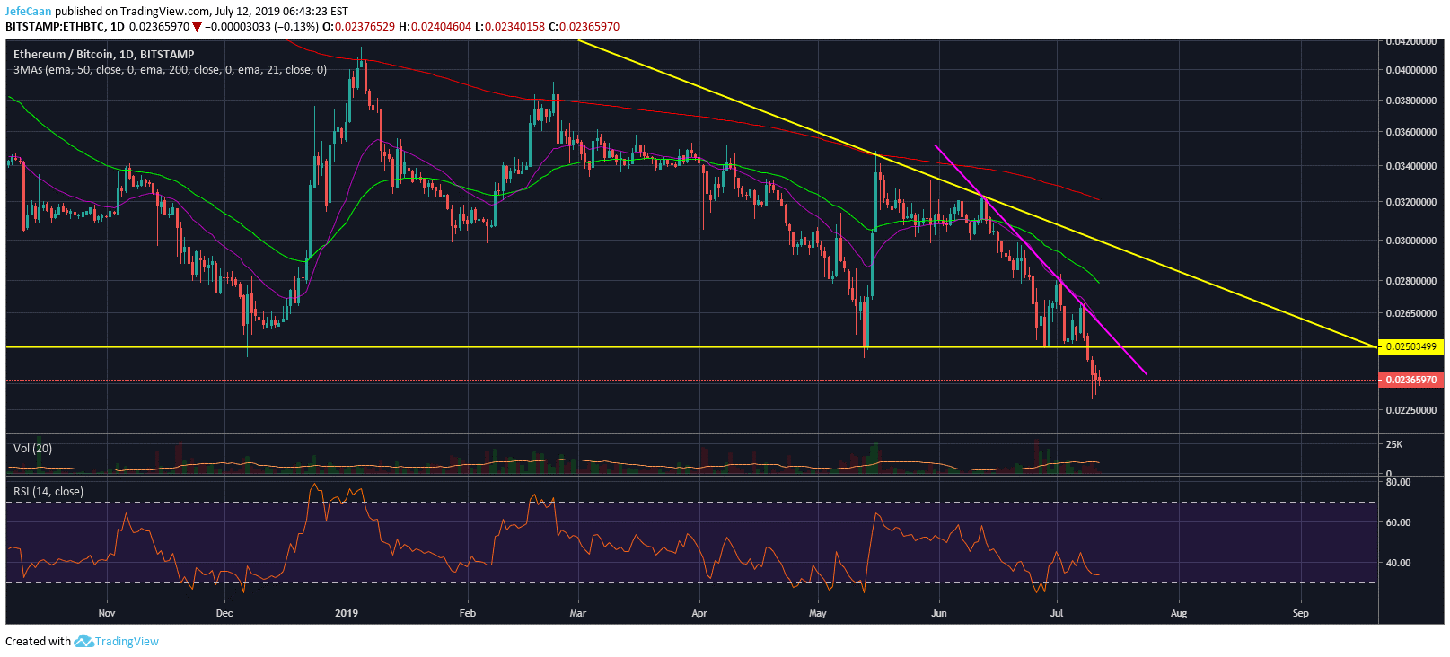 Renowned industry leaders like Arthur Hayes and Tone Vays are not confident that altcoins are going to see any relief anytime soon. Bitmex CEO, Arthur Hayes recently said that most altcoin hodlers might keep on waiting to see the price hit the previous highs but that may never happen. While Bitcoin (BTC) could still rise to a new all-time high, the same cannot be said of altcoins. We saw Ethereum split into two after the DAO hack. This led to the original chain (ETC) being left stranded until ETC Dev and IOHK picked it up. They worked on it for a while and now it seems to be back to where it was with nothing much to show.
Similarly, Ethereum (ETH) has been outpaced by some of these new blockchain platforms that Ethereum (ETH) is going to find very hard to compete with. The daily chart for ETH/BTC shows that Ethereum (ETH) has broken below a key support level. If the price closes near current levels, all hell is going to break loose and we might see the altcoin market experience a lot of pain in the near future. During the previous bull markets, we saw how once popular coins like Stratis and Waves lost their luster to new coins. This is the way of the world; the new replaces the old. This is truer in this market where people care more about the price than the tech.