Ethereum (ETH)'s decline below $200 is inevitable. The price action on the 15 minute chart for ETH/USD corroborates our long term outlook and we see it declining to $186 before it finds a temporary support. Ethereum (ETH) has been pushed hard these past few weeks as it has now broken key support levels both against the US Dollar (USD) as well as Bitcoin (BTC). This means that we could see the price keep on declining till it finds support on the 61.8% fib extension level. Eventually we expect it to break below that level and fall to a double digit price this year. However, that is for later and for now the price could fall to the $186 mark and stage a temporary relief rally from there which will most likely be short-lived and followed quickly by further downside.

The thing about downtrends is that most retail traders expect the price to go up in steps but they expect it to decline straight to the ground for them to consider it bearish. If the price falls $50 but ends up rallying $10 to the upside that is enough to change their mind again and they keep switching between bearish and bullish. There's a saying on Wall Street, "The bulls make money, the bears make money and the pigs get slaughtered". It is true that this is a highly manipulated market with a small number of people calling the shots but that does not mean you cannot make money while staying below the radar and out of their sight. Some moves are too obvious and they expect retail traders to make those mistakes, which makes preying on them easier.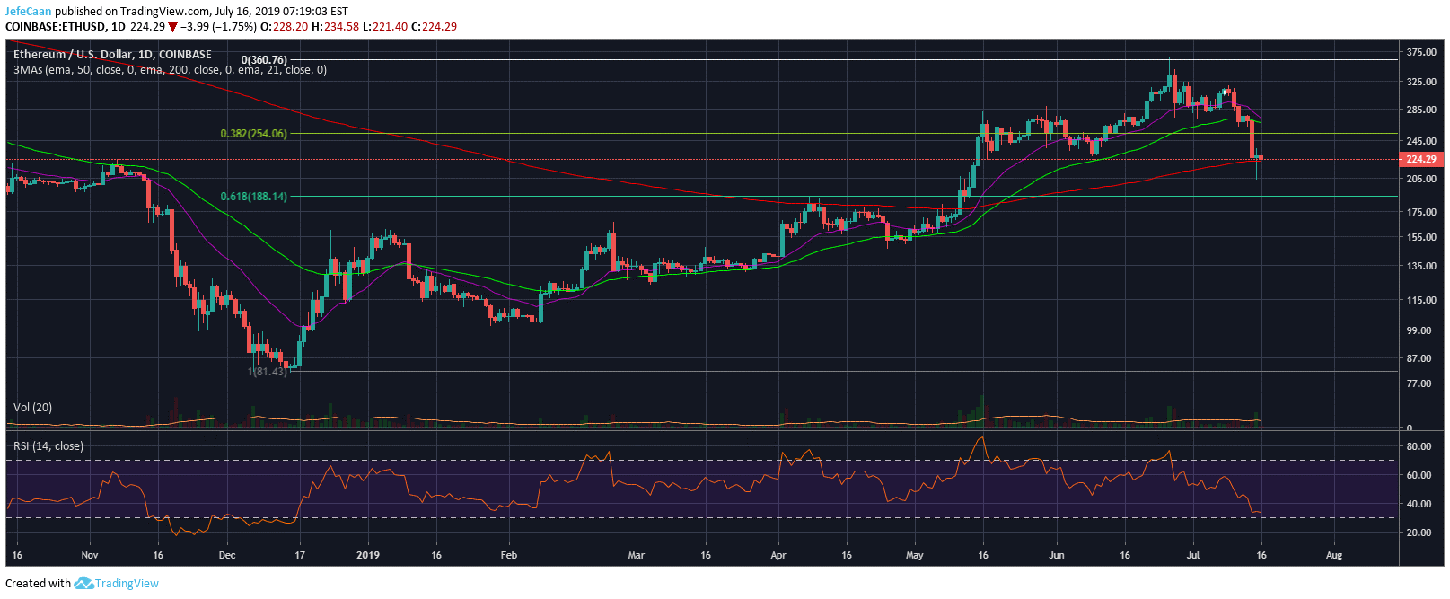 In other markets that are heavily regulated and supervised, the market makers just provide liquidity. They do not influence the price of the asset, but this is not the case in the market. Here, the market makers provide liquidity but they influence the price too. Why? There is no one stopping them! So, if they can provide liquidity as well as trade against the people they provide liquidity to, it means this is a controlled market where only a select group of powerful whales determine what happens.
Let us forget about Ethereum (ETH) and Bitcoin (BTC) for a while and ask ourselves this question, "Can we really expect institutional investors to enter this market when they know what's going on?" Do you think that a financial institution with billions of dollars in assets under management would enter a market that is completely unregulated and where the market makers are more than mere liquidity providers? The question answers itself. So, yes ETH/USD remains in a downtrend and if we see it decline below the 200 Day EMA more blood will follow but that will not be the end of it. This market has to be cleansed and fixed before new money can enter. Until and unless that happens, there is no hope of a new bullish cycle.