Ethereum (ETH) bulls have lost control of the price. We saw the pair decline back to the 200 Day EMA to test it as support and it bounced off there with much strength. However, the price got stopped out at the 38.2% fib retracement level from the recent top and is now on the verge of further decline. RSI on the daily chart points to significant further downside as the downtrend remains intact. If the price falls again below the 200 Day EMA, it is likely to fall a lot lower potentially to the $144 mark and eventually even lower than that. We are seeing ETH/USD as well as other cryptocurrencies keep on breaking crucial support levels. This is not a favorable development for those that are expecting the price to rally to a new yearly high or a new all-time high from here. 
We pointed out previously that whenever the price is primed for decline, we see negative events that serve as catalyst to bring the price down and accelerate what is supposed to happen in the first place. The whole Bitfinex/Tether fiasco could still have far reaching consequences for the overall market but there are some Ethereum (ETH) specific events that could result in Ethereum (ETH) getting the axe harder than Bitcoin (BTC). For instance, Vitalik Buterin now needs Bitcoin Cash (BCH) for scaling before sharding. Is a cryptocurrency like Ethereum (ETH) worth more than $24 billion dollars? I don't think so. I think it is heavily overbought at the moment. Most people that expect institutional investors to pour their money into the market under such overbought conditions are highly mistaken. Ethereum (ETH) is current valued at roughly half the market cap of Cisco. If you do a SWOT analysis of both from an investment standpoint, there is a huge difference.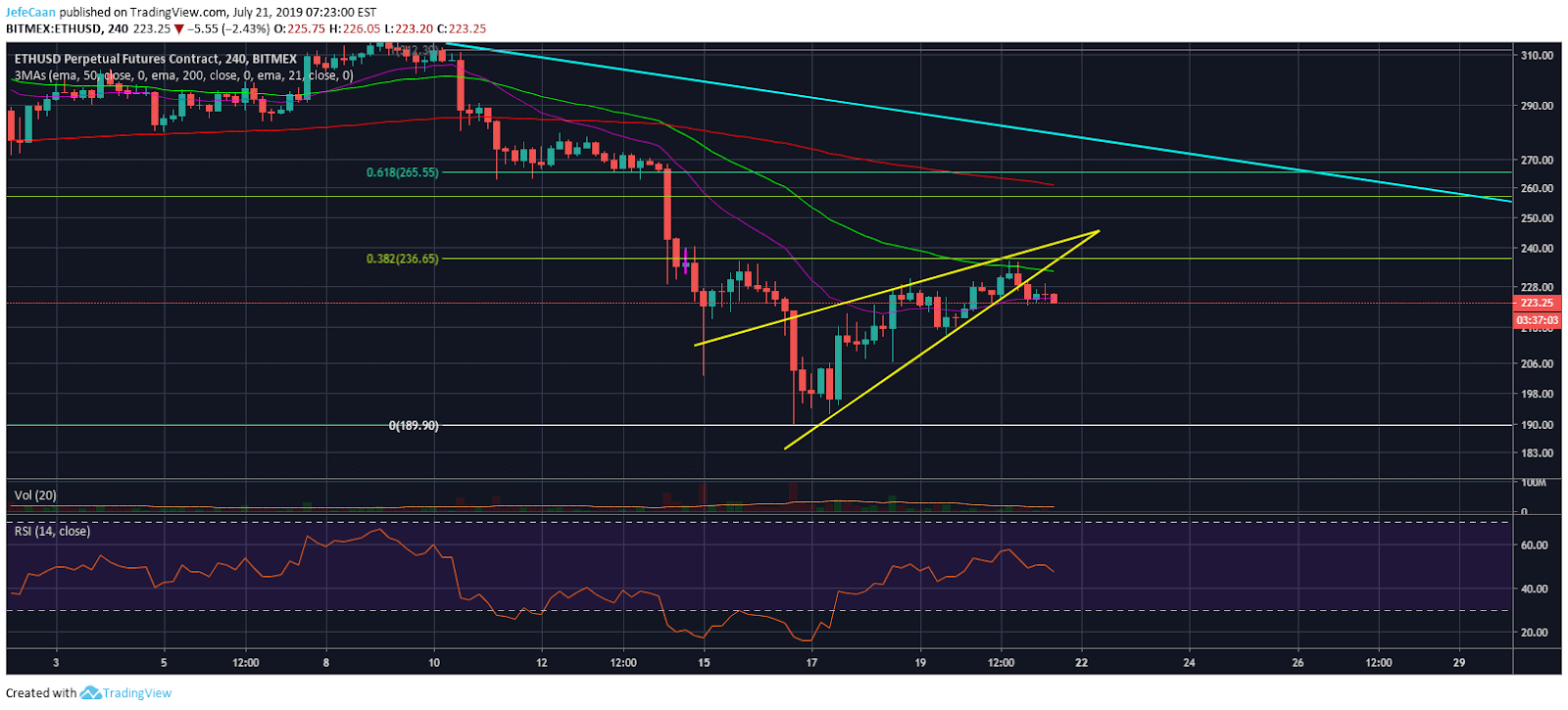 To institutional investors getting into this game, it all comes down to money rather than some hype or excitement around cryptocurrencies being a new asset class. Even if they were to ride the big swings to the upside, they are going to wait and see the price decline further or maybe help to make that happen. If there are no dividends or any other means of income from holding cryptocurrencies like Ethereum (ETH), then ETH/USD has to be at a price that would attract institutions to get involved to ride the rallies. 
Certainly there are some 'digital institutions' that I won't name but you all know that are expecting the price to moon from here. Most of these 'digital funds' are run by people with a very naïve outlook of the markets and no prior experience of having skin in the game because anyone who has been trading other markets consistently for at least five years and making money would know that the bear market is not over yet. If you follow them and listen to their advice, then that's on you because really what you need to do is take a look at their PnL Statements for the last few years and you will see how much money most of them lost making the wrong decisions.