Ethereum (ETH)'s next big move is going to have major implications for the altcoin market. This next big move is not only happening on the ETH/USD front but also on the Ethereum Dominance (ETH.D) front. The Fib circle on the daily chart for Ethereum Dominance (ETH.D) shows that Ethereum (ETH) could either make it or break it from here. The outlook of the altcoin markets hinges on the next big move on Ethereum (ETH). Just like Bitcoin Futures, Ethereum (ETH) Futures are offered by a lot of exchanges and this affects the price action in Ethereum (ETH) in a major way. The altcoin market moves with Ethereum (ETH) which is now also heavily influenced by futures trading.

Market makers have finally tamed the altcoin market because they control Ethereum (ETH) now. Whichever way they send Ethereum (ETH), the rest of the altcoin market will follow. So far, Ethereum (ETH) and other altcoins have performed miserably against Bitcoin (BTC) but all of that might soon change if Ethereum dominance (ETH.D) rises above the previously broken support at 8.92. Fortunately, we don't have to wait that long to see how this is going to play out. If the dominance breaks the upper fib circle, we will see a retest of the previously broken support which means Ethereum (ETH) will rise more than Bitcoin (BTC) or hold its ground better against Bitcoin (BTC) as it did in the past few days. If dominance breaks the lower ring, then we will see it fall to new lows and Ethereum (ETH) and other altcoins will get battered hard as a strong downtrend follows.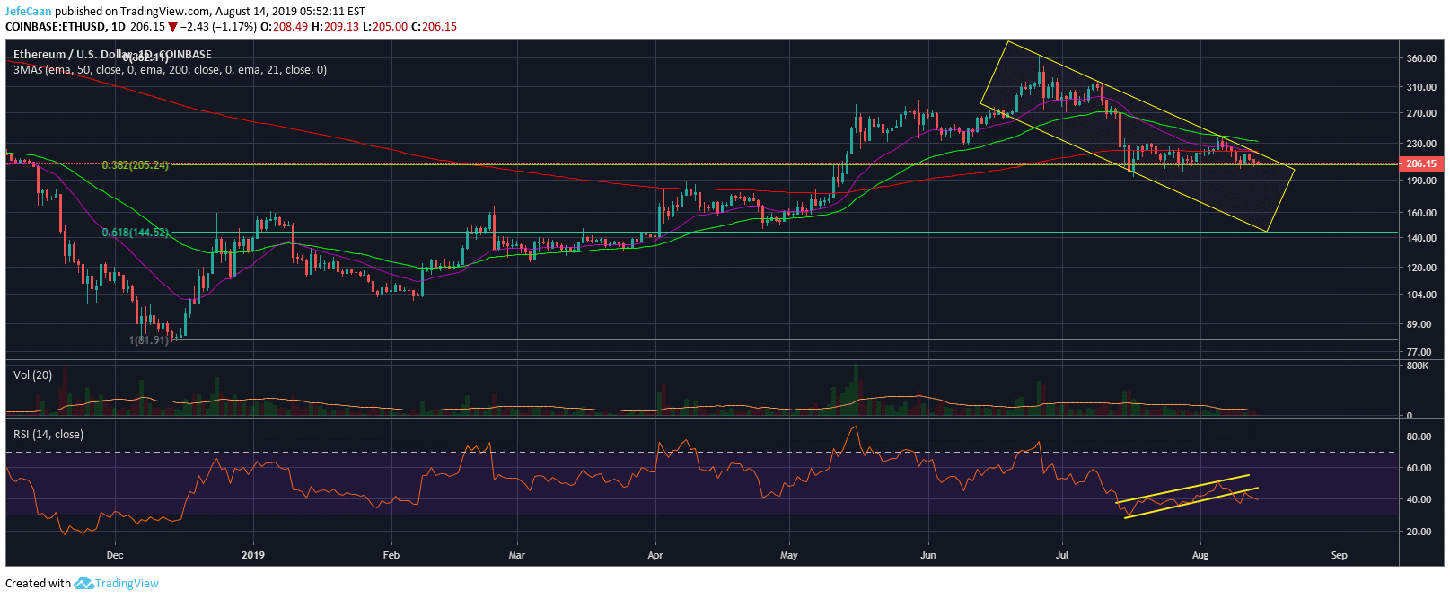 It gets interesting when we take a look at the ETH/USD chart. We can see that Ethereum (ETH) is on the verge of declining below the 38.2% fib extension level any time now. It is already trading below the 200 day EMA and could soon see further downside from here because the price is simultaneously trading within a descending triangle as well which could see it break to the downside to find support around $144 short term. By the look of things, it appears that all of this is going to happen soon. We already have a decline below the bear flag on the RSI and there is a lot of room for further downside from here.
Eventually, we see the price declining to $60 or lower levels before it finds its true bottom. A decline to double digits will be accelerated by a lack of faith in altcoins. What we see at the moment in the form of Bitcoin (BTC) losing ground against Ethereum (ETH) is mainly because whales cashed out from altcoins into Bitcoin (BTC) first so Bitcoin (BTC) pumped insanely while altcoins lagged behind. Now, they are cashing out Bitcoin (BTC) into fiat (USD, EUR, GBP etc.) which is why the price of Bitcoin (BTC) is falling harder than altcoins. As a lot of retail traders see big spikes on their ETH/BTC or Altcoin/BTC charts, they are going to buy these altcoins expecting a trend reversal and that is when the whales will dump on them again. So, yes it helps to look at the charts but it helps more to understand the game plan.