Ethereum Dominance (ETH.D) is on a steady decline. It ran into our fib circle but faced a strong rejection on retest and has now declined even below the 7.78 support. That support has now turned into a strong resistance and this bearish development spells trouble for the altcoin market especially the ICOs that are tied to Ethereum (ETH). It would be unreasonable to jump to conclusions and say that Ethereum (ETH) is going to zero but this does mean that the price is going to be hammered hard in the weeks and months ahead. The daily chart for Ethereum Dominance (ETH.D) is the face of rejection as investors lose faith even in top altcoins like Ethereum (ETH) due to their poor performance against Bitcoin (BTC) and the large number of controversies surrounding them.
After the financial crisis of 2008, Bitcoin (BTC) came into being as an experiment that could help us solve the double spending problem and put us in charge of our own finances. That was a very noble mission and if it had succeeded, Bitcoin (BTC) would have seen a far more rapid adoption. However, unfortunately the opportunity to profit attracted all sorts of people and the original purpose of Bitcoin (BTC) was lost. People did not buy into ICOs like that of Ethereum (ETH) because it was a smart investment; they bought because they wanted to see a high return on their investment. The greed kept on driving up the valuation and the bubble kept popping over and over. While I still think we may see another bullish cycle in altcoin, I cannot say the same about a specific altcoin like Ethereum (ETH). We do not know if Ethereum (ETH) can survive what's coming its way or not.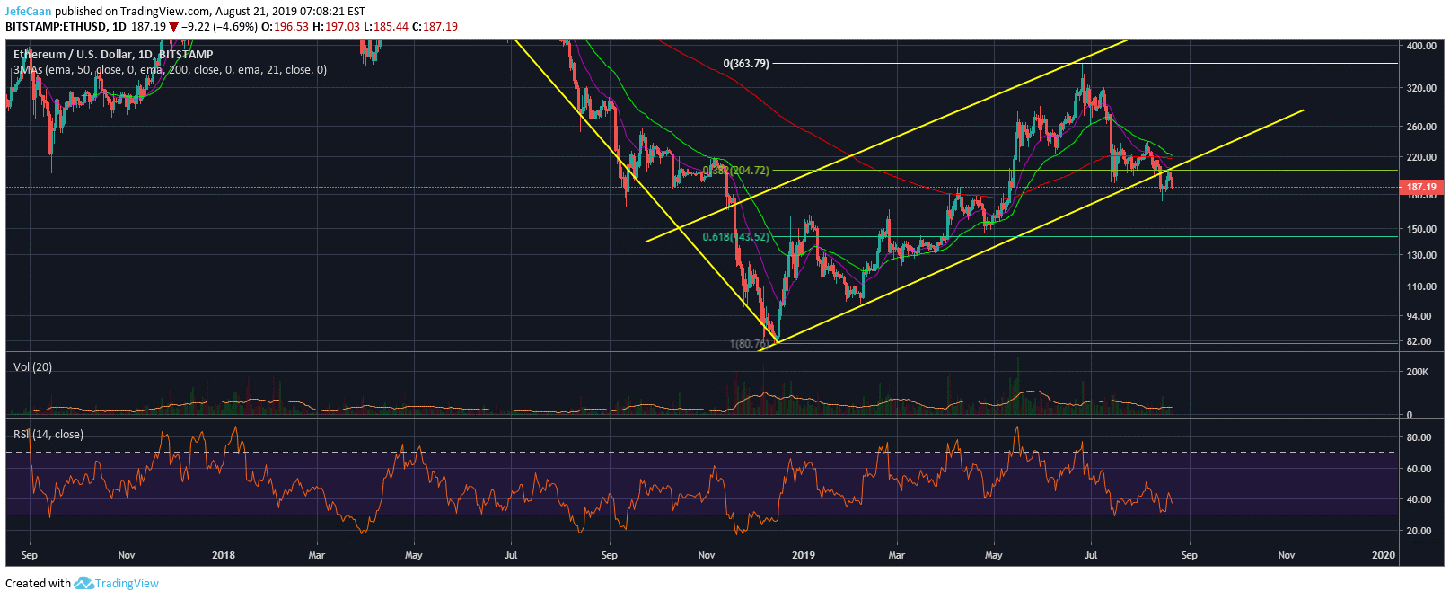 The daily chart for ETH/USD shows a large bear flag that has just been broken to the downside. In addition to that ETH/USD faced a strong rejection at the 38.2% fib extension level and is now poised to decline to the 61.8% fib extension level around $144. When the price does that, it would be forming a large head and shoulders that would then have a very high probability of breaking to the downside. If the price ends up falling below $144, we would test the December, 2018 lows and potentially fall a lot lower than that. Ethereum (ETH) or any other altcoin remains a very risky investment at this point.
While startups are risky too, at least you have equity in a startup whereas buying ETH does not give you equity in anything. You are just holding some coins that are subject to inflation which further adds to the risk. Considering the growing interest in STOs and other forms of tokens, I would not be surprised if Ethereum (ETH) loses its second spot in terms of market cap. This is why it is important to be patient and wait for the market to recover because for all we know the next stock market crash could push us into a recession and when that happens you do not want to be holding Ethereum (ETH).