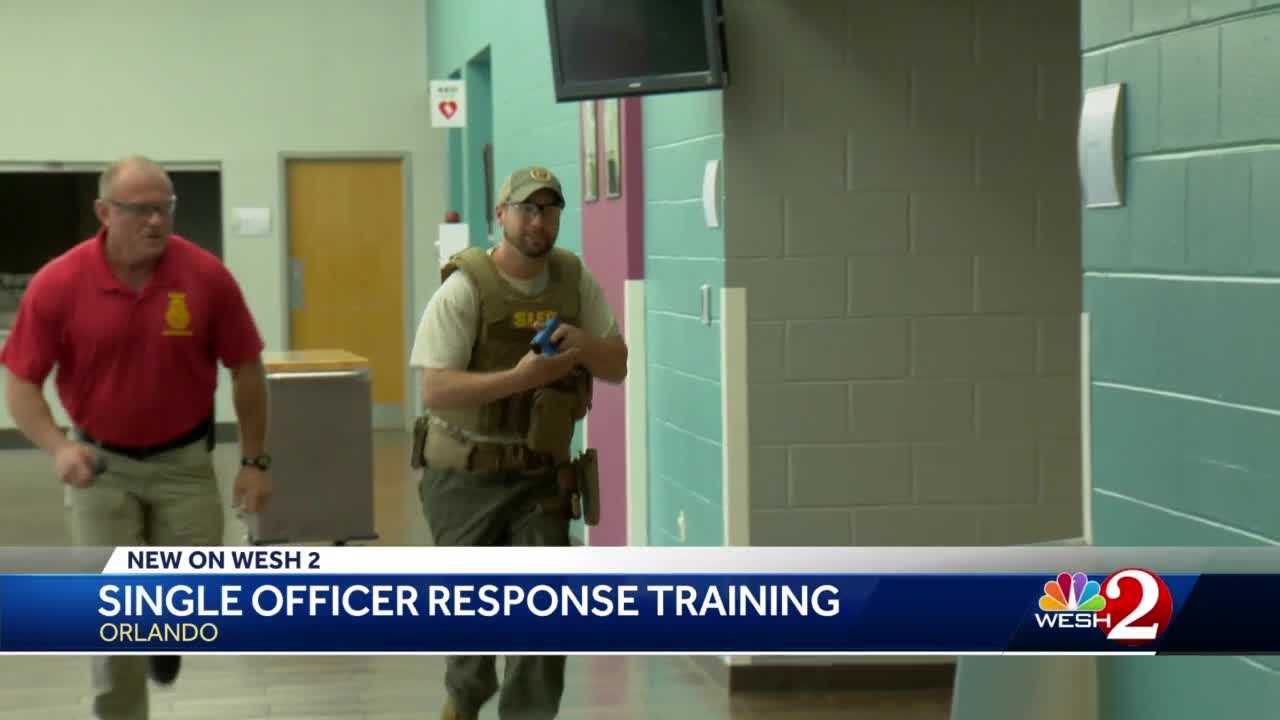 Fifteen officers from seven different states were in Orlando to take part in specialized training from the Florida Department of Law Enforcement.The training focuses on a single officer response, developed in light of the shootings at the Pulse nightclub and at the high school in Parkland."We drove 13 hours to come down here to take part in this training. Well worth it," Master Sgt. William T. Parks, with the Illinois State Police, said.FDLE Deputy Director Eric Yopp said that, when an officer hears a threat, that officer will go toward the gunfire to stop it."We've been doing active shooter training for years but there's never been an active shooter training focused on just a single officer response," Yopp said.The drill was held within a classroom building but with the understanding that an officer could potentially have to respond alone without backup just about anywhere.Originally, the idea started as training for school resource officers, but the FDLE decided its impact could be broader."This doesn't only apply to SROs. This applies to that patrolman that might be patrolling. He or she gets a call at a Publix that there's been an active shooter and we've shown, even in the Publix, we can't wait. Time is going to cost lives," Yopp said. "The end goal here is we're going to save lives with this course."
ORLANDO, Fla. —
Fifteen officers from seven different states were in Orlando to take part in specialized training from the Florida Department of Law Enforcement.
The training focuses on a single officer response, developed in light of the shootings at the Pulse nightclub and at the high school in Parkland.
"We drove 13 hours to come down here to take part in this training. Well worth it," Master Sgt. William T. Parks, with the Illinois State Police, said.
FDLE Deputy Director Eric Yopp said that, when an officer hears a threat, that officer will go toward the gunfire to stop it.
"We've been doing active shooter training for years but there's never been an active shooter training focused on just a single officer response," Yopp said.
The drill was held within a classroom building but with the understanding that an officer could potentially have to respond alone without backup just about anywhere.
Originally, the idea started as training for school resource officers, but the FDLE decided its impact could be broader.
"This doesn't only apply to SROs. This applies to that patrolman that might be patrolling. He or she gets a call at a Publix that there's been an active shooter and we've shown, even in the Publix, we can't wait. Time is going to cost lives," Yopp said. "The end goal here is we're going to save lives with this course."