Ethereum (ETH) had a brutal decline in the past 24 hours. We have been talking about this decline for a while now. The price has declined and closed below the $186.15 mark and to me this is confirmation of the bearish setup at play here. That being said, it would be extremely unreasonable to talk about a bearish setup without talking about this falling wedge on the daily chart for ETH/USD. For now, this falling wedge is more significant than the descending triangle that was broken to the downside. That is because as long as this falling wedge remains valid, the break below the descending triangle remains inconsequential. We are still highly likely to see the price break out of the falling wedge and climb back above $186.15 and even rally higher to test the 50 day EMA before the downtrend begins.

For the bulls, this falling wedge is another opportunity to accumulate. Altcoin confidence has been shattered brutally the past few months which is why it would not be unreasonable to expect that the price can rally from here even past the $200 mark. This would be a perfect liquidity play on behalf of the market makers and a lot of bears are going to be liquidated before the actual downtrend begins. This break below the descending triangle has a lot of people overly excited as they expect the price to crash further from here so they can accumulate some cheap Ethereum (ETH), but this is not how it happens in financial markets. The perfect play here would be to shake out the bears and to trap the bulls which is why a move to the upside is more probable.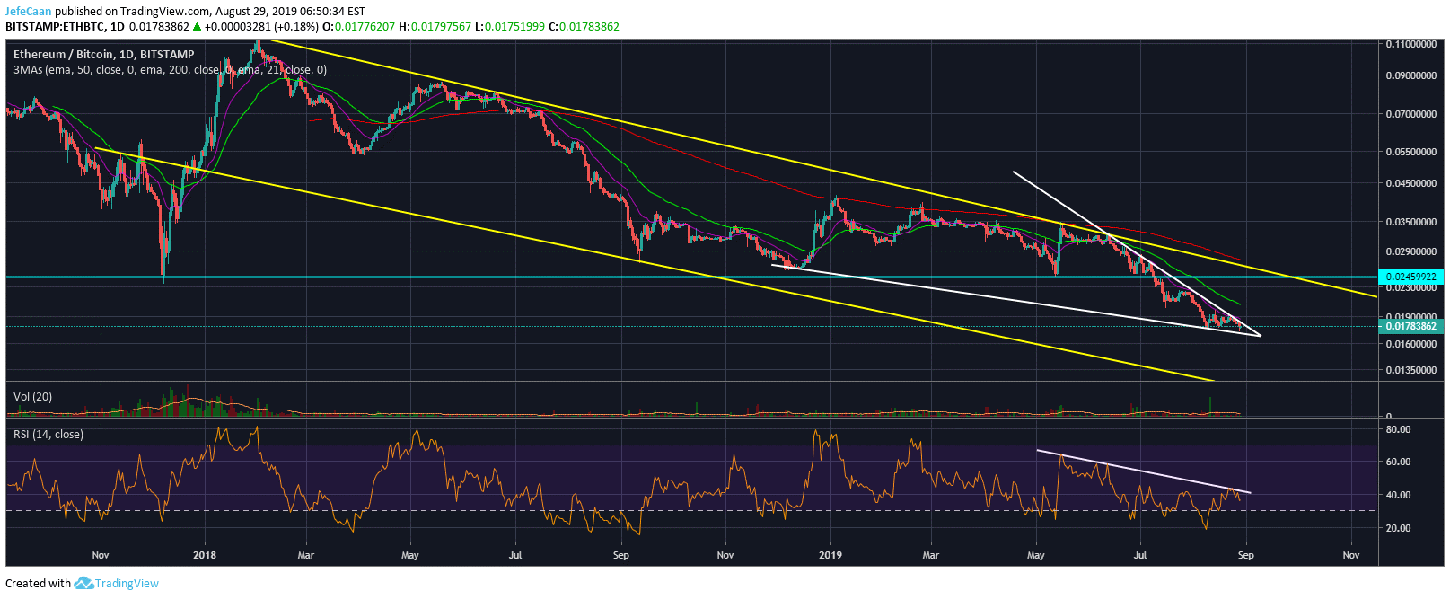 A similar falling wedge can be seen on the daily chart for ETH/BTC. This falling wedge is even more significant because Ethereum (ETH) has been in a downtrend against Bitcoin (BTC) for a long time now. We still expect this long term downtrend to hold but a short term bull trend is highly probable. It may lead to a retest of the top of the descending channel and even a fake out to convince traders that we are in a bull market. As long as there are traders to buy the dips, the whales and market makers would let them.
A large number of traders are still too optimistic to buy the dip. No one is talking about these falling wedges yet because everyone is too scared waiting for the next crash. However, soon as we see a few big moves to the upside, the sentiment will turn bullish again and everyone will start talking about a new yearly high again. Before the next downtrend begins, the bullish euphoria would rise again and you would have more "new yearly high" and "altcoin season" statements. As for now, this remains a good opportunity for short term long entries but for those that do not know how to protect their downside, it would be like playing with fire because the overall trend is still bearish.