You'll never buy a Lambo if you lose all your cryptocurrency to some sneaky hacker, which is why in 2019 it is more important than ever to ensure the wallet you choose is top of the line. The ways that we store crypto have changed drastically throughout the past decade, but for every new security measure there is also some new, and wrong, way to store it as well (if you are storing any significant amount on an exchange, please, for the love of the HODL gods, stop).
Storing on paper used to be the most secure method, but times have changed and we can now have that same security without the extreme inconvenience of paper management. There are thousands of cryptocurrencies out there, and finding a wallet that can accommodate all of them in a secure, user-friendly way should be every crypto user's goal. We'll set you on the right path with this article, but as always, be sure to do your own research before trusting anyone on the Internet.
Comparing the competition
We'll be covering five different wallets in this article, none of which are the most convenient and dangerous option of storing on an exchange (seriously, if you're storing on an exchange you're asking for trouble). These wallets will all be compared on five components: seed phrase options, history of hacks, user reviews, diverse cryptocurrency support, and how they handle fees.
Our wallets today include MyEtherWallet (because it's a household name), Exodus (a well-known alternative wallet), Jaxx (since it has over 1 million users), Freewallet (a prime example of why you shouldn't trust someone on the Internet without doing your research), and Coin Wallet (which has over 20 million user-generated wallets). Without further ado, let's get down to the nitty gritty.
1. Seeds
The seed phrase, which is a list of words storing all the information needed to recover a wallet, traces its roots to the early days of Bitcoin. Although it's absurdly secure from online hacks, it's extremely vulnerable to human stupidity. House fires, in-person theft, and simply losing the piece of paper with your seed on it can make it null. When used correctly, it offers a way to recover a cryptocurrency wallet after computer/wallet failure, since the seed you generated can be put back into another copy of the wallet to access your funds. Of our five chosen wallets, all have the option to use Seed Phrases – if they didn't they wouldn't be on this list. But not all seeds are made equal. Coin Wallet and Exodus, for instance, encrypt their wallets with a high level of security and allow users to set a PIN number as well, while a wallet like Freewallet does neither of these things, because it's a custodial service and you don't have access to your private keys.
2. Hacks
These come in all shapes and forms. MyEtherWallet's chosen DNS servers were compromised in 2018 when thieves managed to resolve users to a phishing site, thus intercepting data between users and MyEtherWallet. Exodus has a bad history with malware and script hacks, and various user accounts claim they've lost funds when using this wallet. Jaxx reportedly lost around $400K in 2017 after hackers were able to connect to users' computers and extract private keys easily from Jaxx's software. Freewallet randomly moved almost 8 million in user funds to a cold storage account, which spurred a lot of whistleblowing about exit scams; the funds were still available to users, but after Mt. Gox's incident years ago, do we really want to trust a company and their "cold storage" options? Coin Wallet, which has been operating for over four years, has never been hacked. It uses AES-256 encryption in conjunction with BIP 39 passphrase encryption, which has been enough to prevent any hacks as of yet.
3. Reviews
It is easiest to use a third-party website here, so we'll defer to cryptocompare.com for reviews.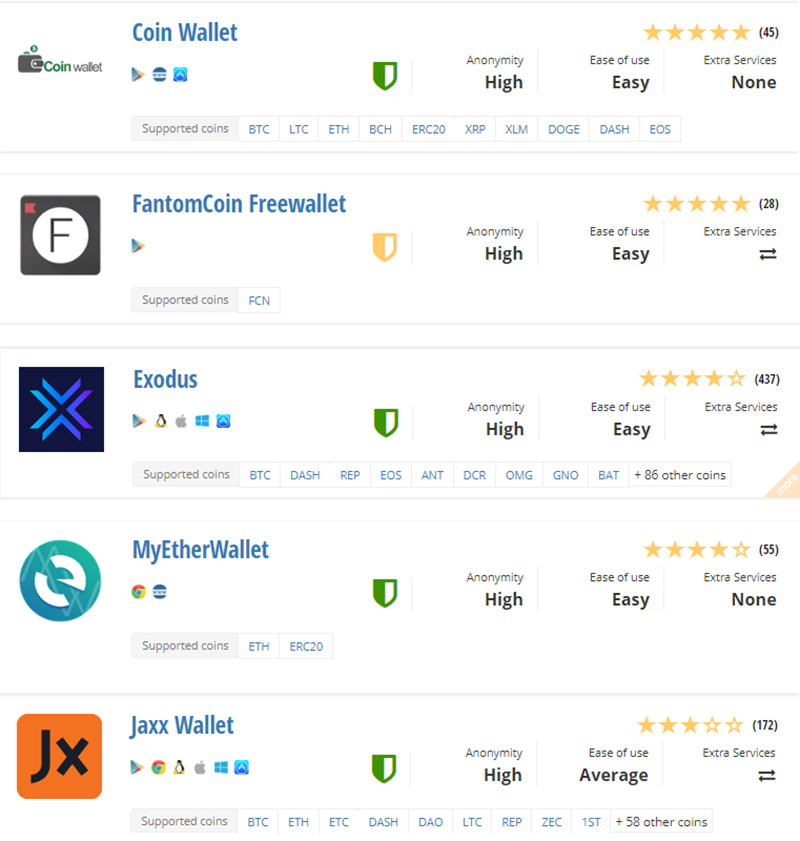 Source: cryptocompare.com/wallets
Only two of these wallets have perfect scores, but users should be aware that Freewallet is a custodial service. This can lead to problems when participating in ICOs since the private keys aren't yours, especially when dealing with a smart contract that returns coins or tokens to the sending address. Being able to export your private keys is extremely important. This is something offered by Coin Wallet, Jaxx, Exodus, and MyEtherWallet, but NOT by Freewallet.

4. Token Support
Being able to have all your crypto in one place is super handy, especially if you're participating in dozens of ICOs and investing in more than the top 10 currencies. Here is a breakdown of the currencies each wallet supports:
| | |
| --- | --- |
| Coin Wallet | BTC, LTC, BCH, XRP, ETH, and all ERC20 and ERC223 tokens (20,000+) |
| Jaxx | BTC, ETH, DASH, ETC, BCH, REP, LTC, ZEC, RSK, DGE, ICN, GNT, GNO, DGD, BCAP, CVC, STX, POE, MCI, QTUM, CFI, ART, PAY, and 55+ more |
| MyEtherWallet | ETH (obviously), ERC20, ETC, Testnet ETH, UBQ, EXP, POA, TOMO, ELLA, ETSC, EGEM, CLO, GO, EOSC, AKA, ESN, PIRL, ETHO, ATH, ILT, WEB, and MUSICOIN |
| Freewallet | BTC, BCH, ARDR, BCN, BNT, BTG, DASH, DCT, DOGE, EOS, ETH, FCN, GNO, GUP, IGNIS, LSK, LTC, NEO, NXT, PTOY, TRX, USDT, VEN, XDN, XEM, XMO, XMR, ZEC, XYO |
| Exodus | BTC, BCH, ETH, LTC, XRP, and 99 more |
Coin Wallet's support of all ERC20 and ERC223 tokens is crucial and opens up the ICO world to you, while Exodus's extensive list of more popular currencies will ensure you have your standard basis covered. It really depends on what you are looking for, and if ERC20 and ERC223 tokens are something you see yourself needing to store then an option like Coin Wallet would be a great choice for you, especially since they cover such a wide range of currencies to make both ICO investors and Bitcoin maximalists happy. On the flip side, if you don't need ERC20 then picking a wallet with extensive standard options may be a better choice.
5. Custom Transaction Fee
A lot of crypto wallets handle network fees as a blanket charge, as in, they tell you what you're going to pay and you have to pay it if you want to transfer through them. These fees go to network miners, but users should have some say in the process depending on the type of transaction they're sending. Most of these wallets have standard fee options, but Coin Wallet lets you choose between three different types: default, fastest, and minimum. Default will push your transaction through in 30-60 minutes, fastest will put you on the next block, and minimum can take upwards of 90 minutes.
Finding a fantastic wallet for PRO users
Picking the best wallet is circumstantial, but if you're searching for a wallet that best fulfills the criteria set out at the start of this article then you will probably want to go with Coin Wallet, since it hits every category and then some. Their motto is all about putting the security in your hands, which is, of course, a double-edged sword. On one hand, you have complete control and anonymity when it comes to your cryptocurrencies (which is ideal for pro users), but that comes with the tradeoff of being completely responsible for your crypto. If you lose your passphrase and private key without backing it up, you're out of luck – no one at Coin Wallet will be able to help you.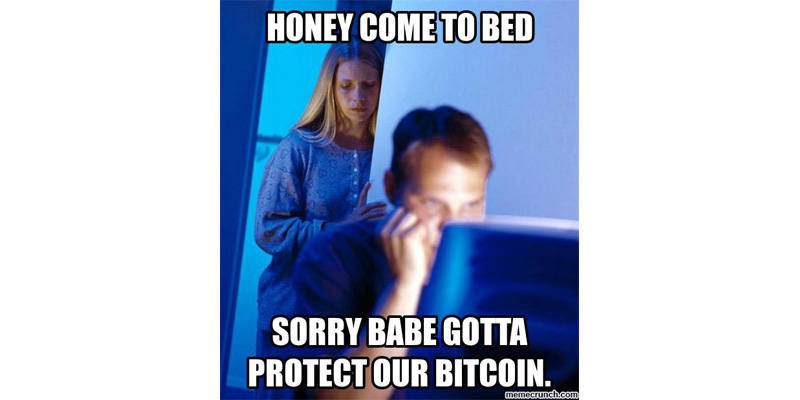 Source: steemit.com/@hilarski
As always, be sure to do your own research before trusting any company (or this article) with your crypto. It doesn't have to be a scary world if you make an effort to do your homework, and if you take anything away from this article take away the fact that you should never store your crypto on an exchange. Seriously, don't.