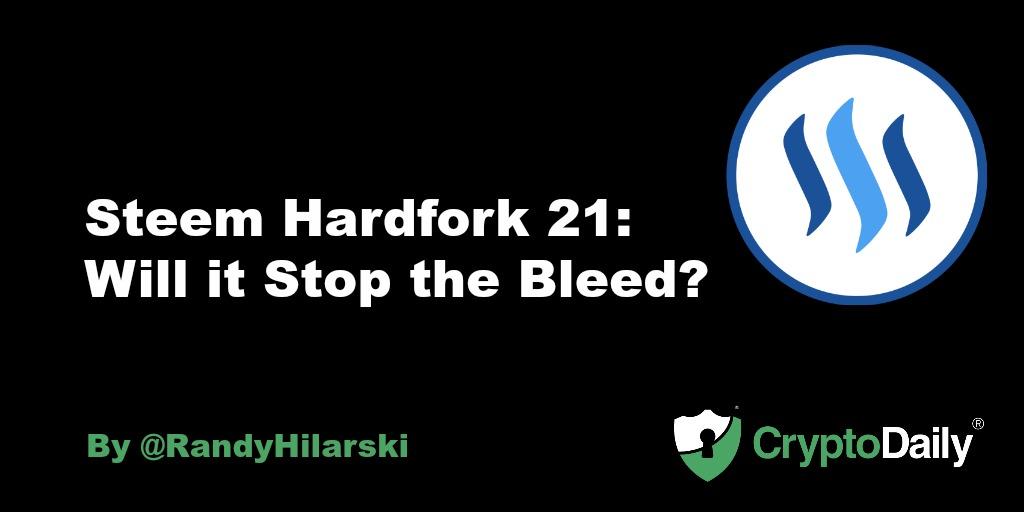 Tomorrow the team is implementing Hardfork 21 which will make big changes to the way we do things on the Steem blockchain. If you have never used Steemit I have a guide you can check out here, "The CryptoDailyUK Definitive Guide To Steemit".
Now the Steem blockchain has afforded its user's many opportunities over the last three years. Also, many people made a great living from creating content on the Steem Blockchain. Although we don't make the amazing income that we used to make we still support the project. Anabell and I are also grateful for the opportunity to be the social team during the first year.
On Tue, 27 August 2019 15:00:00 UTC, the Steem blockchain will undergo a network upgrade in the form of a hardfork. This is Steem Hardfork 21 or Steem HF21.
Hardfork 21 and What it Means to Steem Blockchain Users.
The pool of Steem given out daily to content creators will be lowered by 10% in order to accommodate a new DAO (Decentralized Autonomous Organization). This will be a new Steem Proposal System for the community.

The rewards for content creators will decrease by 25% to 50% of the total reward.

Content curator rewards will increase by 25% to 50% of the total reward.

A new downvote pool that will allow users to downvote without draining their voting power.
How I Feel About Steem Hardfork 21.
I have been a vocal critic of the direction Steemit Inc has taken the Steem blockchain over the last few years. We were pretty vocal even when we were on the team and it probably was one of the reasons we were let go. 
Now over two years since we left the team we have watched as the platform stagnated. The energy and excitement that we used to feel have largely dissipated. Now with Hardfork 21 I get a sense that the team is finally serious about making this platform successful.
As a content creator only time will tell if the changes can help us make a good amount of Steem again or it could be another way the big hitters on the platform will take advantage and exploit the rewards system.
If I understand everything correctly. The pool of rewards is now 10% smaller and the content creator will be giving up 25% of their reward. I will tell you one thing it will discourage. People won't be buying any votes, as the 25% loss in rewards will negate any possible profit from buying votes. Now the only reason I see to buy a vote would be to make sure your content makes it to the trending page.
This change will bode well for curation groups. Personally, I have no time for that. I will continue to upvote content I deem quality and will continue to avoid using the downvote.