The much-anticipated launch of this new MimbleWimble proof of work privacy coin has caught the attention of many in the cryptocurrency community. The Epic Cash team aimed to be the fairest launch in the history of Proof of Work cryptocurrencies. If the community wanted it the dev team did their best to deliver it. 
When the community wanted Windows mining they worked hard and delivered a miner at launch. The community also wanted mining pools. Currently, IceMining stepped up and began work on an Epic Cash mining pool. I am personally participating in the beta.
Epic Cash Mining.
Epic can be CPU, GPU, and ASIC-mined. Block rewards are distributed according to a schedule that balances wide distribution with long-term security. Epic mining is initially available to CPUs, GPUs, and ASICs, using three respective hashing algorithms: RandomX, ProgPow, and CuckAToo31+. Algorithms can be trivially hot-swapped without compromising the integrity of the chain.

Epic Cash Mining By the Numbers.
Below are the numbers from the Epic Cash Block Explorer at 8:30 PM EST on 09/09/10.
Blockchain Height – 11,351
Circulating Supply – 181,616
Blocks Mined – 1643

Target Difficulty –
Cuckoo     : 50,508
ProgPow   : 117,510,216,283
RandomX  : 592,155,433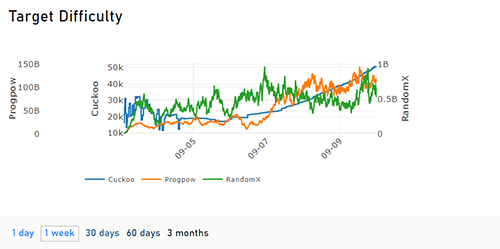 The Epic Cash Emission Rate.
Epic Cash has a max supply of 21 million similar to Bitcoin. The supply growth of Epic Cash is accelerated in order to reach singularity with Bitcoin on approximately May 24th, 2028.

Start Mining Epic Cash Today!
If you are currently mining cryptocurrencies I highly recommend you take a look at Epic Cash. Join the Epic Cash Telegram channel today.