Litecoin (LTC) has broken out of a falling wedge which is normally a bullish development, but not in this case. The 4H chart for LTC/BTC shows that Litecoin (LTC) broke a critical falling wedge against Bitcoin (BTC) only to test it as support for further downside. The price has kept on declining along the falling wedge since the beginning of the month. Even as Bitcoin (BTC) is slowly rallying towards $5,800, cryptocurrencies like Litecoin (LTC) seem to be losing ground as even the bulls know that the price is due for a major decline whether the bottom is in or not. We have seen a lot of changes in this market in the past few months. It has become common sight to see even some of the most resilient cryptocurrencies lose their spots to other coins with better use cases.
In the past few months, Litecoin (LTC) has been one of the biggest beneficiaries of bullish hope. The halvening event in August has got most people excited already even though a lot could happen between August and now. That being said, the market did not care much about this and kept buying into the hype the whole time. Litecoin (LTC) is now clearly overbought on the weekly time frame and has been long overdue for a major decline that could see it dip below $50 in the near future. It is surprising to see that investors are still betting big on Litecoin (LTC) when most of the cryptocurrencies around have a lot better prospects long term. Litecoin (LTC) would have a serious problem staying in business if Bitcoin (BTC) implements upgrades like Lightning Network to solve problems of transaction cost and speed.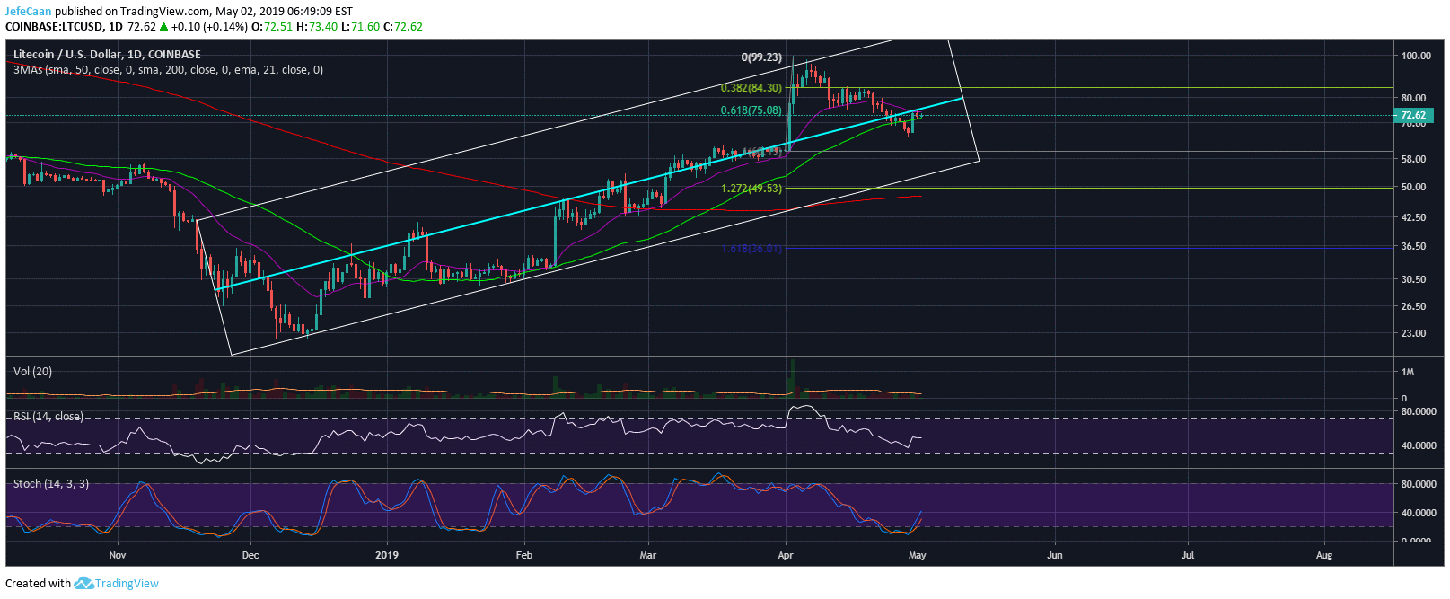 Forks like Bitcoin Cash (BCH) and Litecoin (LTC) have actually made very little changes to the actual code to create these spinoff coins that they flout as innovative blockchain projects. Satoshi Nakamoto could have done this but this was not the purpose of Bitcoin (BTC). It was created to solve the double spending problem not to create a faster or cheaper digital currency. That being said, Litecoin (LTC) currently claims to be that, but so does Bitcoin Cash (BCH) and a plethora of other forks. Now, it is obvious to see that Litecoin (LTC) is going to continue to benefit from the hype leading to its next halvening.
However, what remains to be seen is whether it will still have a use case when Bitcoin (BTC) can do what Litecoin (LTC) has set out to do? The daily chart for LTC/USD shows that Litecoin (LTC) has met a strong resistance at the 61.8% Fib resistance and will now have to retrace to the bottom of the ascending channel it has been trading in. Litecoin (LTC) was one of the few cryptocurrencies to capitalize effectively on the golden cross hype as well as the halvening hype. We might see the bullish momentum continue till its halvening in August. However, for long term investors in cryptocurrencies, it may be time to explore other options and reduce exposure to this cryptocurrency.