Litecoin (LTC) closed below its 50 day moving average and the price is now eyeing further downside amid short term oversold conditions. We saw LTC/USD rally hard after the 50 day moving average crossed over the 200 day moving average to form a golden cross. Most cryptocurrencies were unable to capitalize on that but Litecoin (LTC) had a good run fueled predominantly by the halvening hype. Litecoin (LTC) is due for its next halvening in August that would see its mining rewards split in half which means it will cost twice as much to mine one Litecoin (LTC). This should lead to a rise in the price of Litecoin (LTC) based on simple economics. However, there is a lot that could happen between August and now which the majority of traders do not seem to be prepared for.
Halvening could lead to a spike in the price of Litecoin (LTC) but that does not mean that the price has to stop at its current price and wait for halvening. If the market nosedives, LTC/USD will fall with it. Then no matter where the price of Litecoin (LTC) ends up when it bottoms, it will rise from there and the halvening effect could still come into play. In fact, Litecoin (LTC)'s halvening could be instrumental in deciding when the bear market finally ends. We have discussed in our previous analyses how we expect the stock market to decline from May to September as the Fed unwinds its balance sheet. A strong downtrend in the S&P 500 will be followed by a strong downtrend in cryptocurrencies. Altcoins like Litecoin (LTC) will be the ones to suffer the most as they follow Bitcoin (BTC)'s lead to decline towards their true bottom.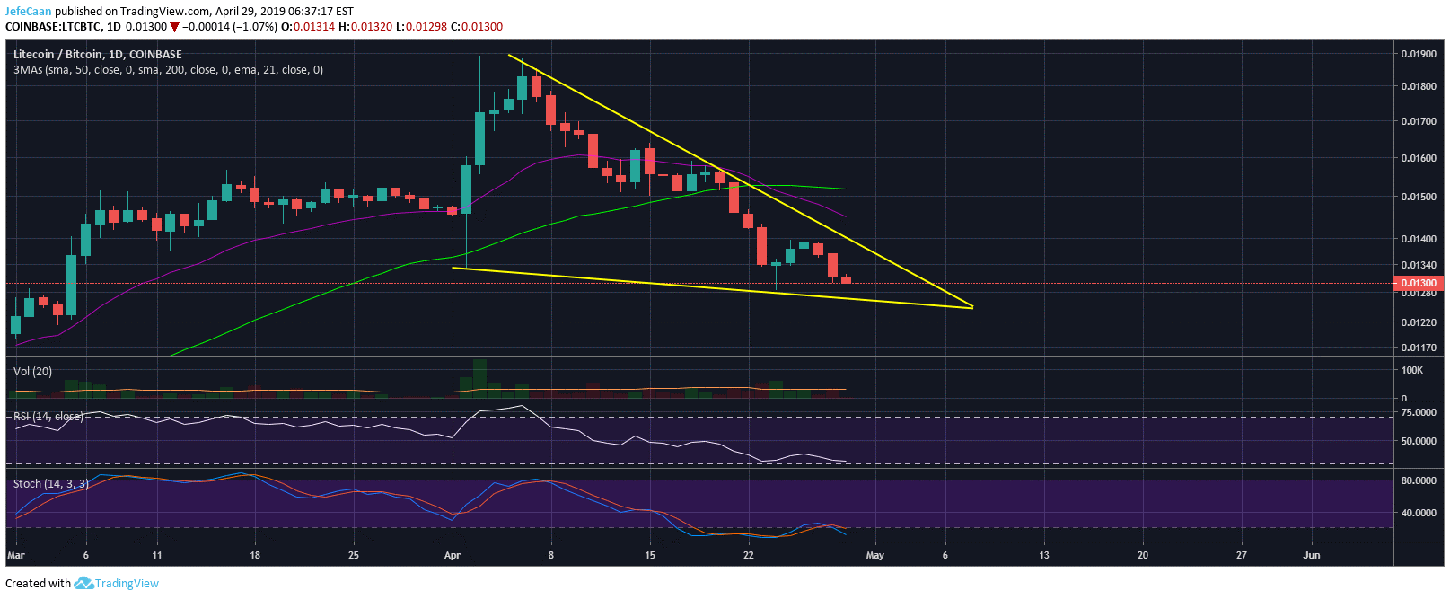 The daily chart for LTC/BTC shows that there is plenty of room for the price to fall against Bitcoin (BTC) even as RSI and Stochastic Indicators remain close to oversold territory. The falling wedge seen on the daily chart for LTC/BTC would normally break to the upside but given the current outlook of Litecoin (LTC), it would not be surprising to see this wedge break to the downside. Most traders and investors are often quick to criticize technical analysis or charting principles for being rendered 'useless' every now and again in this market. That is true to an extent but it is important to realize that most of the trend lines and patterns on the charts just depict what the market is thinking at a certain point.
It all comes down to probabilities and market psychology. In other words, it would be very unreasonable to just rely on patterns like falling wedges to determine which way the price is going to break out. Sure, there are traders who do that without taking any fundamentals into account, but most of them trade breakouts. They do not take a position hoping the price would break out in a particular direction. Litecoin (LTC) has nothing much to offer apart from being a cheaper and faster alternate to Bitcoin (BTC) for now. It remains to be seen what use case Litecoin (LTC) will have when Bitcoin (BTC) becomes faster and cheaper with upgrades like lightning network.