Litecoin (LTC) is in a tough spot not only against the US Dollar (USD) but also against Bitcoin (BTC). The daily chart for LTC/BTC shows us the resistance levels that Litecoin (LTC) is up against while trading against Bitcoin (BTC). If we see a decline from current levels, there is nothing much that would stop the price from declining at least 25% before it finds some relief. Lest we forget, it was Litecoin (LTC) not Bitcoin (BTC) that led the parabolic advance of early 2019. We have yet to see a correction in Litecoin (LTC) that would eventually lead to erasing the gains it made because we do not believe that Litecoin (LTC) has bottomed yet, not against Bitcoin (BTC) and not against the US Dollar (USD).

When Litecoin (LTC) entered the market, a lot of investors threw their money at it because it was dirt cheap and they thought it could one day be at the same price Bitcoin (BTC) was trading at. So, it was greed not rationality that drove the price of Litecoin (LTC). In my opinion, if we had thought about how backing Litecoin (LTC) or any other altcoin as an alternative currency goes against the reason of existence of Bitcoin (BTC), perhaps we would not have thousands of useless altcoins today. If we keep on welcoming coins like Litecoin (LTC), then Litecoin Cash or Bitcoin Cash and Bitcoin SV then where does it all stop? How does it fix the double spending problem that Bitcoin (BTC) was meant to solve?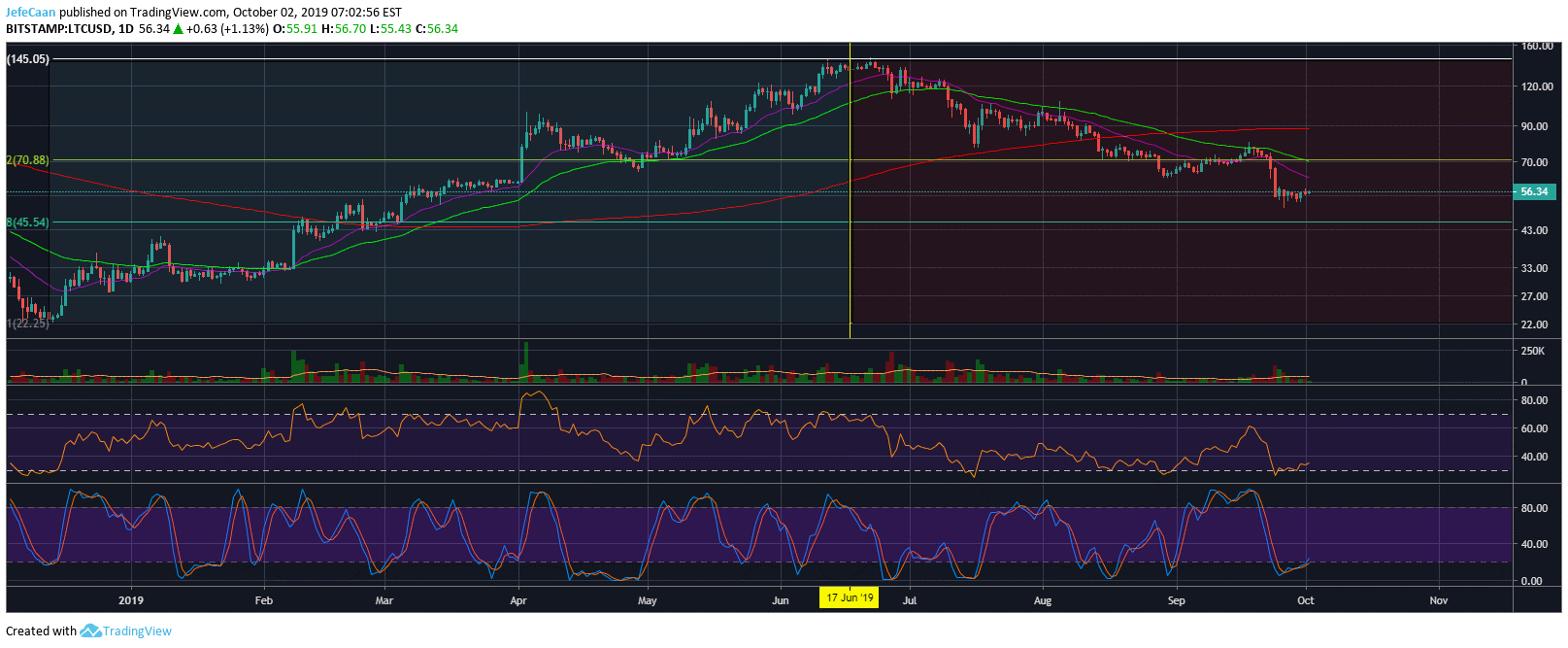 There may be a lot of quick buck artists in the market but there are a lot of very dedicated and loyal people in this market that want to see this space flourish and I think we are very close to seeing a wipeout of most of these useless altcoins off the market. The daily chart for LTC/USD shows us that Litecoin (LTC) has now declined in the same manner in which it rallied. Notice the similarities between rise and fall. If this symmetry is any indication, we are on the verge of a major downtrend that might first pull the price down to the 61.8% fib extension level and then eventually well below that to complete the correction.
Bitcoin (BTC) is a risky investment but it has seen a lot of adoption. It has a better probability of surviving what is about to come. However, the same cannot be said about coins like Litecoin (LTC). We cannot say for sure if Litecoin (LTC) would be around after the next downtrend. Even if it is around, it is more likely to be in the list of forgotten coins considering its only use case is being a faster and cheaper alternative to Bitcoin (BTC). So, what do you think happens when future upgrades make Bitcoin (BTC) as cheaper and faster as Litecoin (LTC) if not more?
Source link