Litecoin (LTC) has found support atop its 50 day moving average but the near term outlook looks very bleak. In fact, if LTC/USD falls below the 50 day MA, it will crash hard as there is nothing much to stop it from such a decline. The price might find support at the 61.8% Fib extension level but it is likely to fall further eventually. Litecoin (LTC) rallied mostly on hype surrounding its next halvening event in August. What most investors do not realize is that a lot could happen between August and now. The bulls have been confident for far too long but things are about to change as the bears are waking up from a deep slumber.
Most of the bears were scared to get in the way when LTC/USD was on a roll. There were times when Litecoin (LTC) got ahead of Bitcoin (BTC) and dictated market movement. Some investors compared Litecoin (LTC) to digital silver just like they consider Bitcoin (BTC) digital gold. While there are some very promising blockchain projects that are contributing to innovation and productivity in this space, Litecoin (LTC) is not one of them. In fact, coins like Litecoin (LTC) and Bitcoin Cash (BCH) are responsible for the long list of useless forks that have been scamming cryptocurrency investors for a long time now. Even Litecoin (LTC) and Bitcoin Cash (BCH) are not useful forks of Bitcoin (BTC). If anything, they have led to confusion and the creation of more useless forks by founders who want to scam unsuspecting crypto enthusiasts making them believe their coins are better than Bitcoin (BTC).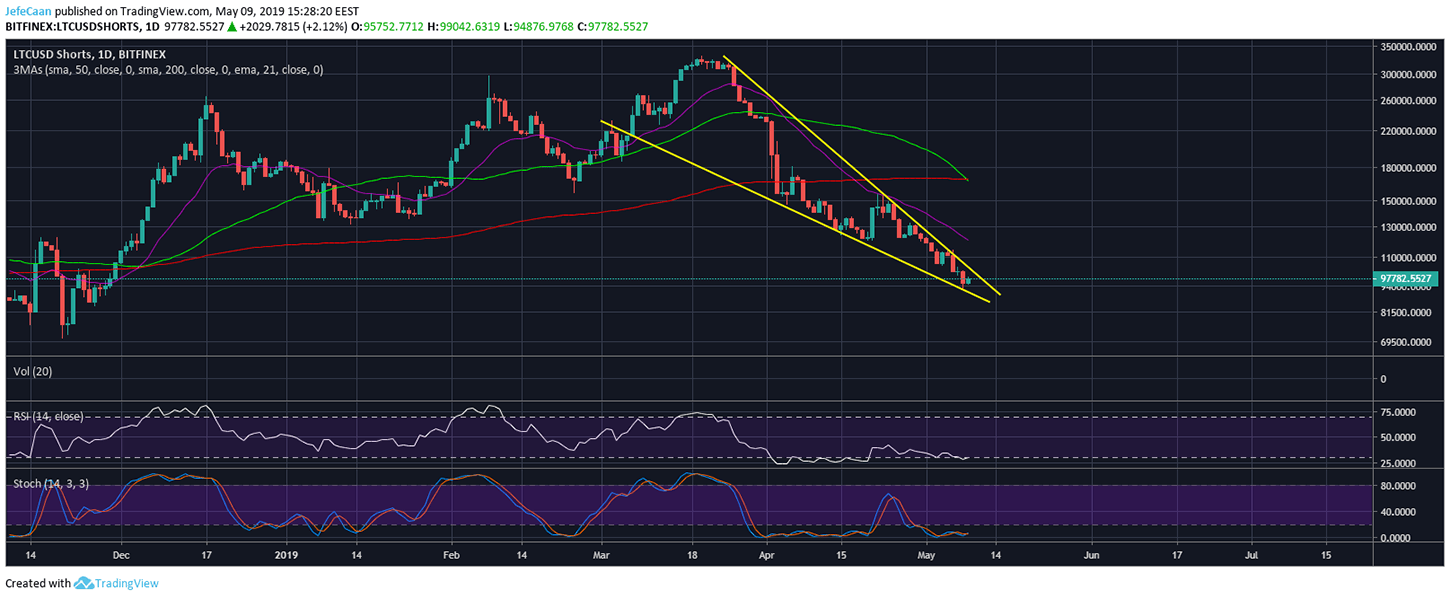 This large falling wedge that we see above is on the daily chart for LTCUSDShorts. If this was anything else, we would be expecting a big pump in the price soon as the price exited this wedge. Considering that this is LTCUSDShorts, we are very likely to see a big dump in the price of Litecoin (LTC) when the number of margined shorts breaks out of this wedge. The reason we expect it to happen in pumps and dumps is because that is exactly how the price has been trading for the past few months. There is no sustainable movement that could lead to proper rallies or corrections, but only pumps followed by dumps.
A lot of people do not buy the idea of manipulation in this market but if they have been privy to the dealings of some exchanges, maybe they would not see it this way. That being said though, this is not necessarily bad for the market. Without this, Bitcoin (BTC) or other cryptocurrencies would not have followed the previous market cycle. The point is, there is a serious lack of buying and selling interest in the market. Most of the trading activity is manipulated to put it softly. As the cryptocurrency market grows in market cap, we are no longer going to see useless coins rally with the rest of the market. This should be enough for investors to decide which coins to back and which not to back long term.