History may not always repeat itself but it does rhyme. In the case of Litecoin (LTC), it has rhymed very closely and that too just close to the next halvening. If we compare the current halvening to that of August, 2015, we can see that the price topped out before the halvening. This is not an assumption; it is a fact and it is right there on the chart. LTC/USD topped out weeks before its previous halvening and a lot of retail traders were left disappointed. That disappointment continued during and after the halvening which resulted in further sell off and instead of the price rising after halvening it kept on falling. So, why did this happen? Well, everyone can see the halvening coming and retail traders want to front run each other to buy as much as they think the price will shoot to the moon after halvening.

Now, the fact of the matter is that a lot of retail traders are either inexperienced or too lazy to do their research. It is clearly there on the charts and anyone who is buying into this halvening FOMO should be looking at what happened the last time. Of course, there is a large number of 'influencers' that influence the price of Litecoin (LTC) by inducing more FOMO into the market to trap overly optimistic retail traders. I mentioned in my previous video analysis that this Litecoin (LTC) crash during and after the halvening could be a lot more painful than the one we saw before. This is because in August, 2015 the market was just trying to turn bullish whereas in August, 2019 it will be in its second downtrend. This is very alarming and we expect that even those that are waiting to buy after the price declines will see further pain because LTC/USD is unlikely to trade sideways like it did some weeks after the previous halvening.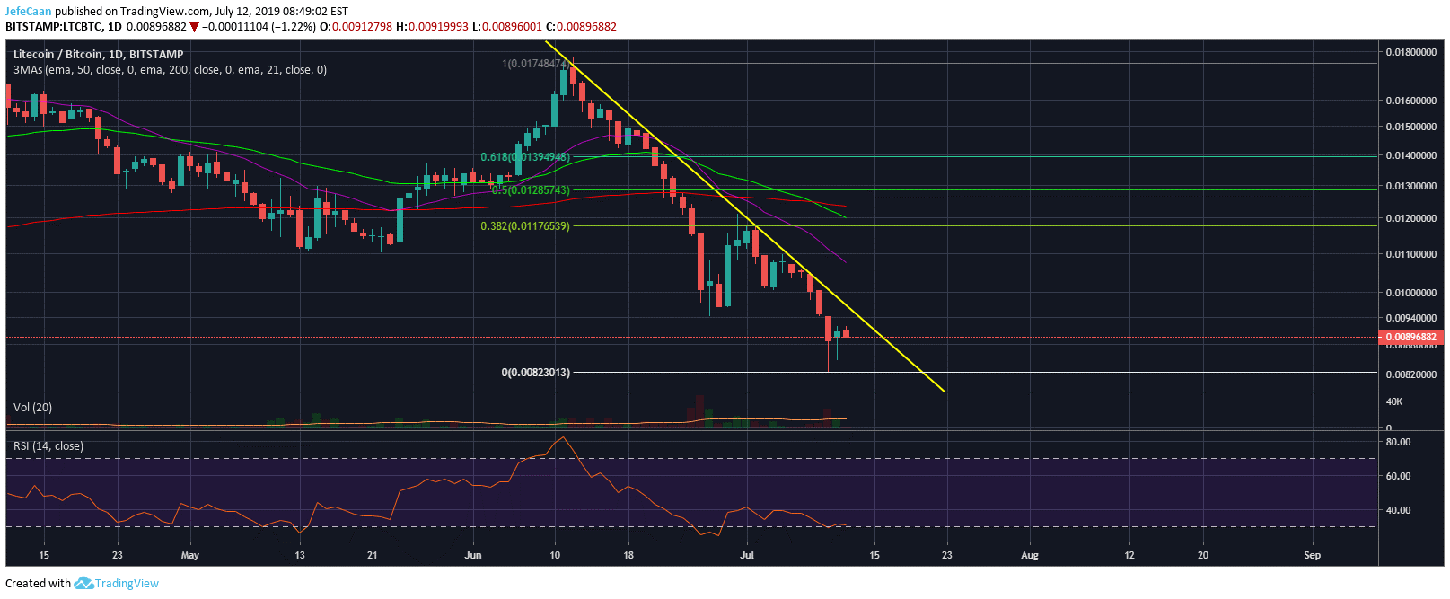 If we take a look at the daily chart for LTC/BTC, we can see that it remains in a strong downtrend. There is no hope of a trend reversal until the price breaks the strong trend line resistance that it has failed to beach since June. If this level is breached, the price might still be rejected at the 38.2% fib retracement level. In other words, there is little to no reason to be bullish on Litecoin (LTC) just yet despite the upcoming halvening.
In the grand scheme of things, halvening is a very significant event. If mining rewards are cut in half, it means that it will cost twice as much to mine one Litecoin (LTC) which means that its price should go up based on simple economics. However, markets seldom react in a rational manner, especially unregulated markets. The game plan here is an opportunity to profit off the naiveté of retail traders that are expecting the price to moon after the upcoming halvening. There is no way the whales are going to pass on that.