Litecoin (LTC) is due for major downside from current levels. The price has already declined below the 61.8% fib retracement level from the last top of the previously broken market structure. It is now eyeing a decline to the 38.2% fib retracement level around $50. We are likely to see this move come to fruition as LTC/USD is already trading below its 50 day EMA as well as the 21 day EMA. However, the 38.2% might serve as a strong support short term not only because it is the 38.2% fib retracement level but also because it coincides to the strong psychological support level of $50. A lot of investors would be very eager to buy around those level and we might see a retest of the 61.8% fib retracement level from there.
The current bear trend is still part of the bear market which is far from over yet. The temporary relief that will follow after the upcoming correction would only delay the inevitable but the price has to fall below $20 in order for Litecoin (LTC) to complete its correction. All major indicators in the financial sector are pointing to an inevitable brutal decline in this market sooner or later. President Trump has once again made some harsh statements at the G7 Summit. He also left the last summit in disappointment and has now said that he wished he had raised tariffs even higher on China amid an escalating trade war. Some military analysts that have been following wars for decades are not surprised at these statements from President Trump because it is a precursor to what is going to follow next. The US seems to be desperately trying to force a "fake recession" in order to divert focus from the "real recession".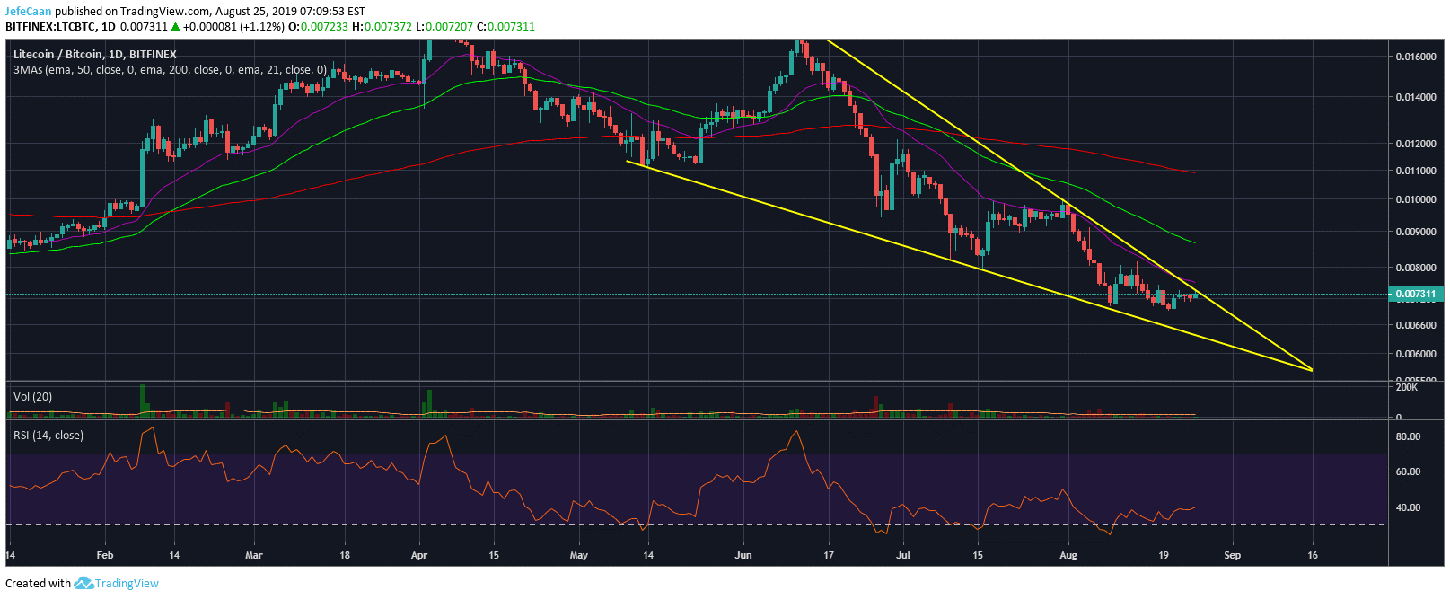 In other words, the US wants to force a short term correction in the stock market which would then lead to some aggressive buying because at this time everyone is waiting for the market to crash so they can buy. I think we will see a crash in the stock market which will be followed by a brutal crash in cryptocurrencies but after that the market will recover as it stalls the "real recession".
As for Litecoin (LTC), the outlook remains bearish against both the US Dollar (USD) and Bitcoin (BTC). The daily chart for LTC/BTC shows that Litecoin (LTC) is in a sharp downtrend and has failed to break past the 21 day EMA. That being said, it is trading within a falling wedge at the moment and if the price completes a correction to the downside, the next big move could see it break out of the falling wedge to shoot up as part of a short-lived altcoin rally. That might be a good time to buy some altcoins short term but those that are interested in long term accumulation might want to wait for the price to decline below $50 before they consider accumulating.