Litecoin (LTC) has been in a lead for the most part since the beginning of the recent parabolic run. It has been a good indicator of what BTC/USD has been doing throughout the recent rally. Now, we have LTC/USD in two descending triangles which if broken to the downside would indicate that we might see a decline in Bitcoin (BTC) as well. If we look at the 4H chart for LTC/USD, we can see that it is already below the 200 EMA. This could fall further towards the end of the week and we might see the price break below the descending triangle. RSI on the 4H chart supports such a move and this might finally begin the downtrend that we have long been anticipating. So, what does this chart tell us now? If we fall below the descending triangle, we begin a downtrend in LTC/USD that will most likely be followed by a downtrend in Bitcoin (BTC) and altcoins.
Litecoin (LTC)'s upcoming halving event is one of the most anticipated crypto events of the year. If we see the price tanking towards Litecoin (LTC)'s halvening, it might indicate that we could see the same in the case of Bitcoin (BTC). The Litecoin (LTC) halvening hype has already reached its maximum FOMO level. Everyone is expecting the price to keep on rallying after halvening and we expect that this effect is already priced in which is why we might see it decline towards the upcoming halvening. We saw something similar happen in the case of Ripple (XRP)'s Swell events when the price kept on tanking before, during and shortly after Swell until it finally began its uptrend and continued to rally.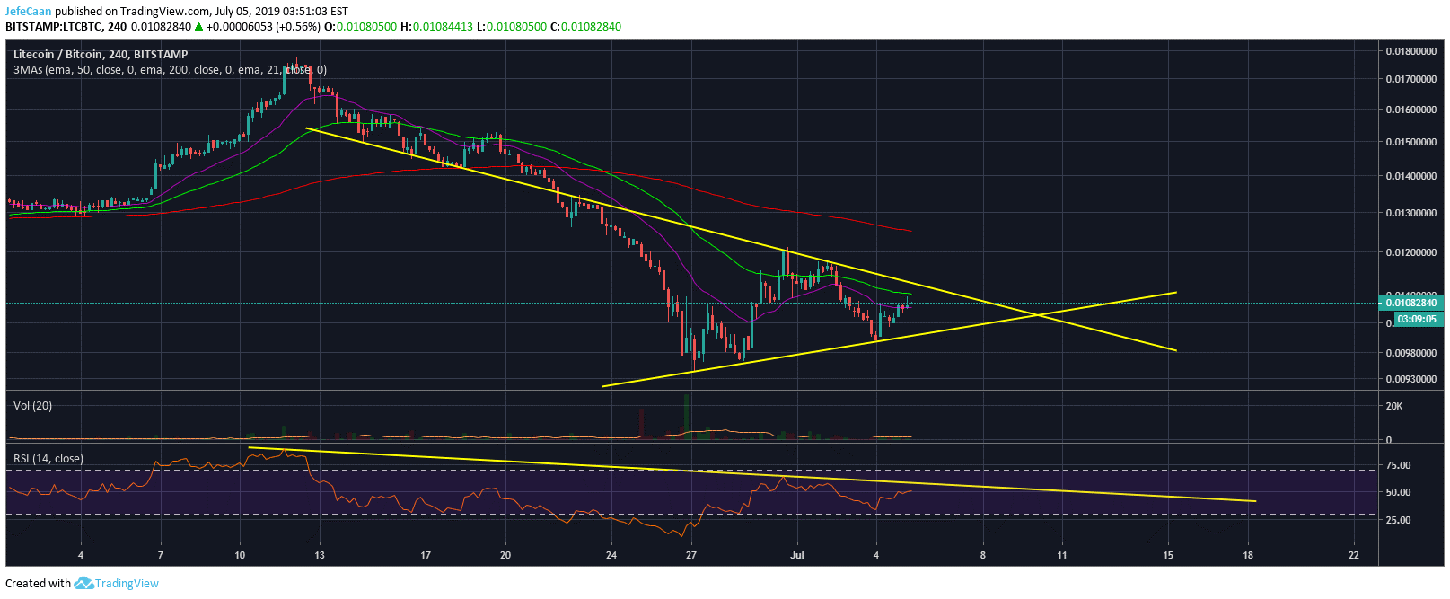 The 4H chart for LTC/BTC shows that Litecoin (LTC) has faced rejection at the 50 EMA against Bitcoin (BTC) and is now poised for further downside. We can also spot a bearish pennant in the making that might lead to LTC/BTC eventually falling a lot harder in the weeks ahead. So far, this is nothing like the beginning of a new bull market. In fact, for those that can manage risk and are not afraid to play this to the downside, this might be the best time to start looking for short entries because the cryptocurrency market is due for significant further downside ahead.

Litecoin (LTC) has been seen to lead the market lately because of its halvening hype. It rallies or falls first and then the rest of the cryptocurrencies follow. We could expect this behavior to continue towards the next halvening which is why it might be a good idea to keep an eye on it to deduce what Bitcoin (BTC) or other cryptocurrencies are going to do next. At this moment, we see that Litecoin (LTC) is bracing for a fall which is why it is likely that we might see Bitcoin (BTC) and altcoins follow. This would also be a formal beginning of the downtrend that could begin as early as next week.