Bitcoin (BTC) started the day in green and kept on surging while Litecoin (LTC) continued to decline. This is because LTC/USD closed below the 21 Day EMA yesterday which was a bearish close that was indicative of further downside in the near future. Litecoin (LTC) started the day in red and has continued to decline. It might find temporary support on the 50 Day EMA but sooner or later we expect it to break below the descending triangle to begin its downtrend. This might lead to the price falling to new lows for the year eventually but before that happens, we might see it find support around the 200 day EMA and bounce from there close to current levels.
Historically, we have seen Litecoin (LTC) as well as most other cryptocurrencies find support on their 200 Day EMA. It usually serves as the level where LTC/USD can be expected to bounce off after an extensive correction. A lot of traders are still confused as to what is going on with BTC/USD but on the LTC/USD front, things are much clearer. We have seen Bitcoin (BTC) follow Litecoin (LTC)'s lead recently and we expect that to continue till Litecoin (LTC)'s halvening in August. Some analysts expect that we might see an altcoin season just because Litecoin (LTC) has its halvening next month. The most likely scenario would be for the price to crash towards the end of the month and start rising close to halvening. That would be a good time to capitalize on the LTC/USD relief rally but we do not see it lasting for long because that is when we expect cryptocurrencies to begin their next downtrend.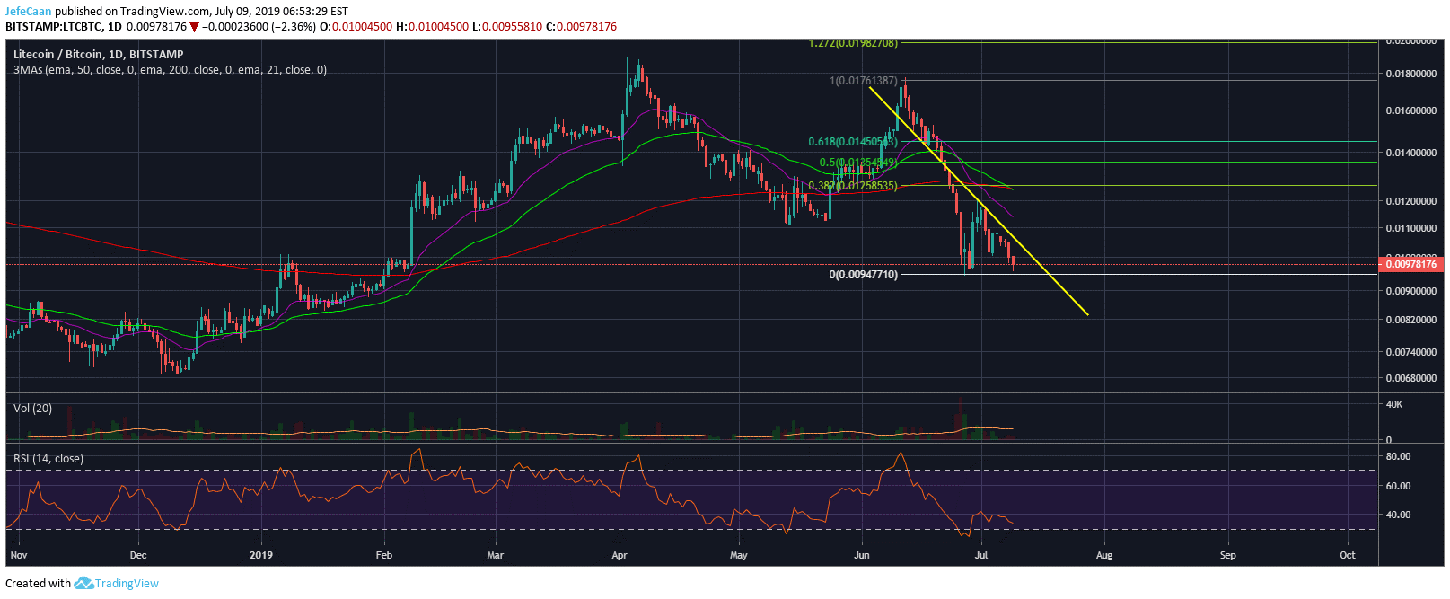 There is something investors are very cautious about this time and that is the fact that you can no longer put money in any coin and expect it to moon during the next cycle. Certainly, retail traders will feel this more when they realize their bags are getting nowhere but experienced investors who have been in this space for a long time can already see the shift. People are getting smarter every market cycle and this is why we could see an altcoin cleansing instead of an altcoin rally this year. Litecoin (LTC) was hyped up in anticipation of halvening and it received major price boosts, but if we look at the daily chart for LTC/BTC, we can see that Litecoin (LTC) has a lot more room than most other large cap coins to correct against Bitcoin (BTC).

This means that we might see a sharp correction in Litecoin (LTC) soon after halvening. Considering that Litecoin (LTC) is nothing more than a Bitcoin (BTC) spinoff that claims to make transactions faster and cheaper by posing as a better alternative of Bitcoin (BTC), there is a high probability that Litecoin (LTC) could fail during the altcoin cleansing season this year. Investors that are calling for the next bull run need to realize that we have yet to see maximum pain in this cycle. In 2014, we had Mt. Gox; this time we have Bitfinex and Tether as catalysts. All those that are in the market at this point would be better advised being on their toes because this is no different than playing with fire.