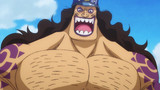 Availability Notes
Now available exclusively for Premium Members: One Piece Special Edition (HD).
The DBZ special is not available at this time. Toriko x One Piece episodes are available at: http://www.crunchyroll.com/toriko
Please note that HD and device support for One Piece will be available within a few hours after each simulcast release due to the production process. Thanks for your patience and enjoy the show!
"Taking Back Otama! A Fierce Fight Against Holdem!"
Facing Holdem who is holding Otama as hostage, Luffy prepares for a fight but Okiku tries to stop him by sharing who is
really ruling the region. Meanwhile, Basil Hawkins who is also working for Kaido and chasing after Luffy, is confronted by a mysterious figure.
…

more

Availability for free users:
Oct 5, 2019