Ripple (XRP) had declined below a critical trend line support. The price tested this support as resistance but struggled to break past it for days. Now, the price is finally above it and is testing the 50 day moving average. RSI and stochastic indicators on the daily chart show that there is ample room for a retest of the trend line resistance. XRP/USD might have some hope of breaking above this trend line support finally and the long symmetrical triangle that extends back more than a year could finally be broken to the upside. However, just like the breakout to the downside, this breakout is likely to be inconsequential as well. This is because BTC/USD has room to rally towards $5,800-$6,000 but it is highly unlikely to break past it.
The break below trend line support misled the bears into opening short positions against XRP/USD and a break above the trend line resistance will similarly mislead the bulls into opening long positions thinking the bear market is over. As always, the market makers and whales come out as winners in such times while retail traders whether bulls or bears end up losing money. This is nothing new and it has been happening systemically throughout the bear market. The situation is worsened by some industry leaders making overly bullish predictions. Of course, most of them have been proven wrong already but they keep on making new predictions nonetheless. The sentiment against Ripple (XRP) remains negative as far as professional traders are considered. Retail interest is also starting to fade away as the cryptocurrency remains shrouded in uncertainties over its use case and legal status.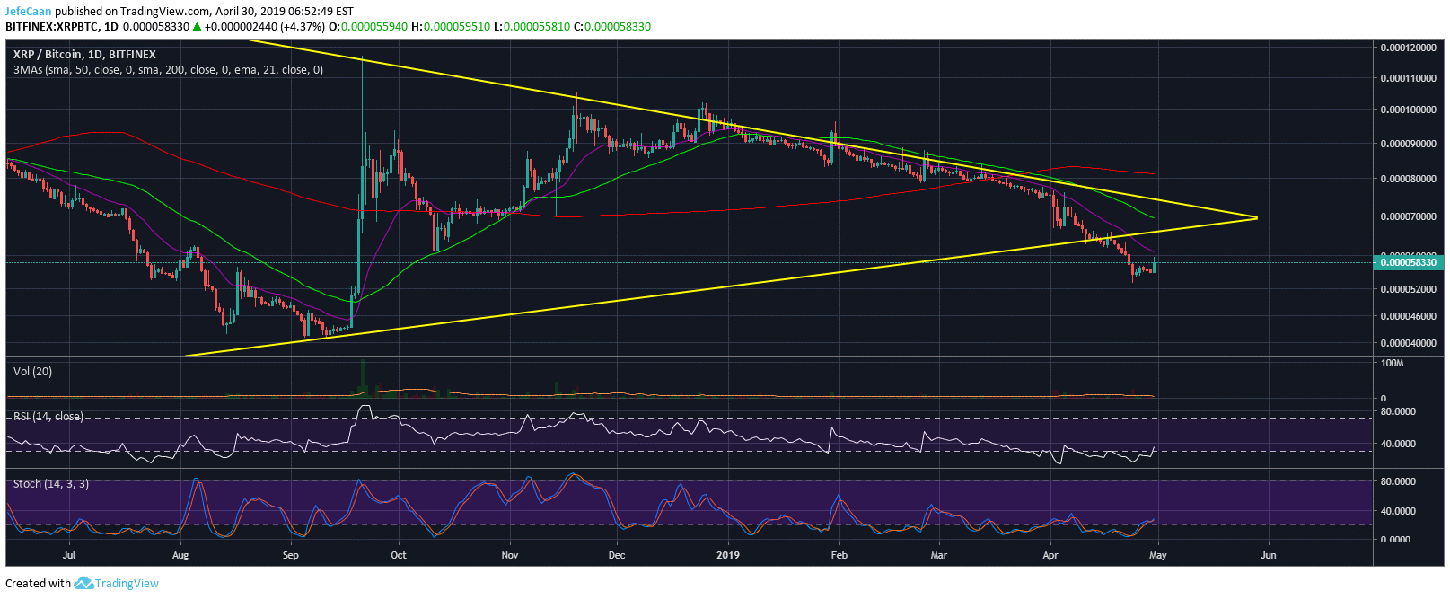 The price of Ripple (XRP) has seen one of its worst declines against Bitcoin (BTC) in the past few months. The daily chart for XRP/BTC shows that the price has been on a tear and continues to be. We have seen some relief short term but XRP/BTC continues to be under its trend line support. This support was broken around mid-April when the price kept on falling despite being massively oversold against Bitcoin (BTC). Ripple (XRP) is even more oversold against Bitcoin (BTC) on the weekly time frame which means a strong trend reversal is long overdue. However, investors still need to see if Ripple (XRP) has what it takes to push for mainstream adoption.
When Bitcoin (BTC) made its appearance, the world had just seen a financial crisis and it seemed reasonable to back a currency that would cut the double spending problem and even attain the status of digital gold. Bitcoin (BTC) was never meant to be a faster or cheaper mode of payment. However, somewhere along the way when things started to be 'all good' again, the priorities changed. Now people expect Bitcoin (BTC) to be faster and cheaper. In fact, the majority of people in this market do not care at this point whether it is Bitcoin (BTC) or Ripple (XRP) as long as it can achieve mainstream adoption and make them good returns.