Ripple (XRP) has faced strong rejection at a key trend line resistance but that has not stopped most Ripple (XRP) investors and analysts from calling for price targets of $5 and higher during the next few months. Most traders at this point are of the view that the bear market is over and we are about to enter a new bullish cycle. Interestingly enough, the majority of them think that we are neither in the 2015 nor the 2014 part of the pervious cycle; they think this time is different when history tells us otherwise. We have seen cryptocurrencies follow predictable market cycles throughout their existence. Short term price action might be hard to predict but the big picture remains intact and straightforward for the most part if we accept a few realities.
First of all, it is important to realize that as the market cap of Ripple (XRP) grows, it will have longer cycles than before because it will take more time for money to enter and leave the market. If we accept that, then there is no reason to think that this bear market has come to an end and XRP/USD is about to begin a new bullish cycle. We would have to wait and see this bear trend through. Even if we are in the 2015 part of the previous cycle, we would still have to see the price decline significantly for it to be called a correction before the next run up. This is just a minor retracement which is completely insignificant in the grand scheme of things. It has cooled down the price for now but in a while from now, the price would be overbought again all while it is not doing much but trading sideways.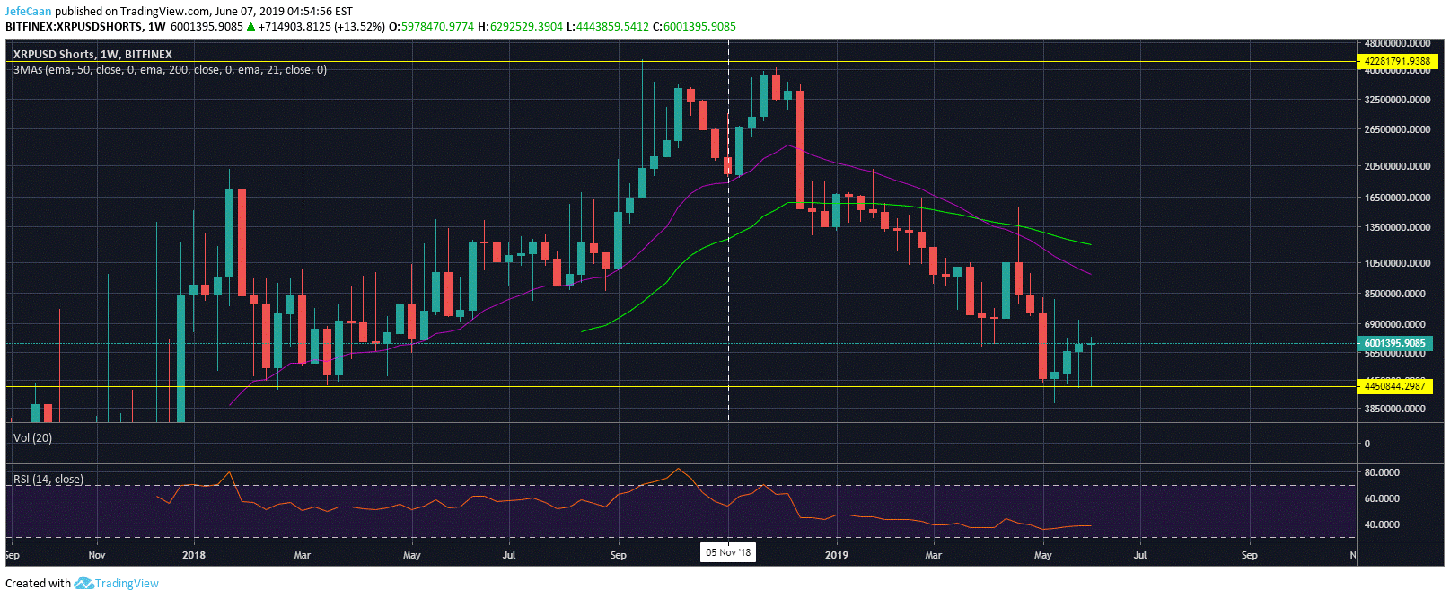 Ripple (XRP) has yet to see some serious sell pressure mount up. The weekly chart for XRPUSDShorts shows that the bears are just getting started. As XRPUSDShorts pile up, we will see sell pressure on Ripple (XRP) rise but the market makers cannot afford to pay out all these shorts, which is why we will most likely see a similar crash like we did after November, 2018. The price will decline just when most retail traders are expecting it to rally to a new all-time high.

The thing about market cycles is that it is always the smart money that accumulates first. In other words, smart money always has the lead; it is never the dumb money. If we look at this rally, we can see that institutions triggered it but smart money took it from there. Now, it is time for these institutional investors to dump on that dumb money so they can cash out while the overly optimistic 'investors' are left holding the bags. There is no doubt that Ripple is a good company with a lot of potential but Ripple and XRP is not the same thing. The future prospects of XRP still remain uncertain. A lot of prominent traders have called it a scam. I wouldn't go as far to call it that but I have to say that it remains a highly risky investment and is significantly overpriced and overhyped as the third largest coin by market cap.