Ripple (XRP) has broken below a fib ring on the weekly chart for XRP/BTC. A break below this ring put hopes of a bullish reversal to bed and has now raised concerns as to what might happen to Ripple (XRP) if it ends up breaking below the 26,134 satoshi level against Bitcoin (BTC). Could it mark the beginning of a new downtrend that might see Ripple (XRP) fall to new lows against Bitcoin (BTC)? Yes indeed. That remains a very strong possibility and for all we know Ripple (XRP) may not even survive it because it has failed for the most part to be a useful token. The banks and financial institutions that work with Ripple (the company) don't need XRP.
This is something that a lot of people are aware of and if Ripple (XRP) starts to decline below this support level we might see significant panic selling as investors try to avoid the possible outcome of XRP going belly up. Believe it or not, we are a long way from the end of the ongoing bear market just yet and before Bitcoin (BTC) finds its true bottom, we are going to see a lot of cryptocurrencies get obliterated. Some might survive but there are many that will fail. Ripple (XRP) remains in a strong downtrend and is now very vulnerable. It could easily decline below this key support against Bitcoin (BTC) and will then have to decline to the purple ring shown on the chart. If that ring fails to hold, then Ripple (XRP) may be in much more serious trouble.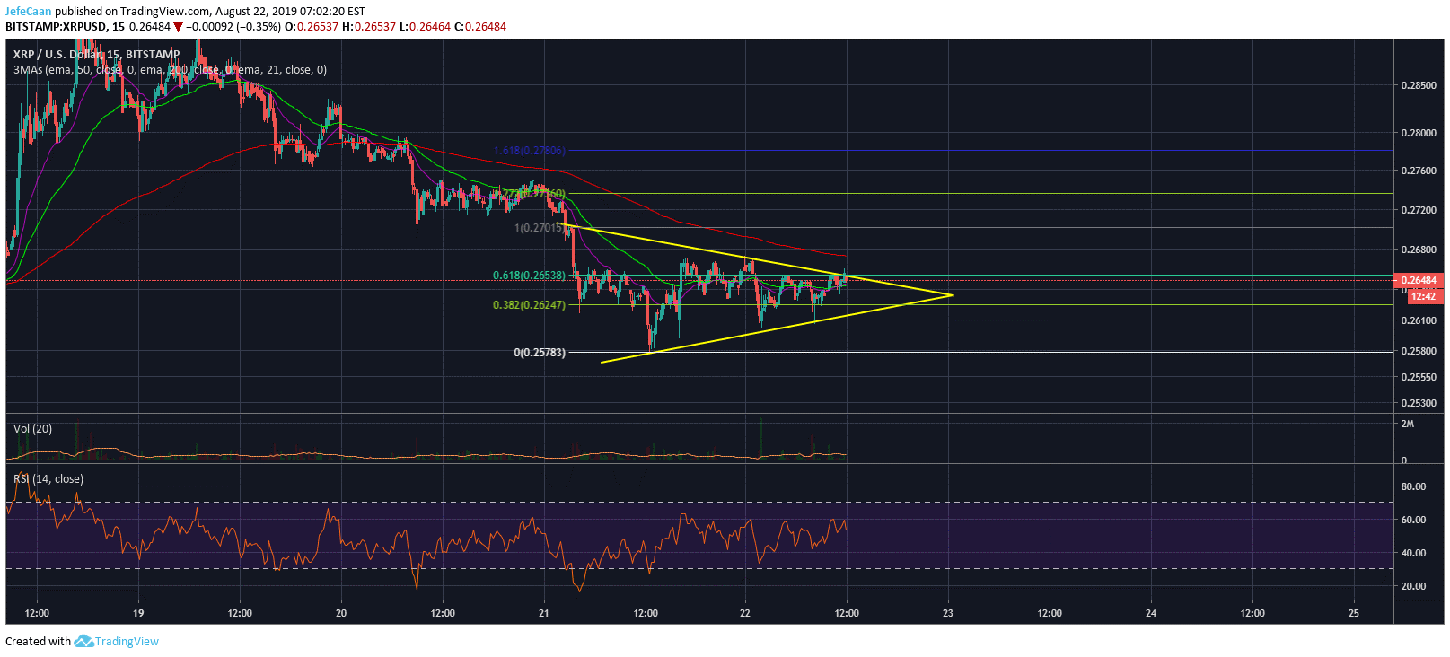 The 15 min chart for XRP/USD shows a bearish pennant that has a very high probability of breaking to the downside. The price has faced a clear rejection at the 61.8% fib extension level and is now primed for further downside. If Ripple (XRP) continues to decline from here, we might see it drop below $0.25 in no time and that will then pave the way for further downside. These psychological levels are very important to traders and the market makers know this which is why they want to shake out every one of the overly optimistic Ripple (XRP) bull around but at the same time they have to keep an eye on the shorts so they don't end up paying more than they make.
Ripple (XRP) just like other altcoins is yet to see further downside and we have seen Ripple (XRP) perform poorly during periods of downtrend in the past. There have been times when Ripple (XRP) has acted independently but now that both its technicals as well as fundamentals are at risk, it might be a good idea to consider minimizing exposure to this altcoin. Investors need to realize that Ripple is a wonderful company that is making a lot of waves in the financial industry but Ripple and XRP is not the same thing which is why it is important to have the right expectations.