The S&P 500 is due for one of its biggest declines in months. The daily chart for the index shows the price trading within a rise wedge since December, 2018. This rising wedge is similar to the one we see in Bitcoin (BTC), because both the S&P 500 Index (SPX) and BTC/USD have been in an uptrend since they bottomed out in December last year. The S&P 500 Index (SPX) has been more bullish than Bitcoin (BTC) the whole time but it is now close to topping out. In the best case bullish scenario, we could see the index continue to rally towards 3000. This next decline in the S&P 500 will take stock markets by storm and Bitcoin (BTC) and other cryptocurrencies are likely to experience maximum pain as equities continue to decline.
Bitcoin (BTC) has been on a roll the past few weeks. The price seemed determined to hold its ground and push for a retest of the previously broken market structure. It has already done that now as BTC/USD tested the $5,800 level and retraced from here. However, what remains to be seen now is whether or not Bitcoin (BTC) can still rally towards $6,000. Whether it rallies towards $6,000 or slightly higher, the fact remains that it is out of room to do much at this point. Buying Bitcoin (BTC) at this point is very similar to buying Bitcoin (BTC) around $17,000. Even the sentiment is the same as everybody is all excited and optimistic about the next bull run. Some industry leaders like John MacAfee are even more optimistic for their own reasons, but this is seldom how financial markets work. If Bitcoin (BTC) could go from here to $1 million in a year's time, everyone on Wall Street would be all over it.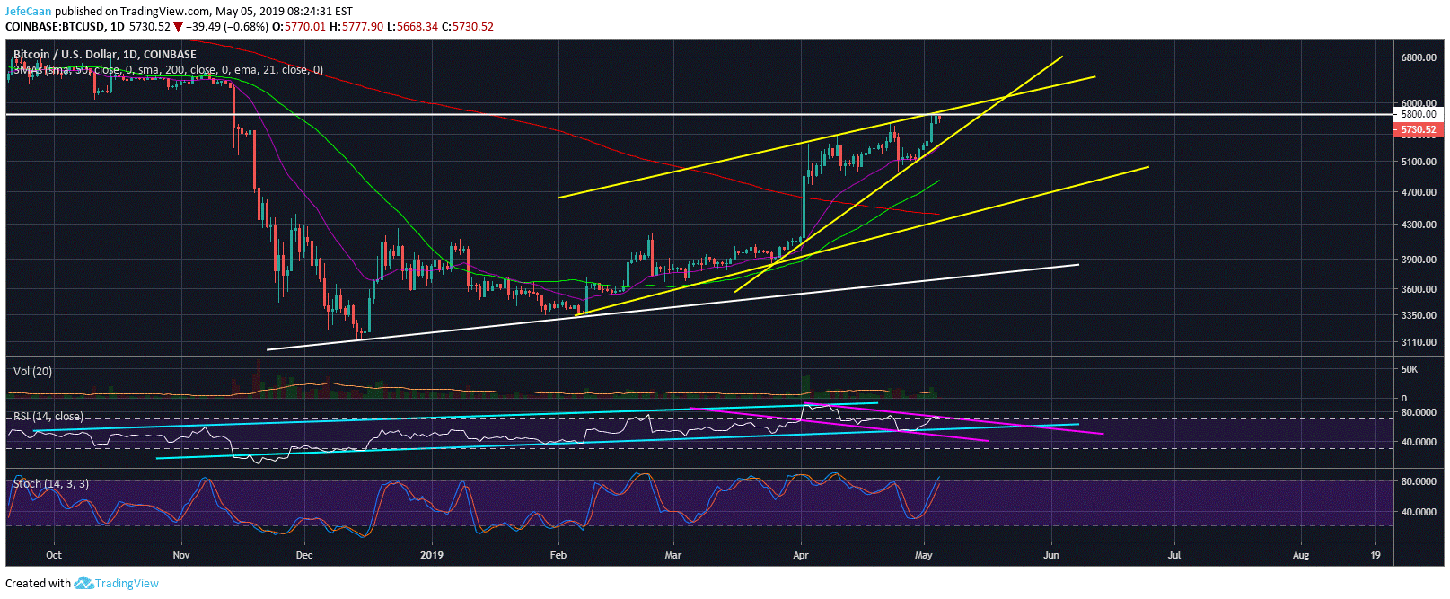 There is no denying that the average Joe beat Wall Street to a new asset class probably for the first time in history. However, let us not assume that the average Joes call the shots here. The price of Bitcoin (BTC) continues to be largely influenced by futures markets. Every CME and CBOE expiration date has been preceded or followed by a big move. Now when tensions are rising up in the Middle East and the US is hitting Iran with sanctions, we could expect some major moves in the Oil market that is likely to deal a serious blow to the stock market. The S&P 500 is already primed for a decline and something like Iran blocking the Strait of Hormuz would be the catalyst to kick off the downtrend.  
Meanwhile, Britain and the EU have both condemned the US sanctions on Iran. It is beginning to get clearer that this whole trouble between US and Iran is going to force countries into taking sides and this might potentially escalate into a big conflict. The decline in S&P 500 Index (SPX) and BTC/USD is expected anyway but if this conflict escalates to a full scale war, we might see the S&P 500 plunge a lot deeper than expected in which case Bitcoin (BTC) could fall a lot lower possibly towards $1,200. There is a reason smart money is waiting to get into cryptocurrencies just yet. First of all, the price will have to test the resistance zone at $5,800-$6,000 over and over again to finally break it so there is no rush. Second of all, the price remains heavily overbought on larger time frames and is due for a sharp pullback. Last but not the least; the sentiment is too optimistic which means the market has yet to inflict maximum pain.