Stellar Lumens (XLM) is caught between rock and a hard place. The cryptocurrency is lagging behind even Ethereum (ETH) while Bitcoin (BTC) is up more than 6%. XLM/USD ran into the 21 day EMA and faced a strong rejection. It rallied after find a strong support atop the 61.8% Fib extension level. The price was stopped on the way towards a retest of the 38.2% fib level. This has put Stellar (XLM) in a difficult situation and it is not clear yet which way the price will swing. Even if it breaks above the 21 day EMA, it is still likely to be stopped by the 50 day moving average as it has been in the past. This leaves Stellar (XLM) little choice but to trade sideways till BTC/USD takes a definitive position. So far, Bitcoin (BTC) is just determined to test the $5,800-$6,000 resistance zone.
If BTC/USD breaks the resistance zone which is unlikely any time soon, then we might see a rally in XLM/USD. However, so far the probability of a rally in Stellar (XLM) remains low in light of prevailing market conditions. Stellar (XLM) is a wonderful project and was recently added to Coinbase but Bitcoin (BTC) does not seem to be out of the woods yet. Unlike Ripple (XRP), Stellar (XLM) is not known for its independent moves because it is not as "centralized" as Ripple (XRP) which recently released 1 billion XRP from escrow.  The cryptocurrency does have a strong edge over Ripple (XRP) and is very likely to replace it as the third largest coin by market cap if it gains adoption in the same manner as Ripple (XRP) did. Jed McCaleb, the founder of Stellar (XLM) previously used to be CTO at Ripple (XRP).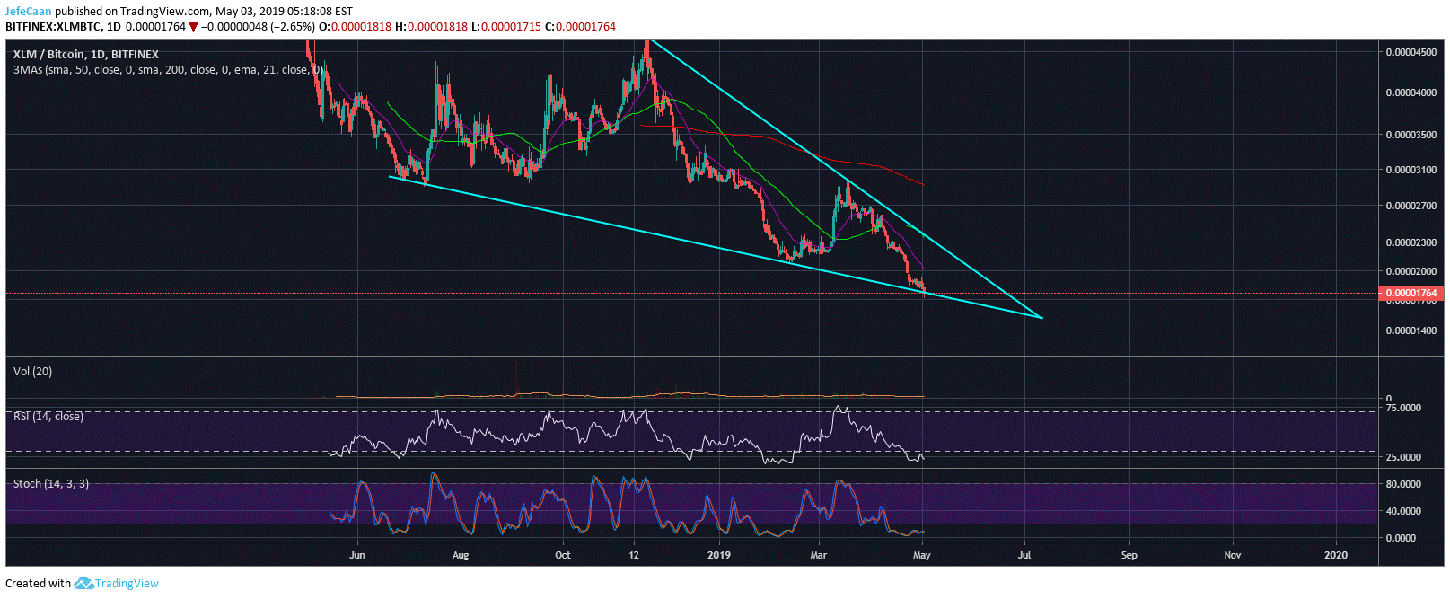 Stellar (XLM) is now in a very interesting position against Bitcoin (BTC) as the XLM/BTC has come down to the bottom of a falling wedge. If the market outlook wasn't this bearish mid-long term, this would be the best time to start accumulating. However, as we have seen in the past, most technical analysis patterns often get invalidated when Bitcoin (BTC) falls aggressively. This is because most cryptocurrencies excluding stable coins are still coupled to Bitcoin (BTC). So, every move BTC/USD makes has a major impact on altcoins. If the price of Bitcoin (BTC) goes up, altcoins like Stellar (XLM) usually go up a lot. If the price of Bitcoin (BTC) falls then cryptocurrencies like Stellar (XLM) fall hard.
The price of Stellar (XLM) could continue to decline in the days and weeks ahead if Bitcoin (BTC) faces a strong rejection at the $5,800-$6,000 zone. This decline is very likely to hit the cryptocurrency market hard and altcoins like Stellar (XLM) will be hit even harder which is why it would be a good idea to move to Bitcoin (BTC) if not cash out completely when that happens. Ripple (XRP) faced a similar situation recently when the price kept on declining against Bitcoin (BTC) even though XRP/BTC had been massively oversold for weeks.