Stellar Lumens (XLM) has just faced a strong resistance at the 21 day exponential moving average. While this means that the price is exhibiting some weakness short term, it is still likely that we will see a golden cross on XLM/USD come to fruition. That being said, XLM/USD has now formed three lower highs and two lower lows since the beginning of last month. The RSI and Stochastic indicators show that there is plenty of room for a rally to the upside. Stellar (XLM) has recently made a lot of independent moves and is now also listed on Coinbase. Interest in this cryptocurrency is rising as Ripple (XRP) continues to be embroiled in legal battles and controversies. Besides, trust in banks and governments is fading which means people are more interested in cryptocurrencies that directly empower them and enable peer to peer transactions without an intermediary.
The founder of Stellar (XLM), Jed McCaleb certainly knew what he was doing when he left Ripple as its founder and CTO. For long we have seen debates in the crypto community that Stellar (XLM) and Ripple (XRP) are not competitors and they have different use cases. However, the fact of the matter is that they are fighting for the same market which is the cross border payments industry. Stellar (XLM) transactions are very fast and cheap and if they are not as "centralized" as Ripple (XRP), there is every reason for XLM to gain mainstream adoption a lot faster than Ripple (XRP) and even Bitcoin (BTC). The purpose of Bitcoin (BTC) was to solve the double spending problem but the world today is not in the mood for that. This bull run will go on for the next few cycles and Bitcoin dominance is likely to keep on falling. Cryptocurrencies like Stellar (XLM) that can provide faster and cheaper transactions are expected to do very well in that time.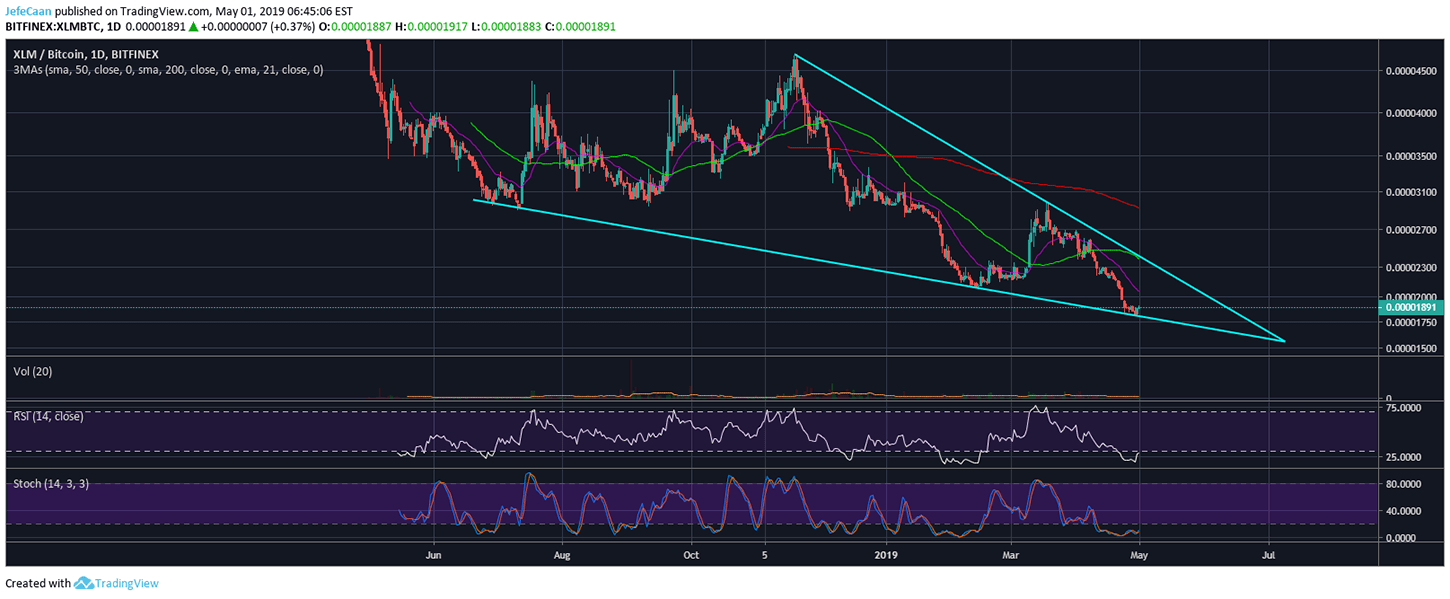 The daily chart for XLM/BTC shows that Stellar (XLM) has just found support at the bottom of a falling wedge and is now likely to bounce back towards the trend line resistance. This means that Stellar (XLM) is still ready for a big move up. The cryptocurrency remains massively oversold against Bitcoin (BTC) and has been long overdue for a strong move to the upside. That being said, if BTC/USD continues to decline, Stellar (XLM) could end up falling below this wedge temporarily.
Buying interest in cryptocurrencies like Stellar Lumens (XLM) that solve real world problems is going to keep on rising. On the other hand forks and spinoffs that do nothing more than pose as a cheap alternative to Bitcoin (BTC) are going to have a hard time appeal to the crypto community. As more and more newcomers enter this space, they are going to see coins like Stellar (XLM) as cheap with a lot more room for growth. Stellar (XLM) is expected to capitalize on that during the next hype cycle now that it is also available to buy on Coinbase.