Stellar Lumens (XLM) has just nosedived below the 200 day moving average and is now likely to decline all the way towards the 50 day moving average and eventually lower to test the next support. The daily chart for XLM/USD shows that the price has failed to close above the resistance at $0.147. It did paint a wick well above it but the daily candle ended up closing below that level soon afterwards. RSI on the daily time frame points to increasing risk of a sharp decline at least below the $0.12 mark and very likely below $0.10 as the price revisits the support at $0.095. We have seen many cryptocurrencies form a golden cross these past few weeks but XLM/USD was one of those that did not. That being said, it did not stop it from rallying along with the rest of the market.
The price of Stellar Lumens (XLM) is now at an interesting point as it has failed to break past the key resistance and it has only one way to go and that is down especially if it ends up closing below the 200 day moving average. Volume has continued to decline except for the irregular green bars seen over the past few weeks when the price pumped for no particular reason. The phase of bullish euphoria that saw the cryptocurrency market explode in a matter of days seems to have come to an end. Retail bulls appear to be more cautious now as XLM/USD is at risk of significant further downside. Even though Stellar (XLM)'s long term prospects appear to be more promising than ever at this stage, that does not mean that the price could not see further downside short term. As Bitcoin (BTC) begins its next downtrend, altcoins like Stellar Lumens (XLM) are expected to be hit the hardest.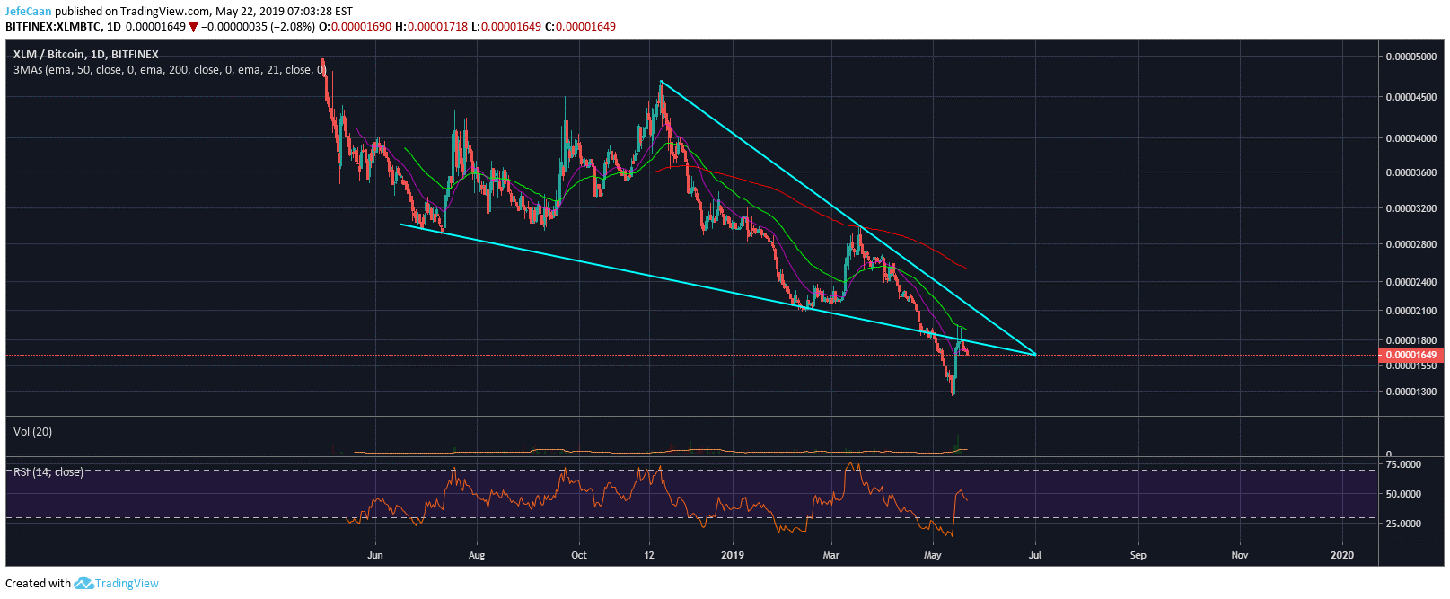 Stellar (XLM) broke key trend line support against Bitcoin (BTC) as it broke below the large falling wedge that many were expecting to break to the upside. This has now put XLM/BTC in a tough spot as the price has already tested this trend line as resistance and faced a strong rejection. The daily chart shows that the price has just put in a lower high which could now be followed by a lower low. This lower low could push XLM/BTC to a new yearly low in the months ahead.
The cryptocurrency saw a steady rise in interest when it ended up on Coinbase and changed its logo. Stellar Founder, Jed McCaleb was previously Ripple CTO before he founded Stellar Lumens (XLM). Since then Ripple (XRP) and Stellar (XLM) have become competitors and with Stellar (XLM)'s vision of empowering end users instead of empowering middlemen, we could see Stellar (XLM) gain rapid adoption during the next bullish cycle. Development activity on the Stellar blockchain is on the rise even during the bear market. We might see Stellar (XLM) go down with the rest of the market short term but long term, this a promising project to keep an eye on.