The US Dollar Currency Index (DXY) began an uptrend in 2018 around the same time Bitcoin (BTC) began its downtrend and entered a bear market. Bitcoin (BTC) is predominantly paired to US Dollar (USD) on most exchanges which means that if the US Dollar (USD) keeps gaining strength, Bitcoin (BTC) keeps on declining. This is why Bitcoin (BTC) entered a bear market in the beginning of 2018 and has yet to break out of it. If we look at the weekly chart for the Dollar Currency Index (DXY) it has been consolidating within an ascending triangle since the beginning of the year. It did not top out and started to decline like BTC/USD. In fact, it has been eyeing a break past the 98.5 mark and it is likely to get it this time.
A break above this ascending triangle will have game changing consequences not just for Bitcoin (BTC) but for the stock market as well. In my opinion this will correspond to the next downtrend in the stock market which I think is already in motion. I expected the Dollar Currency Index (DXY) to shoot towards $103.9 from here to test the previous top. I don't expect it to begin a new trend here. This breakout will lead the stock market towards a downtrend and Bitcoin (BTC) and other cryptocurrencies will follow. After that, we will see a correction and the Dollar Index will start losing strength and this will pave the way for another rally in the stock market and Bitcoin (BTC) after it has bottomed out. All of this fits the big picture and what we expect to see on Bitcoin (BTC). We see it continuing its decline from here till June of 2020 after which it is expected to begin a new bullish cycle, in case it survives.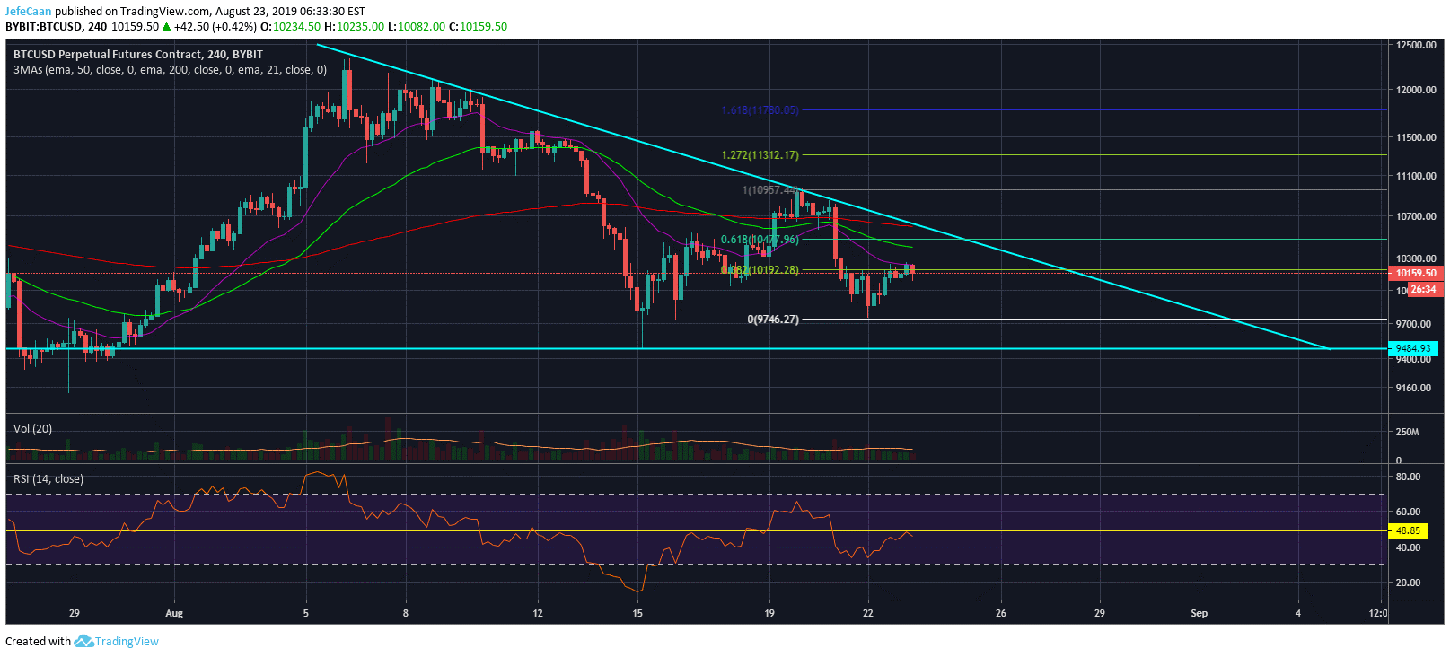 The reason I say "in case it survives" is that not only is Bitcoin (BTC) and the rest of the cryptocurrency market primed for a major correction, but other competitors like Libra or Metalpay are threatening to replace it. While the probability of that happening remains low, it is still possible that Bitcoin (BTC) might have been an experiment. Let's face it; digital assets are here to stay but we do not know which one of them is going to be a global currency. Ethereum (ETH), Ripple (XRP), Litecoin (LTC) they are big cryptocurrencies but they are not in a position to be the one global currency.
Bitcoin (BTC) has the potential to be a global digital currency to be used all over the world completely eliminating our dependence on central banks and financial institutions, but we don't know that for sure because Bitcoin (BTC) supply is heavily concentrated in a small number of powerful hands that swing BTC/USD like a tetherball. We do not know how governments or countries or even institutional investors are going to make their peace with that. So, while it is reasonable to think that digital assets are here to stay and we might see a global digital currency emerge in the near future, it is also reasonable to acknowledge that it does not have to be Bitcoin (BTC).