About
They Had Us In The First Half is a reaction image featuring a high school football player in a post-game interview after his team mounted a huge comeback in the second half. The reaction image has been used as a pairing with captions in which the first half of the text sounds good, but becomes unpleasant or distasteful in the second half.
Origin
The image comes from an interview with Apollos Hester, a high school running back for the East View Patriots. On September 21st, 2014, TWC News Austin posted an interview with Hester after his team won a game 42-41 against opponents Vandergrift.
All right, well, at first we started slow, we started real slow, and you know, that's all right, that's OK, because sometimes in life, you're gonna start slow. That's OK. We told ourselves, 'Hey, we're gonna start slow, we're gonna keep going fast. We're gonna start slow, but we're always, always gonna finish fast. No matter what the score was, we're gonna finish hard, we're gonna finish fast.
Yeah, they had us the first half, I'm not gonna lie, they had us. We weren't defeated, but they had us. But it took guts, it took an attitude–that's all it takes. That's all it takes to be successful is an attitude. And that's what our coach told us. He said, 'Hey, it's gonna be tough. It's gonna be tough. It's gonna be hard. You're gonna go out there, you're gonna battle, you're gonna fight, you're gonna do it for one another. Do it for each other, you're gonna do it for yourself, you're gonna do it for us, and you're gonna go out with this win.' And we believed that, we truly did. And it's an awesome feeling.
Spread
The video went viral, gaining over 10 million views on YouTube and seeing media coverage from Deadspin and Chicago Tribune. Shortly after, the "they had us in the first half" quote began spreading as a reaction image. One of the earliest examples, posted October 8th, 2014, by user @keilo2x, gained 28 retweets and 14 likes (shown below, left). On October 10th, Twitter user @CauseWereGuys tweeted the image macro version of the meme, gaining over 2,500 retweets and 3,000 likes (shown below, right).
The reaction image spread on Twitter and Reddit over the coming years. Some examples posted to Reddit include an anti-meme post on /r/memes that gained 530 points (shown below, left) and a history meme posted to /r/historymemes that gained over 400 points (shown below, right).
The text of the meme has also been used as a title for multiple posts on Reddit featuring a story or caption that takes a dramatic turn towards the end.
Templates
Various Examples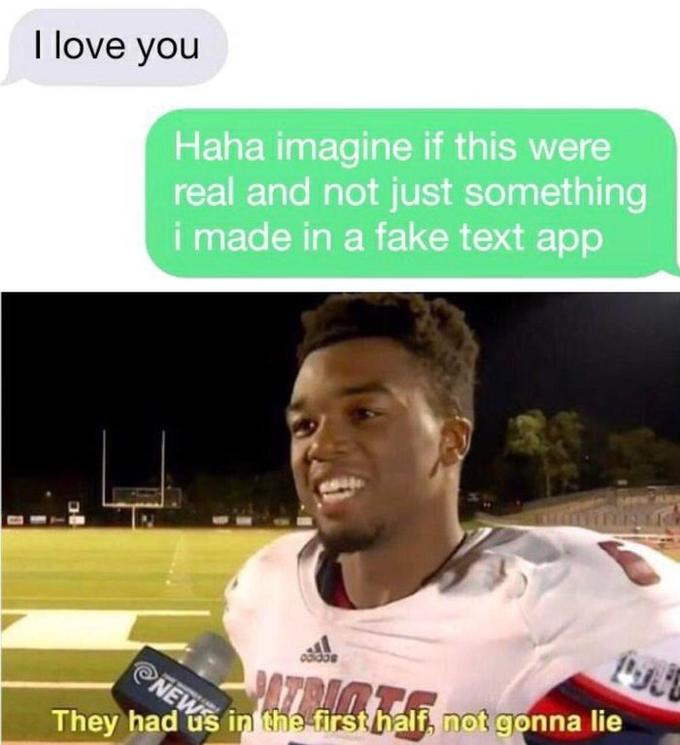 Search Interest
External References