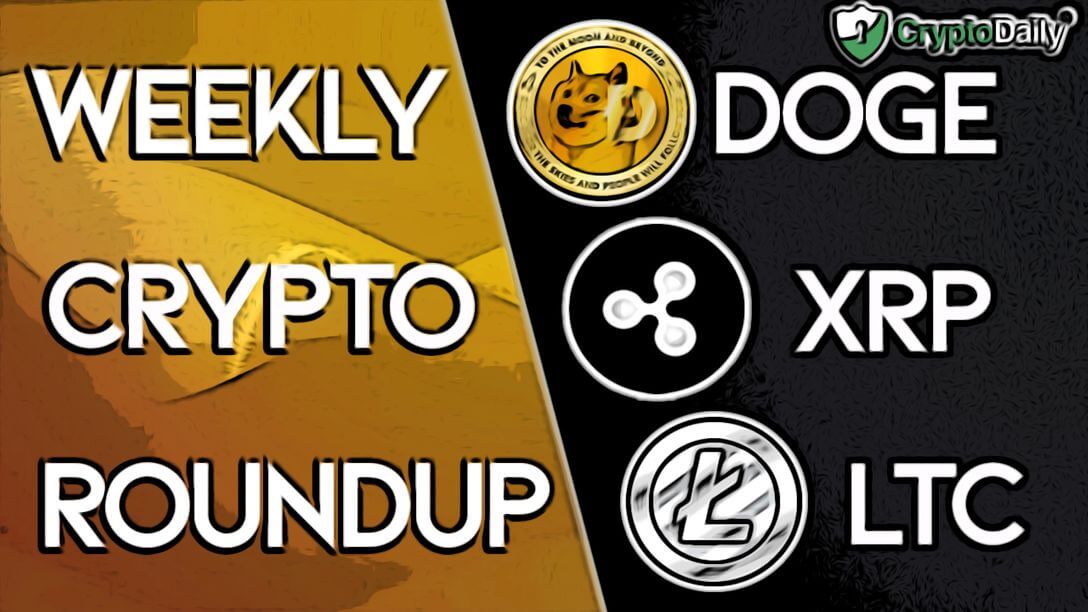 It's been another exciting week for the cryptocurrency space. A lot of news came out this week but we're going to go through some of the best that it had to offer. So today, we're going to go through the Dogecoin support that was recently announced for the Coinbase wallet. On top of this, we're going to look at the recent partnership Ripple has made and what the creator of Litecoin, Charlie Lee had to say on the LTC project.
Coinbase & Dogecoin
One of the biggest cryptocurrency exchanges in the world, Coinbase announced earlier in the week that the Coinbase wallet will now be supporting the popular meme-based cryptocurrency.
According to the announcement that stated the news, the new wallet update with Dogecoin support will be launched to all users on both iOS and Android devices in the next week.
"Our goal with Coinbase Wallet is to create the world's leading user-custodied crypto wallet," states Coinbase's Siddharth Coelho-Prabhu. "Coinbase Wallet already supports Bitcoin, Ethereum, Bitcoin Cash, Ethereum Classic, XRP, Stellar Lumens, and over 100,000 different ERC20 tokens and ERC721 collectibles built on Ethereum. Adding support for DOGE is an important next step toward our goal."
In the past, the exchange has announced that users of the Coinbase wallet can now store encrypted private keys on personal cloud storage accounts, using either Google Drive or iCloud.
Over the past few weeks, it seems that the bulls are looking to charge past the exponential moving averages on Dogecoin and if this goes well, the cryptos price will fight on the bullish path and hopefully we will see a big increase in May.
By mid-April, DOGE broke away from a shortfall and the coin has now found its stability. As we reported earlier in the week:
"This altcoin has seen little resistance which was first at 58 satoshis with a more indicative resistance level of 69 satoshis. However, there is still a reason to stay optimistic about the future though as over the weekend, the 200 EMA level was at 55 Satoshis so it should be fairly routine for bulls to break."
Ripple & Ria
Ripple has made a LOT of partnerships over the past year and this week is no different. A Euronet subsidiary called, Ria Money Transfer has just got on-board with RippleNet. The subsidiary will be utilising xCurrent to connect and transact with Ripple's global blockchain network of more than 200 financial institutions.
In addition, Ripple will also be able to leverage Ria's Digital Integrated Payments Cloud, an international fintech ecosystem that the company that says allows its partners to disrupt the traditional payments space.
Speaking at Euronet Worldwide's first quarter 2019 Earnings Call, CEO Michael Brown spoke on Ripple.
"We are using our technology to actively support parties who are making inroads to disrupt the more traditional players by providing them with state-of-the-art technology and immediate access to our expansive physical network, which would take years to build from scratch."

"We signed an agreement with Ripple that gives Ripple access to Ria's global physical and digital footprint, while also allowing Ria's customers to connect and transact with Ripple's network which includes more than 200 financial institutions worldwide."
With Ria servicing customers in over 55 countries in more than 375,000 locations worldwide, the partnership seems to offer more efficient payment methods for Ria's international customers.
CEO of Euronet's Money Transfer Segment, Juan Bianchi said:
"At Ria, we have developed the second largest Money Transfer network in the world along with a best-in-class compliance program all connected by our proprietary technology. Ria's integration with Ripple serves to build rails for an innovative payment infrastructure that seeks to provide easier access to potential partners, while delivering faster and cleaner payments to its users. Time is a vital currency for our customers and partners, so we always keep it at the center of our innovation efforts."
Charlie Lee
The Litecoin founder, Charlie Lee was recently featured on Anthony Pompliano's podcast where he was asked some tough questions about a lot of topics including LTC.
Now despite creating it, Lee sold all his LTC when it was worth around $300, he thought that the price was going to keep going up as he has now confessed:
"I actually personally did think it was going to keep going up. I didn't think that was the peak…I thought it was going to hit $1,000."
New episode is live w/ @SatoshiLite!

We discuss the early days of Coinbase, why he originally built Litecoin, how crypto evolved over the last decade, what the current challenges are, and where Charlie sees BTC & LTC going in the future.

Listen & learn!https://t.co/JcpLe8SXZi


— Pomp ? (@APompliano) 1 May 2019