Ripple (XRP) is on the verge of a big move but just a quick look at the weekly chart for XRP/USD shows exactly which way that move is likely to be. There is a bearish divergence on the weekly time frame and the price has yet to break a critical long term trend line resistance. That has not happened so far and now the price is at risk of breaking below the descending triangle like it has in the past. Every time Ripple (XRP) or other cryptocurrencies have broken below descending triangles, we have seen significant downside in the weeks ahead. Throughout the bear market, a lot of cryptocurrencies broke market structure to decline to new lows but Ripple (XRP) has been avoiding that move.
This time however that does not seem to be the case. The price is very likely to break below the descending triangle and decline to below $0.15 in the months ahead. If and when that happens, we will see XRP/USD trade in a narrow range between $0.15 and $0.28 for a long time before any bullish break out. This support turned resistance will then be tested multiple times throughout this year and possibly the next until a break out. So, can Ripple (XRP) rise above $3 again? When the price breaks below the current support, a lot of investors in XRP/USD will lose hope. This is because the price will then have to trade in a tight range for a long time, possibly the next year or more. Eventually when Ripple (XRP) breaks out, it might rally with the rest of the market but we have already seen a decline in buying interest in XRP/USD. This decline in buying interest is likely to intensify after the expected sell-off.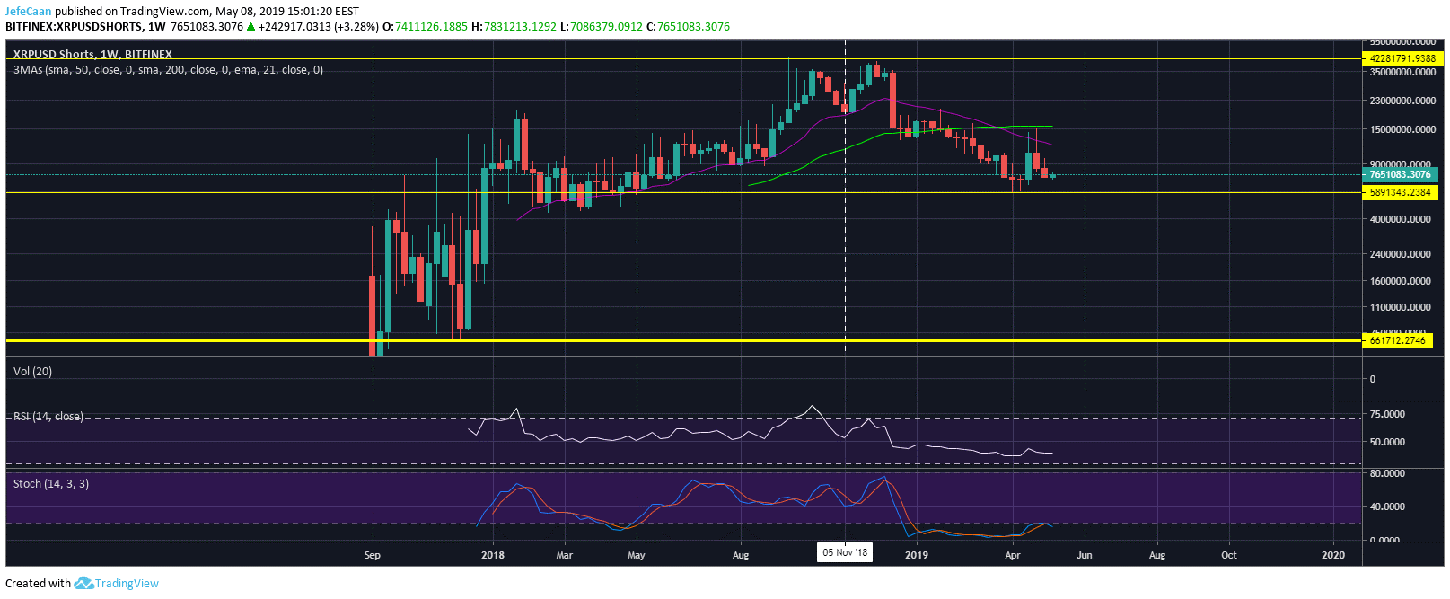 Another important piece of the puzzle is the weekly chart for XRPUSDShorts. This chart shows that the number of margined shorts against XRP/USD is still too low compared to where it can go to from here. XRPUSDShorts is trading above a resistance turned support and is likely to rally aggressively soon as XRP/USD breaks below the critical support to decline towards $0.15. The weekly RSI and stochastic indicators show that the bears have a lot of room to push for another downtrend from here. This will put a lot of sell pressure on the cryptocurrency which will inflict maximum pain on the market as all of this is expected to last for months not weeks.
Most of the people expecting the price to bottom out in the next few weeks are going to be very surprised to see that the bear trend has just begun again and prices are on the verge of further decline. Altcoins like Ripple (XRP) will be hit the hardest because there is a lack of long term buying interest in Ripple (XRP) given its bleak future outlook compared to what it used to be. People no longer seem to be confident in promises of partnerships without seeing proper XRP adoption via xRapid. Ripple (XRP)'s recent move to move 1 billion XRP from escrow has also raised some eyebrows. When the sentiment against a cryptocurrency is already less optimistic, it is likely to be hit even harder during a downtrend. While Ripple (XRP) may still rally north of $3 during the next cycle, it is extremely unlikely to maintain its rate of growth.