Bitcoin (BTC) still remains in a strong downtrend despite recent attempts at a breakout. The daily chart for BTC/USD shows that most attempts to break past the critical trend line resistance have failed. If this continues, the price will hit our targets below $10,000. When BTC/USD rallied during the past few weeks, it left some gaps on the way up. This gap will have to be filled sooner or later, which would be the perfect catalyst to convince most investors that the decline could extend to $8,500 or even lower levels. 
We noticed Bitcoin pump a lot harder than other coins during the recent run up. Similarly it has declined more than most coins. This doesn't mean however that this trend will continue. In fact, we expect that when Bitcoin begins its new downtrend, we'll see altcoins fall a lot harder and end up breaking key support levels. This might take a while but ultimately this is what we expect tp inflict maximum pain on the market. Before the weak hands are shaken out, we don't expect any trend reversal. This will take a while but soon we might see the price fall below the key trend line support. This is when we expect all hell to break loose and the market will crash hard. Despite the major parabolic rally from the December, 2018 lows, this is not the beginning of a new bull run.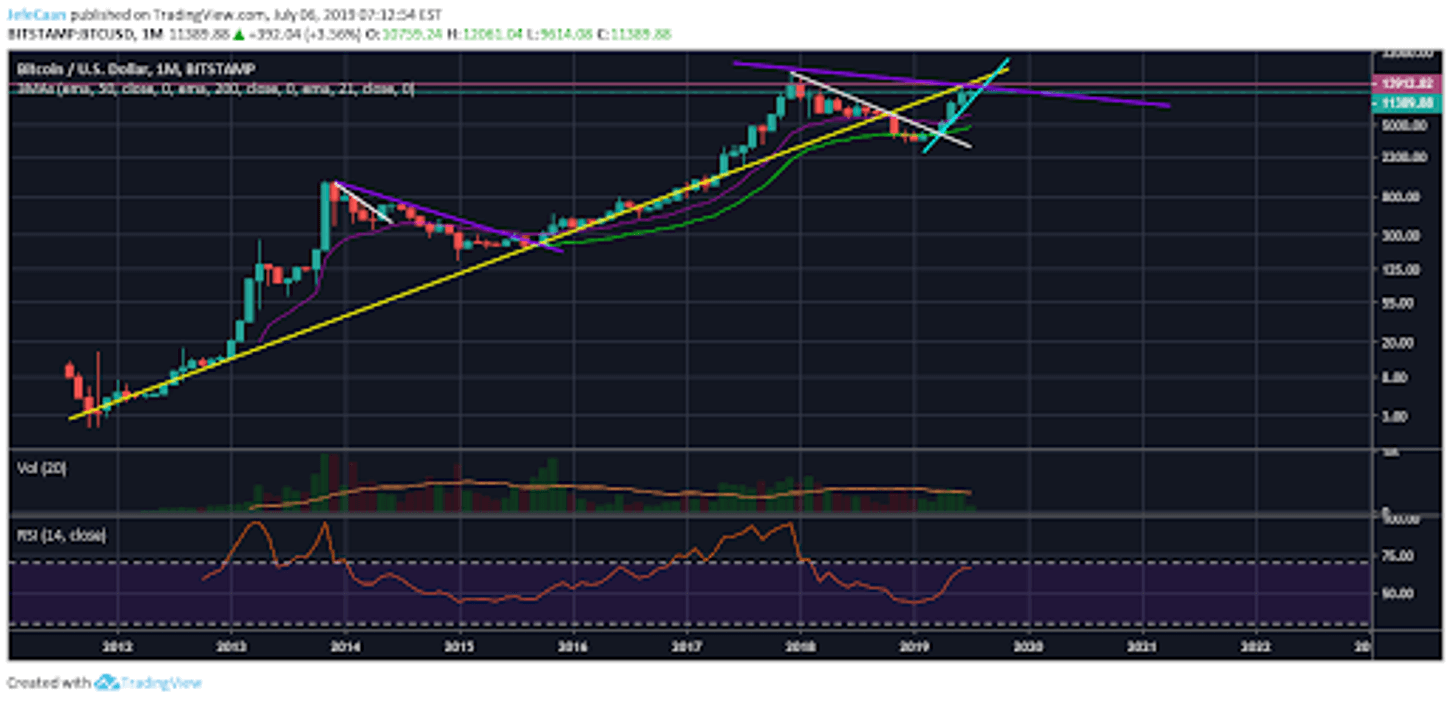 The market has yet to react to the Tether/Bitfinex fiasco. This could be a black swan event that might drag down the whole market with it as early as his month if we see some arrests come into effect. The rising number of fraudulent ICOs coupled with the shady exchange practices tells us that there is anything but real interest in the market. We are going to see all of this come crashing down like a house of cards soon as the whales pull the plugs. The market remains overly optimistic which is very alarming. We don't expect this to end well for retail investors because it never does. When air blows out of the FOMO bubble, it is going to be a sad day for Bitcoin (BTC). 

Many of the influencers that are calling for BTC/USD to reach a price of $20,000 or higher have a lot of skin in the game and deep vested interests. They are desperately hoping that the market will do what they want it to do. This is why even some of the well respected analysts have turned overly bullish because they bought up thinking the bear market was over and now they do not want to think otherwise. It is very rare to see retail traders beating the professionals at their own game. Most of the time it ends with retail traders holding the bags as the market collapases around them. There is no reason to not expect the same this time when market conditions are heavily overbought and the price has faced a strong rejection at a historical turned line support turned resistance while the Fomo keeps rising.