Ethereum (ETH) has rallied around 4% so far as the price has found a temporary support above the $282.5 mark. This is a sigh of relief for the bulls that have been sitting on their altcoins while they lost more than 20% in value just over the past 24 hours. This is clearly a bullish development and it may lead to further upside but investors need to be very cautious here and must acknowledge that the price faced such a strong rejection at the trend line resistance around $367 for a reason. While we might see a lot of media outlets and some permanently bullish analysts calling it the end of the "healthy correction" and the beginning of the uptrend, let us not forget that ETH/USD still remains below the 38.2% fib retracement level on the daily time frame.
If the price continues to rise from here, it still has room to do that if it breaks past $309 in the same way it has broken past some critical resistance levels in the past. Then a rally towards $400 would be on the charts and we might see an altcoin season. While this may be what the mainstream media and a lot of these so called influencers want you to believe, the fact remains that a lot of big investors are seeing the red flags and they are busy unloading systemically. Even some of the digital 'hedge funds' that have been overly bullish for the past few weeks are now in doubt. For Ethereum (ETH), things are not just bad against the US Dollar (USD); they are bad against Bitcoin (BTC) as well. We have seen Ethereum (ETH) lose ground against Bitcoin (BTC) and if it continues to fall, it will break a critical support which might push it to the point of no return.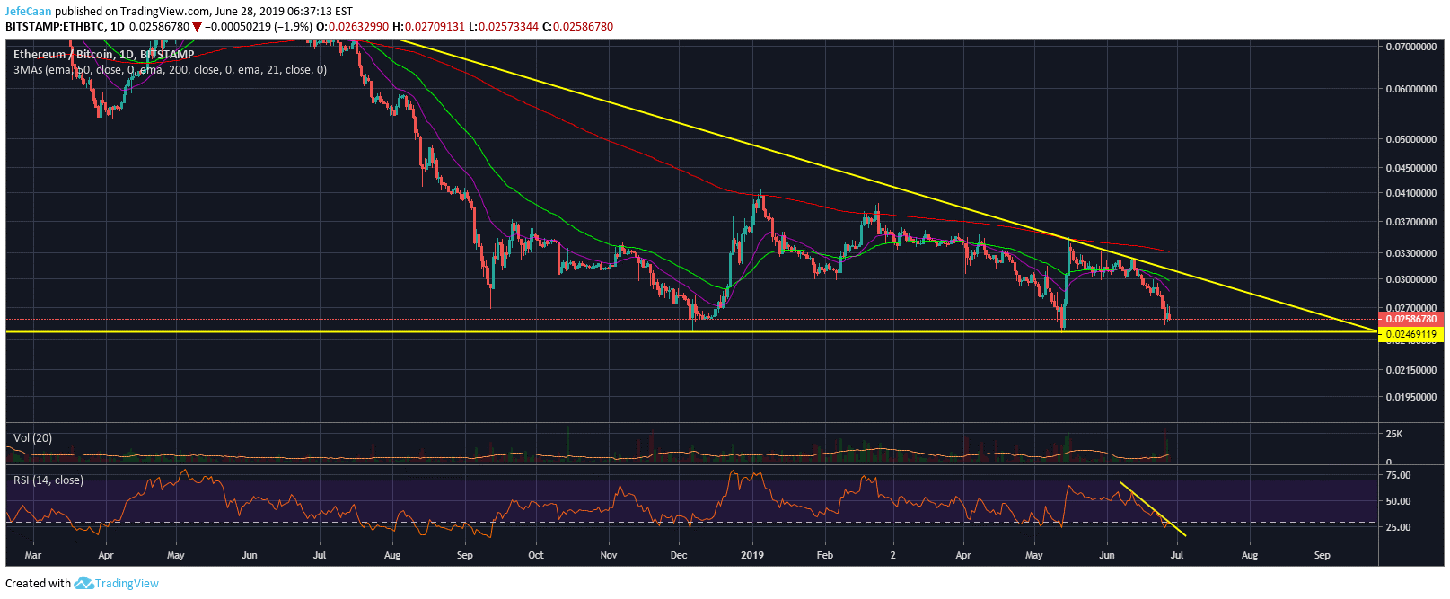 If we look at this daily chart for ETH/BTC, it shows us that Ethereum (ETH) could be on the verge of its deadliest fall against Bitcoin (BTC). We have mentioned in our previous analyses that Bitcoin dominance still has a lot of room to rise and that could be devastating for altcoins like Ethereum (ETH). When BTC/USD begins its next downtrend, we are going to see altcoins like Ethereum (ETH) fall a lot harder. Doing that, ETH/BTC might end up breaking a 3 years long trend line against Bitcoin (BTC).

If we take a look at the daily chart, we can spot a strong bearish divergence on the RSI. This means that there is a very strong probability of this happening. If ETH/BTC ends up breaking below this trend line support, all bets are off and we might see the altcoin market get crushed in the months to come. Perhaps this is what we need to see before the next bull run can begin. The market has to be cleansed of all the useless projects. Patient and disciplined investors will make a killing during this time when there is blood on the streets. Greedy and lazy investors will end up losing most of their investments as they are left holding their bags when the market crashes.