Ethereum (ETH) declined for more than ten weeks straight against Bitcoin (BTC) and all hopes of an altcoin season got completely crushed during that time. However, now that the price seems to have found a temporary support, we see a glimmer of hope as ETH/BTC attempts to test the previous support turned resistance. In the weeks ahead, we are likely to see Ethereum (ETH) rise to test that level. Now, we do not expect it to be broken to the upside but while it is rallying higher to test that level, we might see hopes of an altcoin season surface again. When the price faces a rejection, those hopes are likely to get crushed again but for now, these hopes are likely to see the altcoin market move up against Bitcoin (BTC).

For the past few months, Ethereum (ETH) has suffered brutally against Bitcoin (BTC). Most mid cap and small cap coins have seen the worse by declining double digits against Bitcoin (BTC) most days during that period. This could be a time for short term trend reversal. It is important to realize though that the support that ETH/BTC broke is unlikely to be breached. The price is highly likely to face a rejection there if it make it that far, but that is not going to stop a lot of people from hoping and the trend that we saw recently of investors dumping their altcoins for Bitcoin (BTC) is likely to reverse short term. The last time ETH/BTC crashed below a descending triangle, it crashed hard but the price is stalling that downtrend this time. There is a lot of bears that could be shaken out and a lot of bulls that could be trapped yet.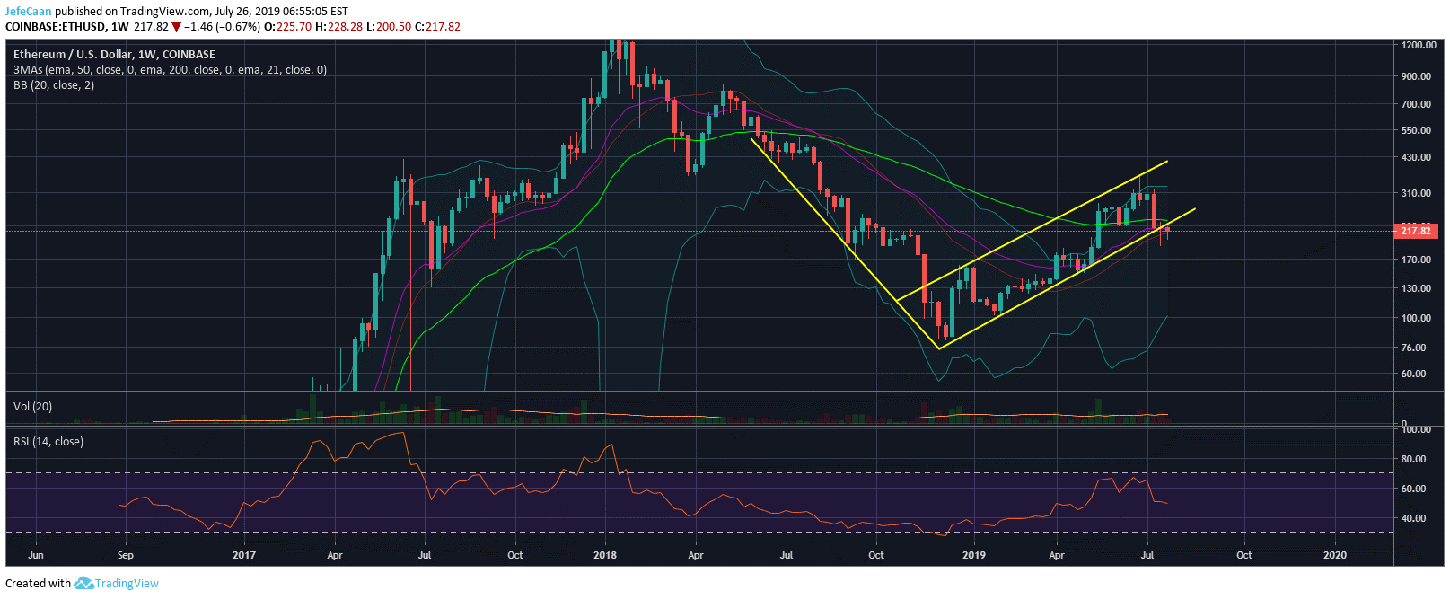 Cryptocurrency investors need to realize that the old days of easy money are about to be over. When institutions enter this space, they will bring their playbooks with them. Now, they do not play by the same rules. Previously, we would see simple patterns swing the price up and down in a clean manner. However, that is not what happens when institutional investors get involved. Those that understand how the banks trade would know that sometimes it's not for the sake of manipulation; it's a genuine need for them. If the banks or large institutions were to buy or sell something as cleanly as theoretical technical analysis patterns then they would be having a hard time doing business.
For instance, let us think about an institution trying to buy ETH/USD. If they were to buy in one go, the price would spike up and they would lose a favorable entry point. So, instead they mislead the market at various points because they can and then when the aggressive retail traders are shaken out, the institutional positions are filled and the price does what it is supposed to do after that. If we take a look at the weekly chart for ETH/USD, we can see an example of that. The price broke below a bear flag but it has not declined sharply. In fact, it is waiting for a move to the upside which would lead some impatient traders into thinking the bear flag is invalidated but then the price would go on and do what it is supposed to do when the dust settles.