Bitcoin (BTC) is not at a favorable point for further upside. It has been trading sideways for the past few days but it is now beginning to get clearer that all it has been doing is stalling a sharp move to the downside. Make no mistake; we could still see another fake out that might see the price breaking out of the descending triangle to shake out some aggressive bears and trap in some bulls before the next downtrend begins. However, that would merely delay the inevitable and what is meant to happen will happen sooner or later. There is a lot of noise on smaller time frames but the big picture always remains clear.

The 4H chart for BTC/USD shows how the price has been trading within a descending triangle inside a larger descending triangle. There is a very strong probability that we might see a decline towards the bottom of the larger descending triangle from her but it is important to realize that many traders are looking at this breakout which is why you shouldn't expect any fair play here. In my opinion, the odds of a fakeout are very high at this point and we might see a fake move past the 21 EMA above the descending triangle to confuse traders short term. That would be the point where the audacious traders would take the opportunity whereas the more risk-averse traders would decide to wait it out.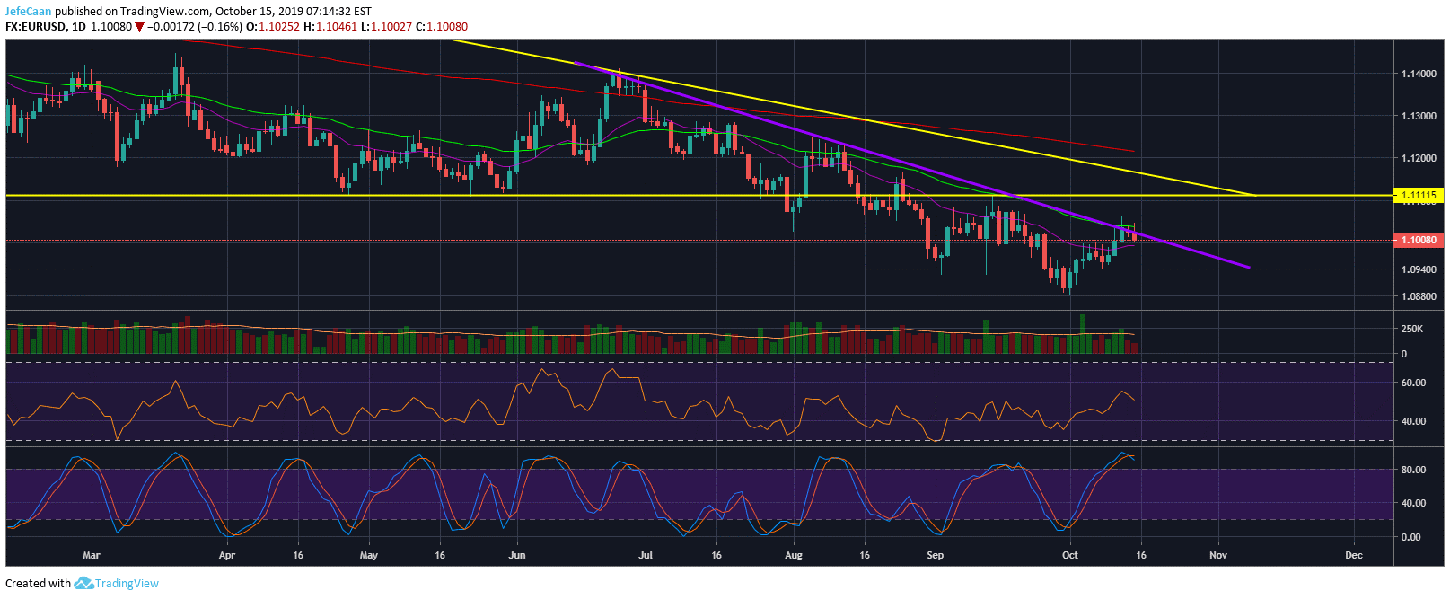 The near term outlook of the EUR/USD remains bearish as before because we have seen a close below the 50 day EMA which has now been followed by a decline towards the 21 day EMA. If this trend continues then we are looking at further downside in EUR/USD which is likely to influence the price of Bitcoin (BTC) and other cryptocurrencies. So far, it is not clear whether EUR/USD is ready to decline or it could go up again to test the previously broken support turned resistance.
In my opinion, this is what the stalling in Bitcoin (BTC) is all about. If we see a break to the upside in EUR/USD to test the support turned resistance of the previously broken descending triangle, then I think a similar rally would follow in Bitcoin (BTC) and other cryptocurrencies in the near future. This would once again make the majority of traders bullish again just before a brutal downtrend. This has happened many times in the past and there are plenty of "crypto influlencers" that would tweet about it even though they will delete their tweets or accounts afterwards as they have before. Even though things could take another turn in the near future, the big picture remains intact and I think we needn't forget about that amid all the noise short term.