Litecoin (LTC) seems to be rallying and declining in the same manner. The daily chart for LTC/USD shows how similar Litecoin (LTC)'s descent is to its ascent. It has now declined below the 38.2% fib extension level. The price ended up testing this level but faced a strong rejection. The next stop from here would be the 61.8% fib extension level but if it keeps on declining in this manner closely mimicking the manner in which it rallied, then we are not likely to see the 61.8% level hold for long and eventually the price is going to decline much lower. It would not be surprising to see Litecoin (LTC) decline even below its December, 2018 lows in the weeks and months ahead. 

Litecoin (LTC) is a perfect example of how events like halving or Coinbase listing could lead to short term pumps in the price but it does not change what is supposed to happen long term. Despite the temporary bullishness surrounding Litecoin (LTC)'s recent halving in August, it is a fact that Litecoin (LTC) has no other use case than being a wannabe coin. It poses as a Bitcoin (BTC) alternative because it can offer cheaper and faster transactions for now. Well, so can Ripple (XRP) and hundreds of other coins. So, where does it stop? How many of these coins are we going to have before we realize that maybe the purpose of Bitcoin (BTC) was not to have a faster and cheaper method of payment but to have a store of value that is immune to inflation and most importantly solves the double spending problem that we face today with fractional reserve banking?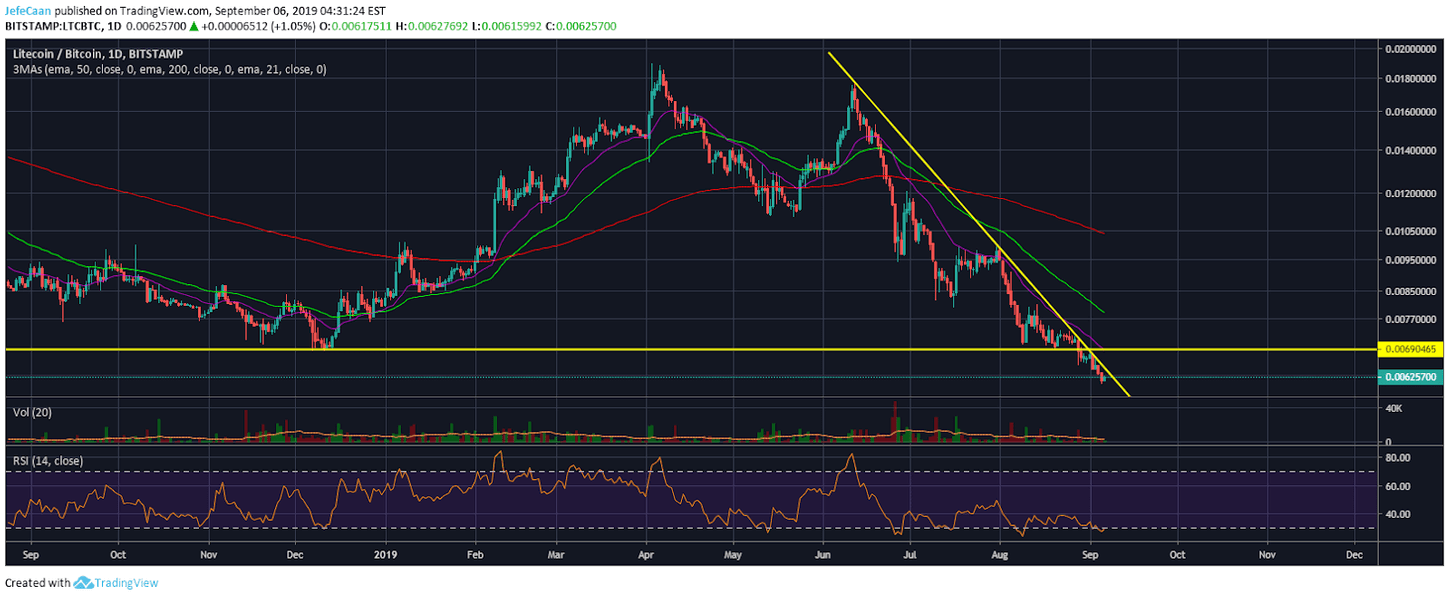 The daily chart for LTC/BTC shows where Litecoin (LTC) stands against Bitcoin (BTC). The price is due for major further downside from here as it has failed to rise above both the trend line resistance as well as the support turned resistance. If the price declines from here, it is likely to crash hard as there is nothing much holding the price from doing so. Litecoin (LTC) and other altcoins are more likely than before to see significant further downside against Bitcoin (BTC) and the US Dollar (USD) both. 
As we near the next half of the bearish cycle in cryptocurrencies, it is important to realize what cryptocurrencies have a future and what don't. In my opinion, cryptocurrencies like Litecoin (LTC) do not have a long term use case. The most likely scenario is that coins like Litecoin (LTC) may not even end up seeing a new all-time high. The learning curve in this market is a lot different than what we see in traditional markets. People learn from their mistakes quickly and they have to adapt more rapidly as the pace of moves in this market is way too fast. While hype events like halving may pump the price short term, we need to be more concerned about what the actual use case of the coin is and if it will be around when Bitcoin (BTC) is also faster and cheaper with upgrades like Lightning Network.