Milestone Reached
Welcome to Lumi Wallet's Digest on all things EOS. In this issue, we will focus mostly on developments surrounding different companies, from the ones building on EOSIO to the one building EOSIO itself. Block.one had a lot of things going on this September, from settlements with the U.S. government to its long-anticipated v. 1.8 update finally rolling out. Other developers have been at it as well, opening doors with new releases and drawing attention with announcements.
News Bulletin
Ivan On Tech, one of the most popular crypto influencers on youtube, announced a new project called EOS Blockchain Tutorial & Courses – EOS Explained. In this online course, the blogger will give participants a grasp on the basics of EOS, teach them how to code on it and show them how to make dapps.
Emanate, the blockchain music platform is officially live and available for listeners to enjoy their favorite music and support their favorite artists. Artists can upload their music to the platform and begin to monetize their content directly without industry middlemen.
Lynx Chain's Whitepaper 1.0 was released. According to the document, Lynx Chain is aiming to eliminate resource fees like CPU, NET and RAM, which they hope will knock down the biggest barrier for new users, making EOS account creation free. In conjunction with the launch, free name reservation on Linx has started.
TokenPocket officially launched its built-in cross-chain token swap services. It supports the swap of EOS, TRX, ETH, BTT, USDT, HT, DAI, TUSD, and USDC, with more tokens set to be available soon.
HireVibes, a jobs app that provides rewards for helping to find candidates for jobs, has published stats for its first two months of activity, with rewards surpassing $23.341 in HVT.
Immutable, the company that builds video games with player-owned assets, raised $15M in a Series A round led by the Galaxy Digital EOS VC Fund. With EOS core investors, the launch of an ETH-based game on EOS may be in the cards.
EOS Name Service released the Beta version of its Marketplace platform. Users can now buy and sell names with EOS, while the auction and the Buy-It-Now features will soon be added.
Scatter recently released a Block Producer candidate for the EOS Mainnet, with a correlating account named "vote4scatter". Scatter is a tool that allows users to connect and interact with the EOS and other blockchains.
PredIQt, Everipedia's market forecasting platform, announced the launch of the beta version of its platform on the EOS mainnet. PredIQt is a protocol that allows anyone to create a market-related event and participate by buying and trading shares of these events.
Colin Talks Crypto's Proxy became the largest EOS Proxy on the mainnet, and seems to be trustworthy – at least according to screenshots Colin recently posted featuring a private chat with EOSLambdaCom, one of the top 21 Block Producers, where he turns down an offer of BP "rewards" for control of the proxy. 
The Everipedia, an online-encyclopedia on the EOS blockchain, published its latest Product Updates. They have added a new chat system, notification mechanism, and an enhanced activity feed to make the platform more interactive.
Murmur 2.0, a social media platform based on EOS, is now available for iOS and can be downloaded from the App Store.
EOS Authority, the Founding Block Producer of EOS, released a brand new EOS Block Explorer, that allows users to track and manage important information across all EOSIO chains.
Bountyblock.io, a gamification platform powered by the EOSIO blockchain, announced its new integration with Telegram bot API. The integration requires just three steps and lets users track group activities directly in the Bountyblock platform.
Blockbase, a platform for the secure and distributed storage of databases, has announced the start of token distribution via 24 monthly airgrabs, which will start on October 8.
Marketcap.one recently launched the first Exchange Volume Rankings for EOS tokens. In total, 10 exchanges were listed, including CoinTiger, WhaleEx and Newdex.9.
AlohaEOS, Blockstart and EOSphere launched Voter Value Proxy, an EOS proxy that aims to reward token holders who vote for good block producers.
Goodblock, the telos block producer, announced Sentiment tokens, which would work as a blockchain feature that allows people to express their opinions about other accounts and dapps, in a similar fashion to Karma on Reddit.
Block.one news
At the beginning of September, Block.one released EOSIO™ History Tools. At the end of the month, EOS had a successful upgrade to v 1.8. What happened in between? Well, mostly politics. What is going to happen in the future? Looks like major investment moves and big announcements are awaiting us ahead.
Brendan Blumer Responds
Whenever there is a moment of silence between announcements, releases and crypto scandals, the EOS holders turn to the heads of Block.one for answers. And they are happy to engage in community discussions, which has made the genre "Dan Larimer/Brendan Blumer answers" so popular when it comes to discussing long-standing issues bugging the EOS userbase.
Block.one actively follows debates in the community, but doesn't want to intervene in governance issues.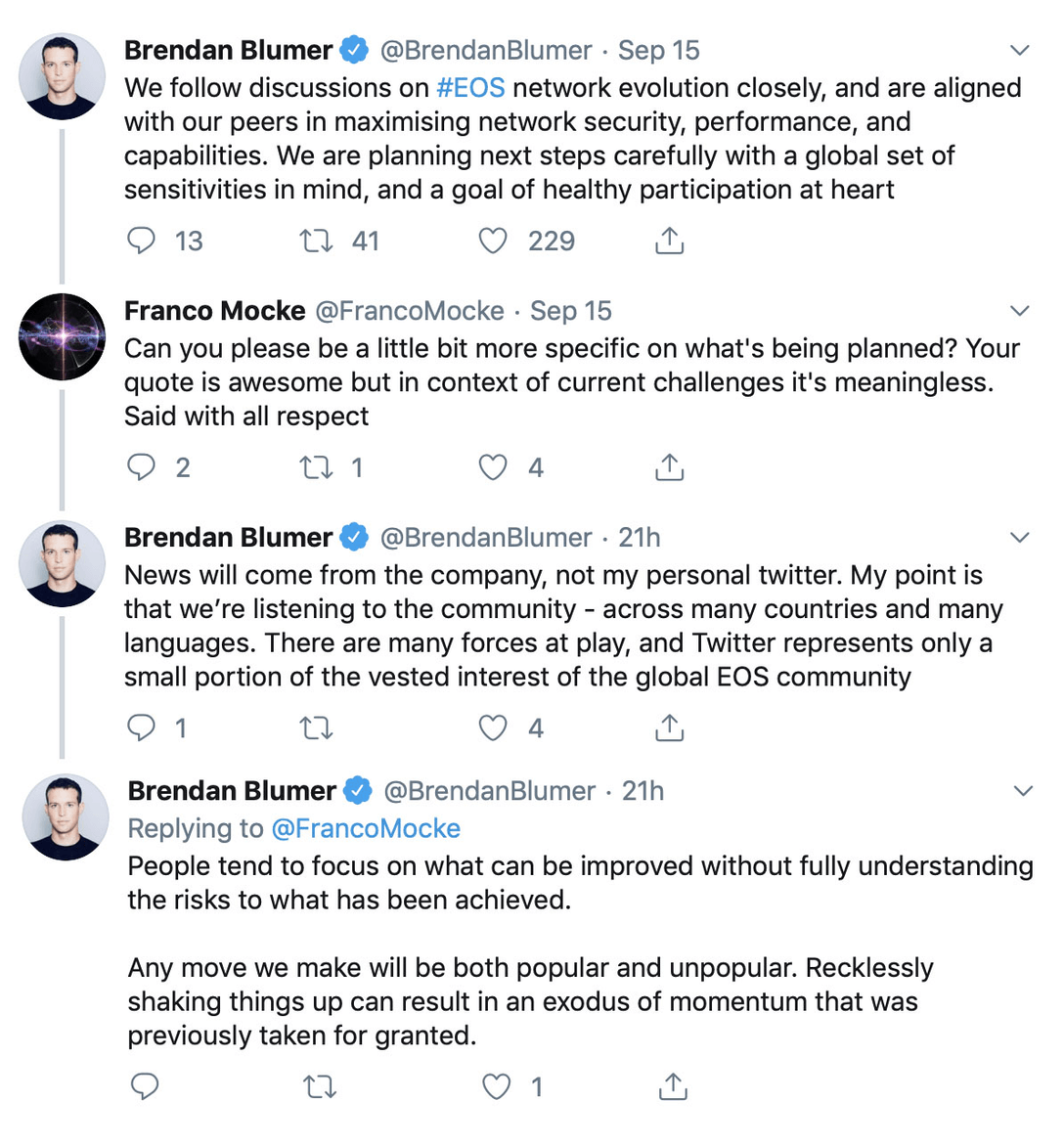 "Sometimes 'Stepping up' means stepping down," says Brendan Blumer.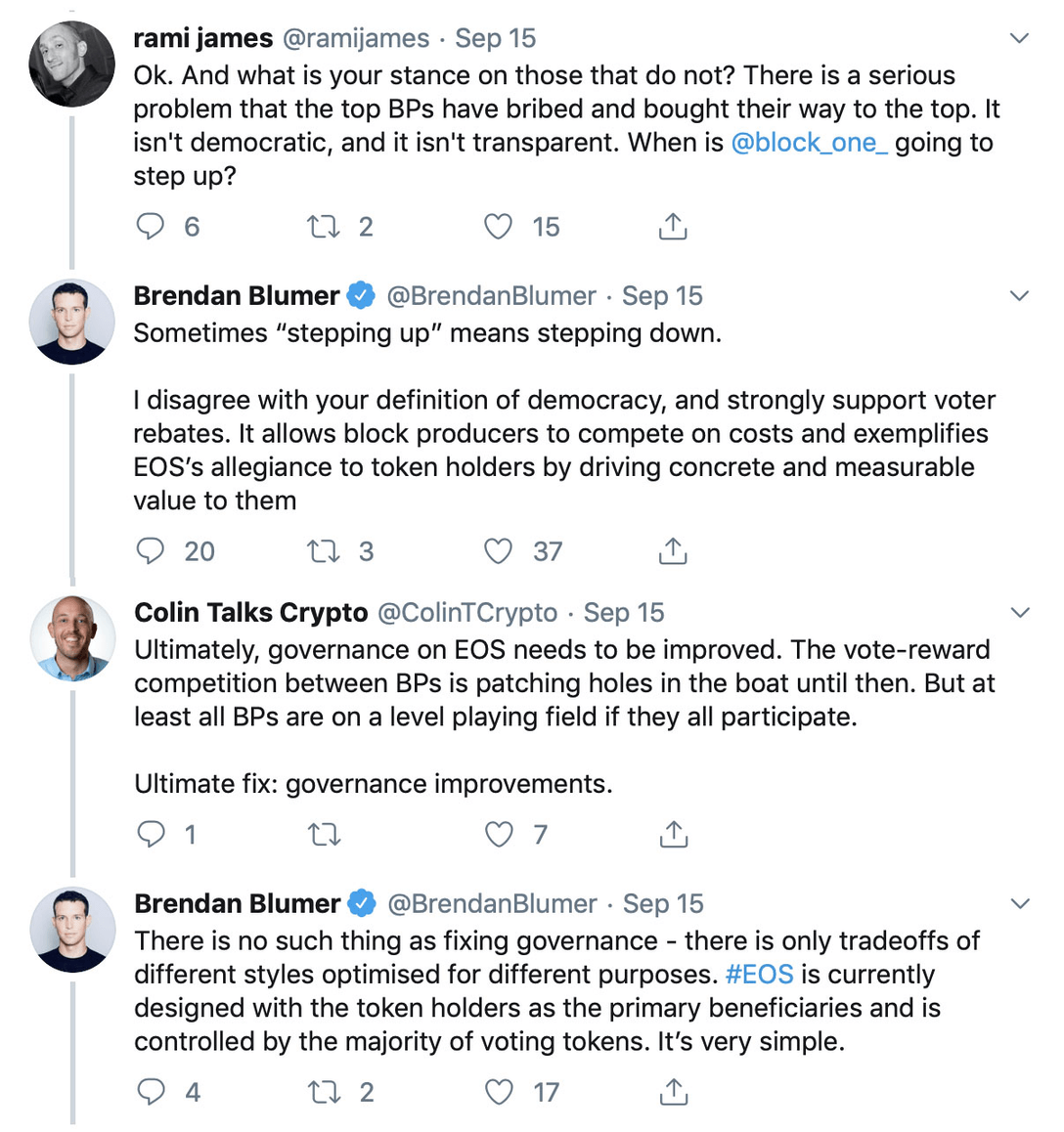 The hottest topic was an alleged attempt by a major BP to buy one of the biggest and most trusted Proxies – @ColinTCrypto, and Brendan Blumer weighed in with his opinion about it.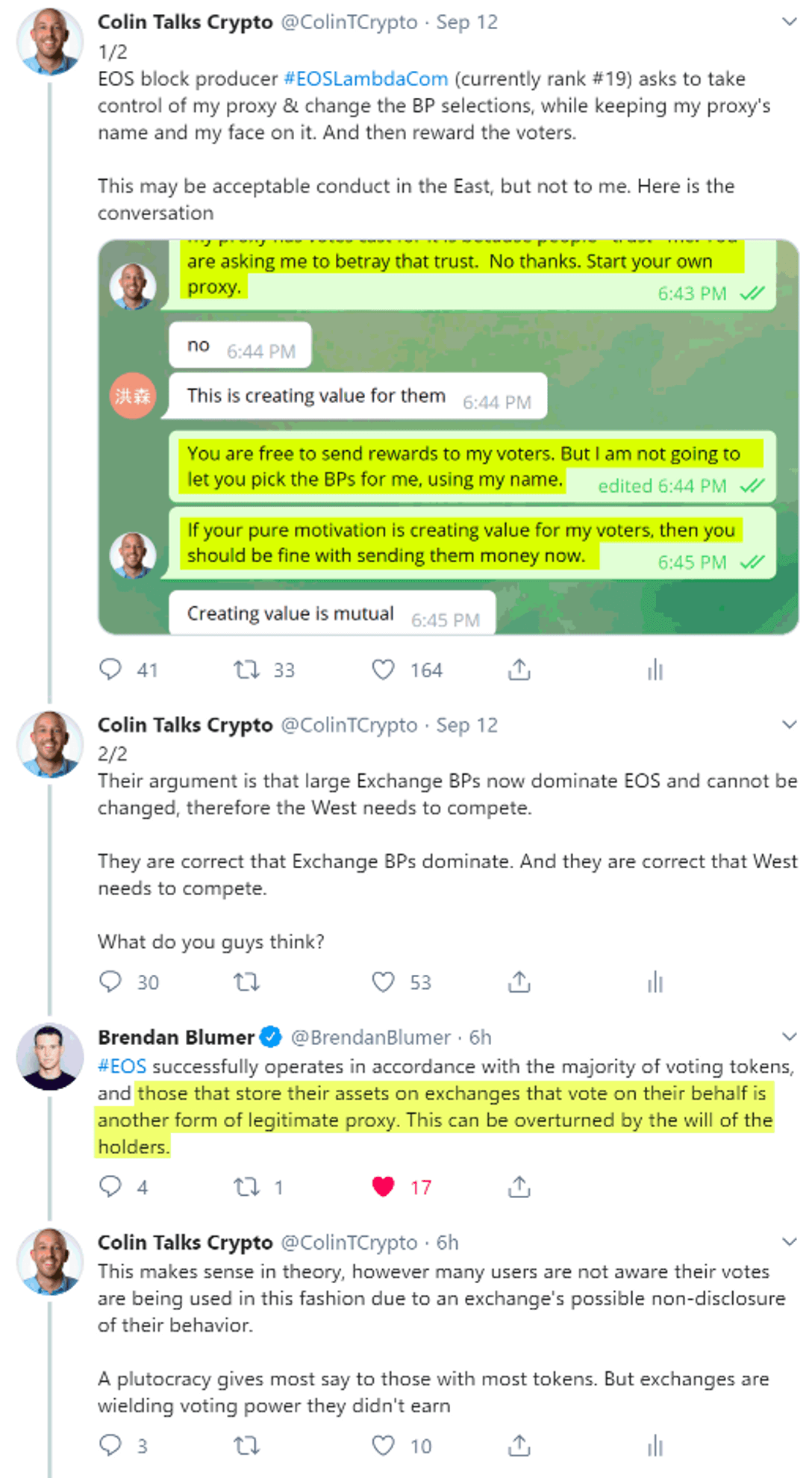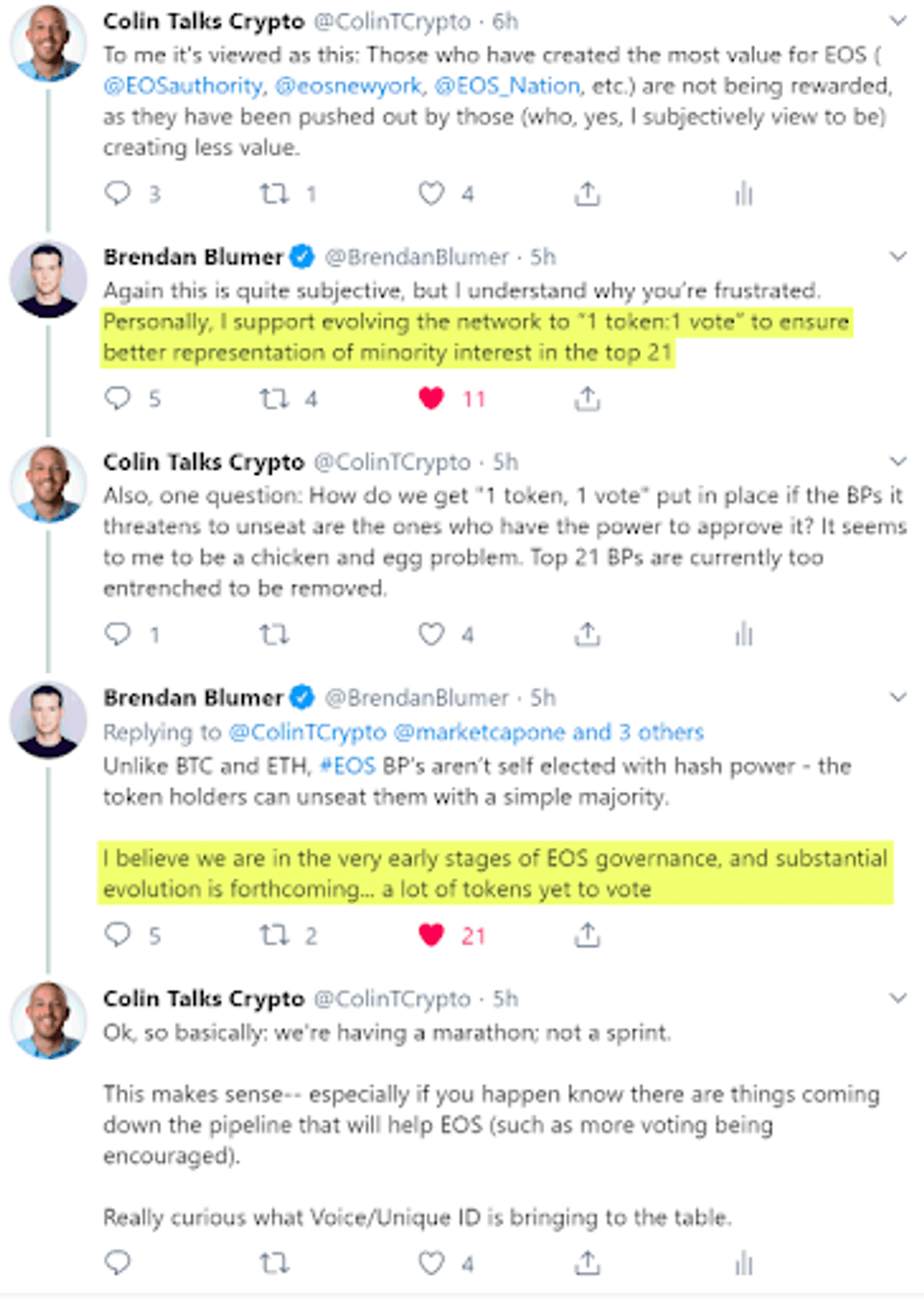 As we can see, the overall motto for Block.one and Brendan, as far as we can gather from his Twitter messages is "go with the flow." Though whether his confidence in things working themselves out is because of his awareness that the system can regulate itself without any divine interventions from Block.one, or stems from faith in coming technological solutions that will strengthen governance on EOS, is unclear.
Block.one moves closer to DC
Virginia Governor Ralph Northam announced 170 new jobs in Arlington County as Block.one has promised to invest $10 million to establish the U.S. headquarters of the company in the area. 
"Block.one maintains a strong presence at its Blacksburg operation, and we are thrilled that this global company will expand its footprint in Virginia by locating its U.S. headquarters in Arlington County" – Governor Northam.
This move shows that the company is now focused on expansion in the physical world, and the regulatory uncertainties are taking a backseat to the growth of their technological and human resources.
"Arlington's proximity to Washington, D.C. also allows us to continue building a constructive business and government relationships as we provide insights for the application of blockchain-based technologies. We are excited to be heading down new paths of growth" – Block.one Chief Operating Officer Andrew Bliss.
This doesn't mean that these questions will never be resolved for common EOS users – but it looks like, for the time being, they'll have to solve them by their own hands, for example, by building trust in proxies and engaging in the voting process.
Settlement with SEC
Block.one announced a settlement with U.S. Securities and Exchange Commission (SEC) with a one-time fine of $24 million. This happened due to the unregistered sale of EOS tokens, but the overall outlook on the settlement it positive – EOS will be fully compliant with the government and regulators, and the settlement especially states that Block.one will not be subject to any of the restrictions that would usually apply to this type of settlement.
Also, the recently formed Crypto Rating Council gave EOS a 3.75, noting that EOS has a relatively high likelihood of being a security. By overcoming these obstacles, EOS is providing legal transparency, thereby becoming more attractive to serious investors compared to other altcoins.
EOSIO Hackathon
After organizing at least one EOSIO hackathon for each continent in the world, Block.one is encouraging the community to host more. Anyone interested in conducting a hackathon is now free to start their own and sign a partnership directly with Block.one.
This opportunity corresponds with Block.one's expansion efforts and search for new talent, which will improve the blockchain in the future.
Update v. 1.8
The most anticipated event of September was one of the most boring ones: a successful update occurred. No blackouts, no scandals, no hackings – BPs just turned the switch on, on the 23rd and the biggest fork of EOS happened without a hangup, leaving the press without any material for apocalyptic headlines.
The update enabled a lot of features, such as:
ONLY_LINK_TO_EXISTING_PERMISSION (#6831)

REPLACE_DEFERRED (#6997, #7185)

NO_DUPLICATE_DEFERRED_ID (#7072, #7173, activation depends on REPLACE_DEFERRED)

FIX_LINKAUTH_RESTRICTION (#7025)

DISALLOW_EMPTY_PRODUCER_SCHEDULE (#7026)

RESTRICT_ACTION_TO_SELF (#7088)

ONLY_BILL_FIRST_AUTHORIZER (#7089)

FORWARD_SETCODE (#7109)

GET_SENDER (#7111)

RAM_RESTRICTIONS (#7131)
The feature ONLY_BILL_FIRST_AUTHORIZER especially stands out, as it allows dApps to pay for the network resource costs of their users. This makes usage of dApps easier and has been seen as a possible driver of mass adoption.
All other updates have made EOSIO much faster and more simple to use. What is most important is that the update to v. 1.8 is required for Voice and other upcoming Dapps, so now we are expecting news on this highly anticipated application.
New Horizons
Breaking through technical, political and governance issues, EOS looks to be heading toward a bright future. The next big step is Voice. While token holders are waiting for it, we at Lumi Wallet are happy to take part in the popularization of EOS and are looking for tokens to add to our wallet. If there is a token you want to have in our wallet or you are a token creator, follow this link and we'll get in contact with you.
Overall, Autumn has started with lots of good news for EOS. We hope the momentum won't be lost and we'll have more positivity for you on the next Lumi Wallet EOS Digest.