Ripple (XRP) has declined significantly below a strong trend line support and is now struggling to break above it. The price has already tested this trend line as resistance. RSI on the daily time frame shows room for a rally in the near future but there is not much hope left as Ripple (XRP) has failed on multiple fronts. First of all, it failed to form the golden cross that Bitcoin (BTC), Ethereum (ETH) and a lot of other cryptocurrencies did. Second of all, the price has declined way below the 50 day moving average. Not many cryptocurrencies are in the position that Ripple (XRP) is in right now. There does not seem to be any hope of a bullish reversal as the price keeps on declining despite oversold conditions short term.
The price of Ripple (XRP) has now declined brutally against Bitcoin (BTC) but it is determined to make new lows without any regard for overbought conditions on larger time frames. Both symmetrical triangles on the XRP/USD chart as well as the XRP/BTC chart have now been broken to the downside. This means that the price will now have to test these levels as resistance. Stochastic indicator on the daily time frame points to the possibility of a bullish recovery but it is hard to see how the price is going to be able to rally significantly from here as it will have to break past the trend line resistance, the 50 MA and then the 200 MA to invalidate the existing bearish setup. Ripple (XRP) is already in trouble as far as its fundamentals are concerned and its technicals are not helping. In fact, it would take a lot more for Ripple (XRP) compared to other cryptocurrencies to invalidate the existing bearish setup.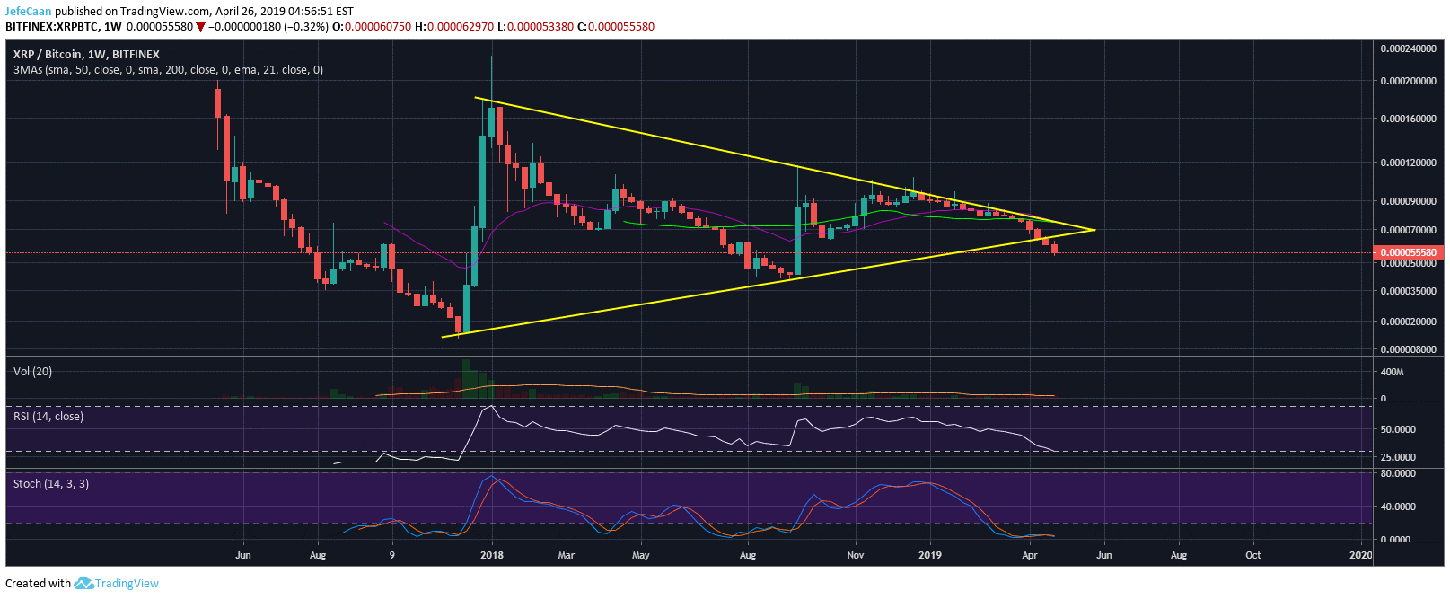 Ripple (XRP) broke below a critical trend line support against Bitcoin (BTC) last week in the face of massively oversold conditions. The price has now declined further after yesterday's sell off. XRP/BTC remains heavily oversold on the weekly time frame but the price keeps on declining every time Bitcoin (BTC) sees a sell-off but it does not rise as much during a Bitcoin (BTC) rally. This has led to the price continuously declining against Bitcoin (BTC) with no floor in sight. If BTC/USD sees further sell-off on the recent developments with Tether and Bitfinex, we could see Ripple (XRP) nosedive even higher.
Most Ripple (XRP) investors are already sitting on big losses as they bought near the top. The price does not seem to be in any position to recover anytime soon. Renowned crypto analyst and data science enthusiast, Tom Lee of Fundstrat has once again said that the "crypto winter is over" and that Bitcoin (BTC) will see a new-all time high in 2020. It is important to note that Tom Lee has been wrong a number of times in the past. The fact that most of these crypto bulls are still so optimistic is enough to convince a nonbiased investor that something is no right. Those that have been around during the bear market of 2014-15 know that this is not what the end of a bear market feels like – it feels like the end of cryptocurrencies.